How can we help? Ask a question or describe a problem you're having.
Search
Buy & Store Bullion in Singapore
BullionStar is Singapore's premier bullion dealer. Combining a unique walk-in bullion shop, showroom and integrated precious metals vault and an internationally focused transactional website, with BullionStar you can buy, deposit, store, and sell your bullion in one and the same location.
Singapore is one of the world's most dynamic gold trading hubs, and is the best jurisdiction in the world for buying and storing physical precious metals.
- There are no sales taxes or other taxes on bullion in Singapore
- Singapore has a strong rule of law with virtually no crime
- Property ownership rights in Singapore are enshrined and respected
- Singapore's government actively supports the development of the bullion sector
As a Singaporean registered bullion company, BullionStar combines Singapore's favorable low jurisdictional risk with an extensive product range and a unique offering of services for buying, storing and selling bullion.
BullionStar's Vault Storage Solution
BullionStar's secure precious metals vault storage solution offers you full online control of your precious metals bars and precious metals coins. With Vault Storage, you can:
- Buy, sell or request physical withdrawal of your bullion 24/7 online.
- Buy and sell bullion bars and coins and trade Bullion Storage Program (BSP) Grams.
- View photos of your bullion online.
- View and analyse your bullion portfolios in different currencies and across different valuation methods.
- Audit your bullion online, view third party audit protocols, or initiate a request to physically audit your holdings.
- View BullionStar's vault insurance certificate proving that your bullion is insured.
- Generate a vault certificate/report for your own stored bullion holdings.
With BullionStar's secure precious metals storage, all customer owned metals are insured and audited using five methods of audit. At all times, customers hold full legal ownership to their bullion products, with BullionStar simply acting as storage provider. With customers originating from more than 100 countries, BullionStar accepts customers from all EU countries, United Kingdom, United States, Australia, Malaysia and many more countries.
Buying bullion for vault storage in New Zealand and the United States works in the same way as buying bullion for vault storage in Singapore. You can use one and the same account to buy and store bullion in all jurisdictions offered. Bullion held in New Zealand and the United States are secured, insured and audited to the same high standards as in Singapore.

Bullion Shop, Showroom & Vault
BullionStar operates its physical bullion shop, showroom and integrated precious metal vault in central Singapore at 45 New Bridge Road, Singapore 05939. By combining a fully transactional online interface with a physical bullion center, customers' have both online accessibility and real world access to the widest range of investment grade precious metals bars and coins.
BullionStar's showroom features over 20 display cases devoted to a huge range of gold bullion and silver bullion. All display cases have electronic screens with live pricing, displayed and updated electronically in real-time.
With extensive opening hours Monday to Saturday, you can walk into our shop and showroom to view, buy, store, sell bullion - no appointments needed!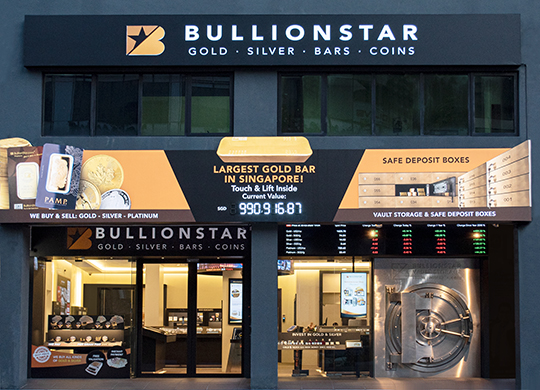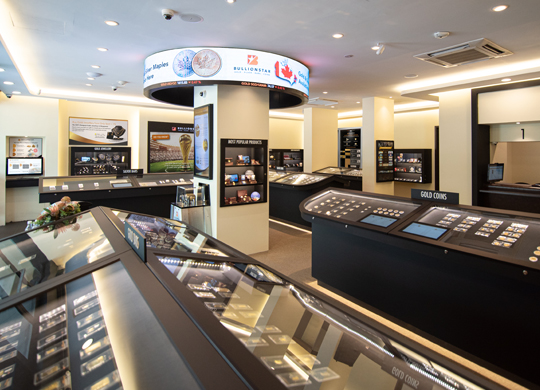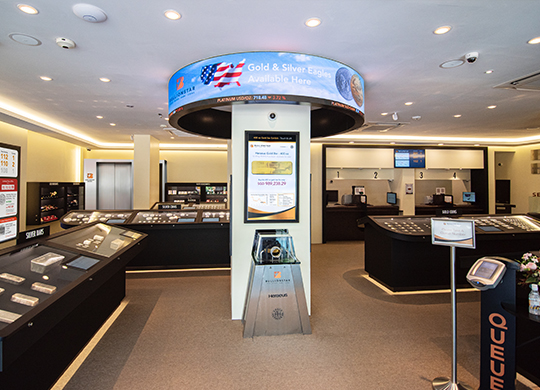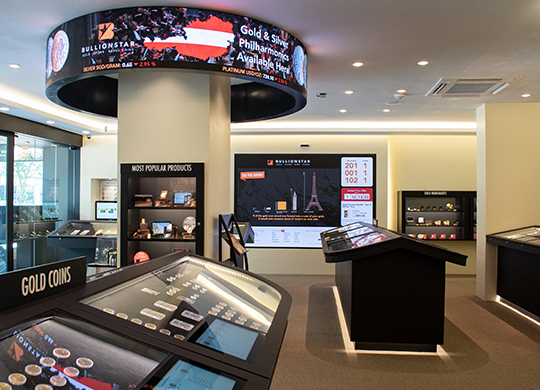 Retail Shop
Customer Support
Retail Opening Hours -
Mondays - Saturdays: 11 am to 7 pm
Closed on Sundays and Public Holidays
Customer Support Opening Hours -
Open 24 hours from Mon 7 am to Sat 7 pm
Closed on Sundays and Public Holidays
For customer support, please go to our contact page where you find our e-mail address, telephone number and text message support phone number.
Related Topics
BullionStar's Vault Storage Solution
Buying Gold & Silver from BullionStar - Detailed Guide
Bullion Shop, Showroom & Vault in Singapore