Bullion Savings Program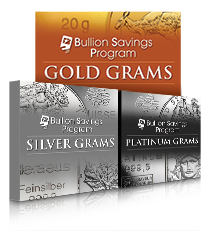 Click Here to Buy BSP Grams
BullionStar's Bullion Savings Program allows customers to trade and save in bullion and take delivery anytime.
BSP Grams have full backing of physical precious metals.
You have the option of converting your BSP Grams to physical bullion at any time without any cost.
BSP Grams in Gold are convertible to 100 gram PAMP Gold Cast Bars.
BSP Grams in Silver are convertible to 15 kg Heraeus Silver Bars.
BSP Grams in Platinum are convertible to 1 kg Heraeus Platinum Bars.
The list is updated daily for all metals at 6 p.m. SGT.
Bullion Savings Program Backing
| Metal | Date | BSP | Metal held | Backing % |
| --- | --- | --- | --- | --- |