How can we help? Ask a question or describe a problem you're having.
Search
BullionStar's Vaults in Singapore
BullionStar's Vault Storage solution means that you can buy, sell, store, withdraw, and audit bullion from one and the same account. Your online BullionStar Account gives you a comprehensive, yet convenient way to manage your holdings. Purchase orders and bullion withdrawal orders can be shipped and fully insured to most countries worldwide. Proceeds from sell orders can be transferred directly to your bank account, settled in cryptocurrencies, or kept as a cash balance to be used to make future purchases or to be withdrawn at anytime. BullionStar operates two physical Bullion Vault Facilities in Singapore.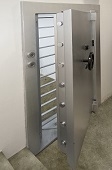 Apart from being a unique one-stop shop and showroom for precious metals, our Bullion Centre at 45 New Bridge Road is also integrated with one of our physical Bullion Vaults. This vault is an old style steel bar reinforced thick concrete vault that is extremely difficult to destruct. BullionStar's premises was at one time a bank branch of Overseas Union Bank (OUB), and the vault was constructed by OUB before OUB subsequently merged with United Overseas Bank (UOB) in the early 2000s. A 1 tonne vault door protects the vault entrance. The security of our vault is further augmented by seven different types of modern surveillance technologies.
BullionStar also operates a vault facility at Le Freeport Singapore. A state of the art maximum security storage facility, Le Freeport was designed by a team of Swiss architects and engineers to the most rigorous standards in the industry. BullionStar's Vault Facility here is managed and operated end-to-end by BullionStar's team of full-time only staff and experts – benefitting from the maximum security nature of Le Freeport, while maintaining the utmost discretion, privacy and standards we have always provided.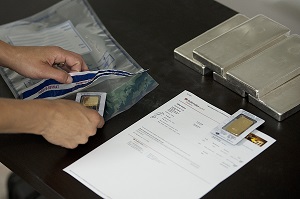 Customers can place an order for withdrawal to take possession of their metals at any time. Withdrawals can be fulfilled via shipping, or customers can make an appointment to collect their bullion from our vault facilities.
Along with our industry leading practices to assure the existence and correctness of stored bullion, customers can initiate a personal physical audit of their holdings by contacting us to book an appointment.

Check out our other vault locations: United States, New Zealand
Related Topics:
Allocation of Physical Precious Metals