Indonesian Gold Market
Introduction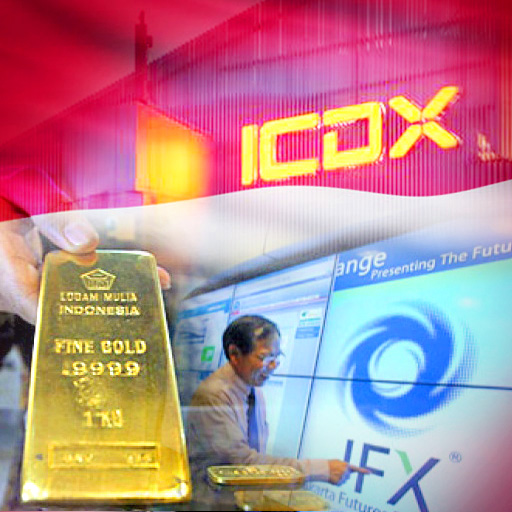 Indonesia has the distinction of possessing the largest gold mine in the world, the giant Grasberg gold mine located in the country's eastern Papua province. As a large commodity producing and exporting nation, it is not surprising that Indonesia also hosts 2 commodity exchanges, both of which list gold futures contracts.With Asia's third largest population (250 million),  behind China and India, Indonesia has a vibrant physical gold market with an internationally recognised gold refinery, a large gold jewellery sector and wide availability of retail investment gold bar products. Many of Indonesia's gold market participants are located in the country's capital city, Jakarta, 2 hours flight time from Singapore.
JFX Gold Kilogram Futures
Exchange:
Jakarta Futures Exchange (JFX)
Ticker:
GOL
Quotation:
IDR/gram (including VAT)
Underlying/Quality:
9999 fine gold, with serial number and refiner stamp, refiner approved by LBMA
Contract Size:
1 kg
Delivery months:
Current month and next 2 consecutive months
Expiry:
Each contract month trading expires on the 3rd business day prior to the last business day of the month
Trading Hours:
9:30am to 5:30pm 'Western Indonesia Time'
Daily Settlement:
Between 5:45pm to 6:00pm
Delivery option:
Physically deliverable
Delivery Unit:
5 lots or multiples of 5 lots: so 5kgs or 10kgs etc
Delivery Points:
Approved warehouses in Jakarta, Surabaya, Bandung, Semarang, Solo, Yogyakarta, Makassar, Manadao, Banjarmasin, Lampung, Denpasar. Seller chooses the warehouse.
[See additional contract characteristics such as Reportable Positions and Spec Position Limit, Minimum Price Fluctuation]
JFX Gold Periodic Rolling
Contract Sizes:
100g 50g, 25g 10g and 5g respectively
Symbols:
GG100, GG50, GG25, GG10, GG5
Underlying/Quality:
9999 fine gold, with serial number and refiner stamp from ANTAM (see below for ANTAM)
Quotation:
IDR per gram
Minimum price fluctuation (for all contracts):
IDR 500 per gram
Trading Hours:
11am – 3pm Jakarta time
Delivery option:
Physically Deliverable
Delivery location:
The delivery location is at the option of the Buyer
Contract Months:
1 month (current month)
Last trading day:
Last business day of the month
ICDX PAMPKGUD Gold Futures
Exchange:
Indonesia Commodity and Derivatives Exchange (ICDX)
Contract Name:
PAMPKGUD
Ticker:
PAMPKGUD
Price Quotation:
US Dollars per gram
Underlying/Quality:
9999 PAMP Swiss fine gold, with serial number and refiner stamp, refiner approved by LBMA
Contract Size:
1 kg
Tick Size:
USD 0.01 per gram (USD 10 per lot)
Contract Months:
March, June, September, December
Delivery:
Physically deliverable
Delivery Procedure:
Delivery is via a PAMP Gold Certificate, which represents 1 lot (1 kg of gold). The Cretificate is issued by the Exchange approinted PAMP authorized distributor appointed, and is convertible into 9999 fine PAMP gold.
Contents
Indonesia's Two Commodities Exchanges
Gold futures contracts are traded on two commodity exchanges in Indonesia, the Jakarta Futures Exchange (JFX)[1] and the Indonesia Commodity and Derivatives Exchange (ICDX)[2].
The JFX, known as PT Bursa Berjangka Jakarta (BBJ) in Indonesian, is located in Jakarta, Indonesia's capital city. The JFX opened in 2000 and listed its first gold futures contract in 2001[3]. The Exchange also lists futures on cocoa, coffee and olein (palm oil). Members of the JFX comprise trader members, broker members and founding JFX shareholders. The JFX clearing house is named "PT Kliring Berjangka Indonesia (Persero)" or "PT KBI", and in English its known as the "Indonesian Derivatives Clearing House" (IDCH)[4].
The ICDX, also located in Jakarta, was established in 2009[5], and lists futures contracts on gold, tin, crude palm oil, and palm olein. Similar to the JFX, members of ICDX are traders and brokers. ICDX trades are settled and cleared via the Indonesia Clearing House (ICH)[6]. Many of the trader and broker members of ICDX are also clearing members of ICH.
In Indonesia, commodity futures trading is regulated by the Commodity Futures Trading Act (COFTRA) and supervised by the State futures trading regulatory agency, which is known as BAPPEBTI. Both JFX and ICDX are members of the Association of Futures Markets[7].
JFX Gold Futures
The Jakarta Futures Exchange offers 12 gold futures contracts across 3 distinct groupings.
Physically deliverable gold 1 kg futures, 250 gram futures and 100 gram futures[8]
Gold Periodic Rolling contracts with contract sizes of 100g, 50g, 25g, 10g and 5g
A series of 'Rolling' Daily gold contracts and a Gold Index contract
Standard Gold Futures
The Gold 250 gram futures (GOL 250)[9] and the Gold 100 gram futures (GOL 100)[10] have similar contract specifications to the kilo contract (GOL), the main differences being contract lot size. The 250 gram contract has a 4 lot minimum delivery (i.e. 1 kg), while the 100 gram contract has a minimum delivery of 10 lots (i.e. also 1 kg). Reportable Positions and Position Limits also differ across the three contracts.
Gold Periodic Rolling Contracts
There are five contracts in this series. These are 1 month contracts which, if open on the last business day of the month, automatically roll into the next month[11].
'Rolling' daily gold contracts – Cash-Settled        
These contracts are named Gold Rolling[12], Gold 100oz US Dollars (USD) rolling (GU1H10), Gold 10oz USD Rolling (GU1TF), Gold 100oz Fixed USD Rolling, and Gold Index (KIE). Gold Index uses one of the 'Rolling' contracts in its denominator.
ICDX Gold Futures
The ICDX lists 6 gold futures contracts[13]. These are known as GOLDGR, GOLDUD, GOLDID, PAMPGRID, PAMPKGUD and UBSG.
All contracts trade between 7am – 4.30pm Jakarta time, except PAMPGRID which trades from 9am – 4pm, and UBSG, which trades from 10am – 4pm.
GOLDGR[14]: Quoted in Indonesian Rupee (IDR), 100 gram contract size, 9999 fine. Cash-settled or physical settlement. For physical delivery, the seller submits a certificate of gold deposit to the ICDX's clearing house. This contract has delivery points of PT Antam Tbk, and UBPP Logam Mulia. Launched November 2009.
GOLDUD[15]: Quoted in US Dollars, contract size 10 ozs, 9999 fine, Cash-settled, Settlement price based on loco London gold price. Launched April 2011.
GOLDID[16]: Quoted in US Dollars, but with a fixed conversion rate of 1 US Dollar = 10 IDR. Cash-settled, contract size 10 ozs. Settlement price based on loco London gold price. Launched April 2011.
PAMPGRID[17]: Quoted in IDR, 100 grams contract size. Open positions at close of spot month are settled in the form of a certificate for a 100g Swiss PAMP bar. Exchange for Physical possible before close of spot month. The certificate is issued by the "PAMP authorized distributor appointed by the Exchange", which is Straits Bullion. Launched February 2014.
PAMPKGUD[18]: Quoted in USD, 1kg contract size. Settlement as per PAMPGRID. Launched February 2014.
UBSG: UBS Gold Contract[19]: Quoted in IDR, physically deliverable, 100 grams contract size, 9999 fine, underlying UBS Gold. Launched March 2015[20]. The contract delivery takes the form of a 'Certificate of UBS Gold Holding'. Deliverable in approved UBS stores in Jakarta and Surabaya. This 'UBS' is unrelated to the Swiss bank UBS. UBS here refers to the Indonesian jewellery company PT Untung Bersama Sejahtera (PT UBS)[21], which offers small minted gold bars with the UBS logo (from 100 grams down to 5 grams), produced by the Logan Mulia refinery.
Indonesian Gold Refineries
Logam Mulia, located in Jakarta, is the only major gold and silver refinery in Indonesia[22]. Logam Mulia has a gold refining capacity of approximately 100 tonnes per annum (of which about 60% of capacity is used), and a silver refining capacity of 350 tonnes per annum. The refinery has been accredited to the London Bullion Market Association's (LBMA) Good Delivery List for gold.
Logam Mulia is a subsidiary of state-owned company PT Aneka Tambang (PT ANTAM)[23] which is a vertically integrated mineral exploration, extraction, refining, and metals producing company focused on nickel, gold, silver, and bauxite. Logam Mulia mainly refines gold mining doré from ANTAM's own gold mining output and that of other gold producers in Indonesia. Since ANTAM produces about 5 tonnes of gold per annum, most of the refinery's gold throughput is conducted on behalf of other Indonesian gold mining companies. The refinery's gold is sold both domestically and internationally.
Although Logam Mulia is the only large precious metals refinery in Indonesia, a new refinery called PT ABRG[24], also located in Jakarta, commenced refining in 2015.
Gold Mining in Indonesia
According to the US Geological Survey (USGS), Indonesia produced 65 tonnes of gold in 2014, and so ranked within the top 11-12 gold producing countries globally[25].
The majority of Indonesia's gold mining output comes from the giant Grasberg copper and gold mine. Grasberg, ranked as the largest gold mine in the world, is located in the eastern Indonesian province of Papua, and is majority owned by US listed miner Freeport McMoran. Grasberg is mined via both open pit and deep shaft mining. Freeport expects gold output from Grasberg to be 1.3 million ozs in 2015 (40 tonnes)[26].
US gold miner Newmont Mining, through its Indonesian subsidiary[27], operates the Batu Hijau copper and gold mine in Sumbawa, in conjunction with Japanese group Sumitomo.
PT ANTAM, which owns the Logam Mulia refinery, produces approximately 5 tonnes of gold per annum from two of its Indonesian mines, Pongkor in West Java and Cibaliung in Banten.
Other gold miners active in Indonesia include Hong Kong based gold mining company G-Resources, which mines the Martabe gold and silver mine in North Sumatra[28].
Gold Retailers and Retail Demand in Indonesia
According to the World Gold Council[29], Indonesian gold bar and coin demand in 2015 totalled 20.1 tonnes. The Logam Mulia refinery manufactures a variety of gold bars and has 11 retail outlets in 9 locations across Indonesia (2 retail outlets in Jakarta, 2 in Sarabaya, and 1 each in 7 other locations)[30]. Straits Bullion in Jakarta is the (exclusive) PAMP distributor for Indonesia[31].
The Indonesian Gold Jewellery Sector
Indonesia's gold jewellery sector is substantial, and the World Gold Council estimates that gold jewellery demand in Indonesia during 2015 reached 38.9 tonnes[29].
Asosiasi Pengusaha Emas & Permata Indonesia (APEPI)[33], known in English as the "Indonesian Goldsmiths and Jewelers Association", is an industry body which represents the Indonesian gold fabrication and jewellery sectors, and which organises promotional events such as the Indonesia jewellery Fair[34].
During 2015, authorities in India became concerned that a spike in gold jewellery imports from Indonesia represented gold transactions designed to evade Indian import duty. India has a Free Trade Agreement (FTA) in goods with the 10 country member ASEAN organisation under which gold jewellery imported into India from ASEAN countries only attracts a 2% import duty compared to a 10% duty on gold bar imports into India. To qualify for the 2% gold jewellery import duty, value-added needs to be at least 20% for local gold in ASEAn countries and 25% for gold from 3rd countries. Indian authorities, probably rightly so, were worried that Indonesian customs certificates had not done the appropriate due diligence on the source of the gold used in jewellery exports from Indonesia to India, and that the gold was being melted down again in India after being imported through the popular hubs of Mumbai, Bangalore etc.[35].
Conclusion
Indonesia has a dynamic but often overlooked Asian gold market, since its overshadowed by the gold hub of neighbouring Singapore and the larger physical gold markets of India, China, Thailand and Vietnam. However Indonesia's gold market stretches from upstream production, all the way through refining and exchange-based financial intermediation to downstream retail distribution and gold exports, and so represents a truly active domestic gold market, as well as a gold export source. With the third largest population in Asia, and a growing middle-class, the Indonesian gold market is certainly worth watching in future.
References and Links
1.^ Jakarta Futures Exchange (JFX) http://www.jfx.co.id/en/jakarta-futures-exchange.html
2.^ Indonesia Commodities and Derivatives Exchange (ICDX) http://www.icdx.co.id
3.^ Jakarta Futures Exchange history http://www.jfx.co.id/en/about-jfx-46-jfx-at-a-glance.html
4.^  Indonesian Derivatives Clearing House – PT Kliring Berjangka Indonesia (Persero) (PT KBI) http://www.ptkbi.com/
5.^ ICDX Milestones http://www.icdx.co.id/about/milestone
6.^ ICDX Clearing – Indonesia Clearing House http://www.icdx.co.id/clearing/overview
7.^  Association of Futures Markets http://www.afmorg.net/members/full-members
8.^ JFX Gold 1 kg futures http://www.jfx.co.id/en/product-jfx-23.html
9.^ JFX Gold 250 gram futures contract http://www.jfx.co.id/en/product-jfx-24.html
10.^ JFX Gold 100 gram futures contract http://www.jfx.co.id/en/product-jfx-25.html
11.^ JFX Gold Periodic Rolling contracts http://www.jfx.co.id/en/product-jfx-41.html
12.^ JFX Gold Rolling contract http://www.jfx.co.id/en/product-jfx-29.html
13.^ ICDX gold futures contracts http://www.icdx.co.id/products/Metal
14.^ ICDX GOLDGR gold contract http://www.icdx.co.id/files/Products/Specification%20for%20GOLDGR.pdf
15.^ ICDX GOLDUD gold futures http://www.icdx.co.id/files/Products/Specification%20for%20GOLDUD.pdf
16.^ ICDX GOLDID gold futures http://www.icdx.co.id/files/Products/Specification%20for%20GOLDID.pdf
17.^ ICDX PAMPGRID gold futures http://www.icdx.co.id/files/Products/Specification%20for%20PAMPGRID.pdf
18.^ PAMPKGUD gold futures http://www.icdx.co.id/files/Products/Specification%20for%20PAMPKGUD.pdf
19.^ ICDX UBSG gold futures http://www.icdx.co.id/files/Products/Specification%20for%20UBSG.pdf
20.^ Launch of ICDX UBS Gold Contract https://www.youtube.com/watch?v=yVF-ZkTdq9A
21.^ PT Untung Bersama Sejahtera (PT UBS) http://www.ubsgold.com/profile
22.^ Logam Mulia precious metals refinery http://www.logammulia.com/index.php?lang=en
23.^  PT Aneka Tambang (PT ANTAM) http://www.antam.com/index.php?option=com_content&task=view&id=35&Itemid=41
24.^ PT ABRG precious metals refinery http://www.ptabrg.com/operations/bullion-refineries.html
25.^ USGS 2014 gold production statistics http://minerals.usgs.gov/minerals/pubs/commodity/gold/mcs-2015-gold.pdf
26.^ Freeport's gold operations http://www.fcx.com/resources/gold.htm
27.^ PT Newmont Nusa Tenggara http://www.ptnnt.co.id/about.aspx
28.^ G-Resources, martabe gold mine http://www.g-resources.com/projects/martabe/overview
29.^ World Gold Council, Gold demand Trends Full year 2015 http://www.gold.org/download/file/4815/GDT_Q4_2015.pdf
30.^ Logam Mulia gold retail outlets http://www.logammulia.com/contact_us
31.^ Straits Bullion, Jakarta, PAMP distributor http://www.straitsbullion.com/index.php
32.^ World Gold Council, Gold demand Trends Full year 2015 http://www.gold.org/download/file/4815/GDT_Q4_2015.pdf
33.^ Indonesian Goldsmiths and Jewelers Association, archived link June 2015 https://web.archive.org/web/20150613030051/http://apepi.co.id/kontak-kami/
34.^ Indonesia Jewellery fair http://indonesiajewelleryfair.com/about-ijf-2012/what-is-indonesia-jewellery-fair/
35.^ "Surge in gold jewellery from Indonesia alarms India", Business Standard, September 2015, http://www.business-standard.com/article/economy-policy/surge-in-gold-jewellery-from-indonesia-alarms-india-115090200030_1.html
Subscribe to Gold University Articles