How can we help? Ask a question or describe a problem you're having.
Search
How to Withdraw Funds From Your BullionStar Account
It is easy and hassle-free to withdraw funds from your BullionStar account.
The following withdrawal methods are accepted:
- Domestic and International bank transfer
- Cheque (SGD only)
- Cash (SGD only)
Under normal circumstances, we initiate all withdrawal requests within one business day of the withdrawal request. Funds can only be withdrawn to the account holder. It's not allowed to transfer funds to any third party.
Follow this guide to withdraw funds from your BullionStar account:
Withdraw Funds from Your BullionStar Account
Step 1: Go to Your Account > Withdraw Funds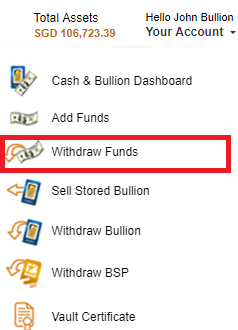 Step 2: Select currency and amount by clicking in the desired currency checkbox and by entering the amount to withdraw in the field under "Amount to Withdraw". Fill in your payment instructions. You can choose to withdraw to a domestic or an international bank account, by cheque (SGD only) or in cash (SGD only).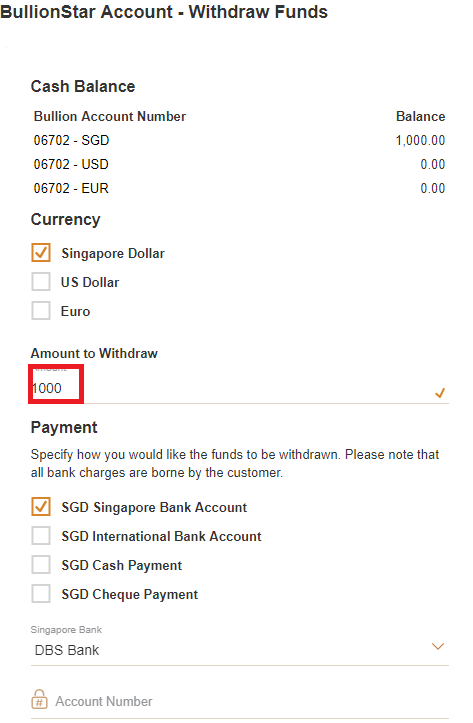 Step 3: Enter your PIN code. After reading and agreeing to the Terms and Conditions, check the checkbox and click on the button for "Send Withdrawal Request" to submit your withdrawal. After sending your withdrawal request, you will be brought to a confirmation page and you will also receive an e-mail confirmation. Under normal circumstances, we will process your withdrawal request within one banking day. Please note that all bank fees will be borne by you.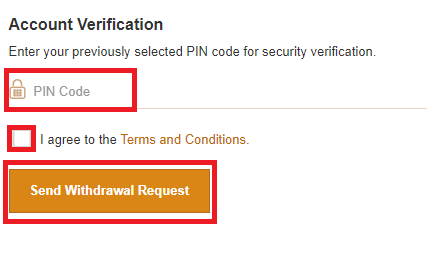 Related Topics
How to Fund Your BullionStar Account
Keeping Funds on Your BullionStar Account
How to Buy Bullion for Vault Storage