Gold Bullion Jewellery
Filter Products
matches

with current filter
Info about Gold Bullion Jewellery
BullionStar's gold bullion jewellery range features a selection of impressive 24 karat gold bullion necklaces and gold bullion bracelets ranging in weight from 20 grams to 100 grams.
As well as being stylish and attractive, these gold bullion necklaces and bracelets contain standardized quantities of gold, which means that they have a substantial investment value as well as being portable items of jewelry.
It also means that these gold bullion jewelry necklaces and bracelets can be worn and carried across international borders, which could be beneficial in economic crisis or conflict scenarios where discreet transport of wealth is paramount. Standardized weights also offer convenience for resale and weighing on electronic scales.
Designed with a classic fish bone chain link design, gold bullion necklaces and bracelets in BullionStar's range are aesthetically pleasing and are noticeably heavy when lifted due to their gold content. A number of necklace lengths are available, from 45 cms to 48 cms. Likewise, bracelets are available in lengths from 18.3 cms to 20.3 cms. Because they are jewelry items, these gold bullion necklaces and bracelets have a value above the spot price of gold which reflects their fabrication costs and design features.
All of these gold bullion bracelets and necklaces are stamped with the purity of 999 fine gold and carry the official assaying hallmark of the Singapore Assay Office, a lion's head.
How to order from BullionStar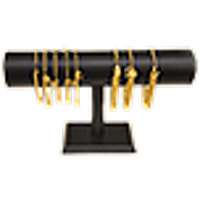 Gold Bullion Jewellery - Bracelets
Proof: .999
Country: Singapore
24 karat classic bracelets weighing 20 gram or 100 gram. This bracelet is a good alternative to bullion as the price is very attractive and the weight is standardized. The bullion jewellery bracelets can serve as a discreet method of transporting wealth if you need to travel with your gold. Bullion jewellery is also a way of diversifying if you're worried about potential confiscation scenarios.
| | |
| --- | --- |
| Regular Price | |
| Any Quantity | |
| | |

Add to Cart