Help
How can we help? Ask a question or describe a problem you're having.
2-Factor Authentication (2FA)
BullionStar provides you with the option of enabling 2-factor authentication when logging into your account.
If you choose to enable 2-factor authentication, a code will be sent via SMS text message to your mobile phone every time you attempt to login to your BullionStar account. You will be required to enter the code sent to your mobile phone to complete the login process and access your account.
2-Factor Authentication can be enabled either when you open your account or at any time thereafter by following the step-by-step guide below.
How to Enable 2-Factor Authentication
Step 1: Login to your BullionStar account and go to Account Details.
Step 2: Ensure that your mobile number is correctly updated, or enter a new mobile number and click on the "Save Changes" button.
Step 3: Click the 2FA & Mobile section icon and enable 2-Factor Authentication by clicking on the slider so it turns green.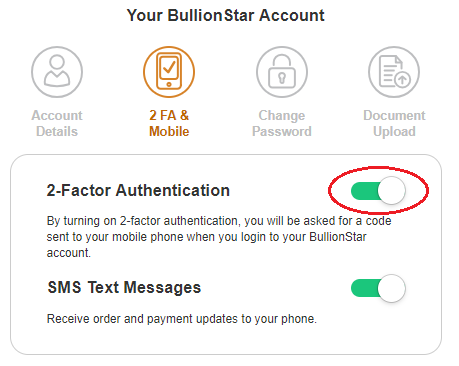 Step 4: The first time you switch on 2-Factor Authentication, you will be required to key in the code sent to your mobile phone via text message to activate the service.
BullionStar strongly recommends you to enable 2-Factor Authentication as an additional layer of security to keep your BullionStar account secure.
If you change your phone number or lose your phone after activating 2-Factor Authentication, please contact us.
Related Topics: