How can we help? Ask a question or describe a problem you're having.
Search
Direct Legal Ownership
When you buy and store bullion products in BullionStar's vault, you at all times maintain full direct legal ownership of your specific allocated bullion items, stored by BullionStar as your storage provider. BullionStar can never encumber your allocated bullion items in any way.
When we have received the funds for your purchased bullion for vault storage, we take a photo image of your bullion, with the serial numbers visible (where applicable), together with your printed order confirmation. This picture is uploaded to your account online so that you can view and identify your bullion.
Customer Audits and Withdrawals
BullionStar has a thorough program in place for auditing customer owned bullion which employs five different auditing methods. Since BullionStar's vault in Singapore is integrated together with the bullion shop and showroom at 45 New Bridge Road, Singapore 059398, it is simple and convenient for you as a customer to physically audit or withdraw your bullion at any time.
You can walk in to our shop in Singapore during opening hours and request a customer audit. No prior appointment is necessary to audit your bullion. This opportunity to conduct walk in audits of your own bullion is undoubtedly a unique service in the bullion industry and provides the ultimate reassurance of the existence of your bullion items. Please note that there is an audit fee of SGD 99 per audit instance as detailed in our fee schedule.
For bullion stored in New Zealand, you can also physically audit your metal by contacting BullionStar to arrange with the audit. The audit must be ordered and the audit fee, as specified in the Schedule of Service Fees, must be paid in full at a minimum of one (1) business day prior to the audit.
BullionStar's Live Audit Report, which allows you to audit your bullion items online, is also unique. With the Live Audit Report, you can verify the existence of your own bullion, as well as everybody else's bullion anonymously, against BullionStar's system records in all storage jurisdictions. Your bullion is listed under your vault account number in a publicly available list including the serial numbers of your bullion where applicable. All other BullionStar vault customers can likewise verify their bullion using the same system.
BullionStar employs third party LBMA-approved auditor Bureau Veritas to conduct independent third party audits. These audit protocols are made available for customers.
Ownership Certificate
BullionStar provides all vault customers with an ownership vault certificate. This ownership vault certificate is updated automatically each time a customer buys, sells or withdraws physical bullion.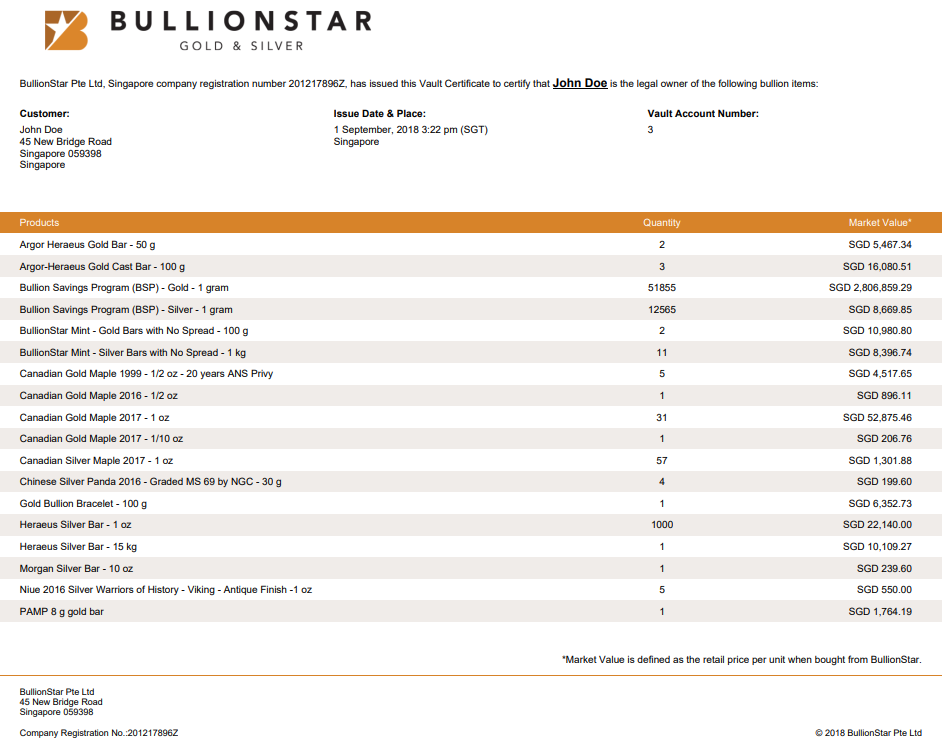 Singapore Law
Singaporean law protects private property ownership rights rigorously and effectively.
BullionStar is a stable and growing company located in one of the safest jurisdictions in the world where rule of law is strong and highly-regarded.
BullionStar's vault system is designed so that your ownership claim is clear no matter what happens. Even in the extremely unlikely event that BullionStar is unable to continue its business, an independent accounting company would be assigned to act as your agent in claiming possession of your bullion.
Related Topics:
Allocation of Physical Precious Metals