Dubai Gold Market
Introduction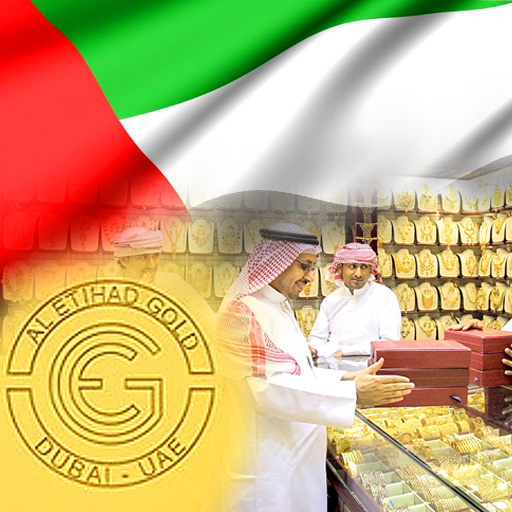 Dubai, one of the 7 Emirates that comprise the United Arab Emirates (UAE), has emerged as an important regional physical gold import, export and redistribution hub, and also as a gold trading centre. The local gold market comprises extensive gold refining, gold wholesalers and distributers, a very large gold retail sector, as well as the emergence of gold trading and brokering operations. Most gold trading in Dubai is still on an over-the-counter (OTC) basis, but there are now 3 gold contracts on the Dubai Gold and Commodities Exchange, a recently launched Spot Gold contract, a recently launched Indian Rupee Gold Futures contract, and a larger Gold Futures contract which was launched in 2005.
Symbol:
DGSG
Price quotation:
USD per troy oz
Tick size:
USD 0.10
Contract/Lot size:
32 oz
Min order size & min delivery Size:
1 lot
Fineness:
995 fine
Trading Hours:
Monday to Friday from 7am – 8 pm Dubai time (8.05pm  Delivery Notice ends)
Delivery Date:
Trade Date + 2
Delivery Unit:
31.99 troy ozs (1 kg), 995 fineness, in one bar, requiring "original refiner's certificate". Dubai Good Delivery approved brands only
Title of transfer:
Monday to Friday, but delivery days from Monday to Sunday are possible by prior arrangement
Cash Delivery Method:
100% Cash via DCCC
?Gold Delivery Method:
"100% physical Gold via Tradeflow Warrant for approved vault locations within Dubai"
Vault Locations:
Dubai gold souk, Dubai Airtport Free Zone (DAFZ), Almas vault
Clearing:
All trades are executed through a DCGX Clearing Member that is also a member of TradeFlow DMCC
Initial margin:
4% of price
Symbol:
DG
Underlying Commodity:
Dubai gold
Grade / Quality:
0.995 purity, Dubai Good Delivery Standard
Contract Size:
32 troy ounces (1 kg)
Price Quotation:
US$ per troy ounce
Tick Size:
US $0.10 (US$ 3.20 per contract)
Maximum Order Size:
200 contracts
Trading Hours:
Monday – Friday, 7am – 11pm Dubai time
Last Day of Trading:
3rd last business day of the month preceding the Delivery Month
New Contract Listing:
Business Day immediately following last trading day
Delivery Method:
Physically Deliverable
Delivery unit, weight, fineness:
1 Kg (31.99 troy oz), cast in one bar, 0.995 fineness
Notice Day:
Last trading day of the delivery month
Delivery Period:
1st day of the delivery month
Delivery Instrument:
Dubai Gold Receipt (DGR) in conjunction with validated Refiner's certificate
Symbol:
DIG
Underlying:
Indian Gold
Price Quotation:
USD 1.00 X Indian Gold Futures Price quoted in INR per 10 gms
Tick Size:
US$ 1
Contract Size:
1
Daily Price Movement Limit:
($900 / INR price)
Maximum Order:
500 contracts (Banks and bank related traders). All others: 200 contracts
Trading Hours:
DGCX Trading Hours Monday – Friday
Contract Trading Months:
February, April, June, August, October, December
Last Day of Trading:
2nd last trading day of month immediately preceding delivery month
Settlement Type:
Cash settlement – USD
Final Cash Settlement Price Basis:
Indian Gold futures price for that contract month
New Contract Listing:
Business Day immediately following last trading day
Initial Margin:
$950 per contract
Dubai Multi Commodities Centre (DMCC)
Dubai Multi Commodities Centre (DMCC)[1] is a Government of Dubai authority established in 2002. The DMCC's aims are to develop and promote the flow of physical commodity trade through the Emirate of Dubai by harnessing an extensive free trade zone known as the Jumeirah Lakes Towers (JLT) Free Zone[2]. This JLT Free Zone offers member companies business incentives such as zero-percent corporate tax, a large choice of commercial and office real-estate within the Zone, and supporting trading and logistics infrastructure.
Regarding gold trading, DMCC developed and continues to promote a number of initiatives to support the growth of the Dubai gold sector. These initiatives range from supporting the development of the gold refining sector through to supporting the growth of gold trading, and include the Dubai Gold & Commodities Exchange (DGCX), the Dubai Good Delivery Standard for gold refining, the establishment of the DMCC precious metals vault, and the creation of precious metal assaying standards.
Dubai Gold and Commodities Exchange (DGCX)
The Dubai Gold and Commodities Exchange (DGCX)[3] is an electronic platform for financial and commodity derivatives established in November 2005 as a joint venture between Dubai Multi Commodities Centre (DMCC), Financial Technologies (India) Limited (FTIL)[4], and the Multi Commodity Exchange of India Limited (MCX)[5]. DMCC originally held 50% of the DGCX shareholding, FTIL controlled 40%, and MCX held the remaining 10%[6][7], but DMCC moved to majority control of DGCX, with MCX and Financial Technologies still on-board as minority shareholders[8]. In January 2016, FTIL sold its remaining shareholding in DGCX (27.3%) to DMCC, after Indian regulators deemed that FTIL should not hold stakes in financial exchanges due to its involvement in failed Indian commodity exchange NSEL[9].
The DGCX and its offices are located at Level 37 of the AU Gold Tower, which is situated within the Jumeirah Lakes Towers (JLT) complex. DGCX is designated as a self-regulated organisation by the United Arab Emirates(UAE) Securities & Commodities Authority[10], and is an affiliate member of the International Organization of Securities Commissions (IOSCO)[11].
Note that there are 2 other securities exchanges in Dubai, namely NASDAQ Dubai[12], which focuses on equites and Islamic bonds, and the Dubai Mercantile Exchange (DME)[13], which is an energy focused commodity exchange. NASDAQ Dubai was previously known as the Dubai International Financial Exchange (DIFX). These 2 other exchanges, which operate out of Dubai International Financial Centre (DIFC)[14], are regulated by the Dubai Financial Services Authority (DFSA)[15].
DGCX 1 Kilo (32 oz) Gold Futures Contract
The DGCX gold futures contract[16], is a physically deliverable futures contract, representing 32 ozs of 995 fine Dubai Good Delivery Gold, and traded in US dollars per ounce. The contract's last trading day is the last business day of the month preceeding delivery. Delivery takes place on the 1st business day of the delivery month, via a Dubai Gold Receipt (DGR) in conjunction with a refiner's certificate.  The DGR is an electronic record of a vault receipt that was created by DMCC in 2005, and is based on the Dubai Commodity Receipt concept. DGR's are initially issued by approved vaults within the DMCC system, and are tradable / transferable instruments. The futures contract's cash settlement option is automatically invoked for all open positions that are not closed on the last trading day.
DGCX India Gold Quanto Futures Contract
The DGCX India Gold Quanto Futures contract[17][18], launched in June 2015, is denominated in US dollars, but the underlying is specified in Indian Rupee (INR). The Gold Quanto contract therefore provides 2 exposures, namely to Indian Rupee and to the Indian gold price. In general a 'quanto' is a derivative where the underlying is specified in one currency, but the derivative of that underlying is quoted in and settles in another currency at a fixed conversion rate.
DGCX Spot Gold Contract (DGSG)
The DGCX Spot Gold contract (symbol DGSG) is a physically-settled US dollar denominated contract for 32 ozs (1 kg) of .995 fine gold[19][20]. With 1 kilogram equal to 32.15 troy ounces, the deliverable quantity of 1 kilo of 995 gold equates to 31.985 fine troy ounces, hence the 32 ozs. The price quotation for the spot contract is USD per troy ounce. The contract was launched on 14 December 2015 and trades on the DGCX platform from Monday to Friday between 7am and 8pm Dubai time. This is the first on-exchange spot gold contract in the Dubai market, and is notable since most gold is still traded OTC in Dubai.
Physical delivery within the contract is activated by an intent to delivery notice submitted to the DCCC by end of trading day. All open contracts not subject to delivery are marked to market and automatically rolled over to the next trading day. Physical delivery takes the form of a TradeFlow warrant via Tradeflow representing a 1 kg gold bar (31.99 ozs) with an accompanying refiner's certificate at an approved vault location" in Dubai. This TradeFlow warrant is a similar but distinct instrument to the Dubai Gold Receipt (DGR) that is used for delivery in the DGCX Gold Futures contract.
The DGCX Exchange by-laws[21] contain contract specs for gold futures and gold quantro futures (page 54), delivery details for gold futures pages (55-56), and contract spec and delivery details for the DGSG (spot) contract (pages 115-117).
The price quotation of the Spot contract therefore refers to the price of 1 troy ounce of gold delivered at an approved gold vault in Dubai, i.e. a 'loco Dubai' price. DGCX members, broker members of DGCX and customers of broker members are eligible to trade the spot contract.
DCCC has initially approved bar brands from 7 refiners for the Spot Gold Contract. These refiners are The Perth Mint, Al Etihad Gold LLC, Emirates Gold DMCC, Istanbul Gold Refinery, and three Swiss refineries, namely Argor Heraeus, PAMP, and Valcambi. The approved vault providers for the DGCX Spot Gold Contract are Brinks Global Services and Transguard, and the three approved vault locations are the Dubai Airport Free Zone, Almas Tower in the DMCC in the JLT, and the Gold Souk in Deira[22]. The DCCC announced that it would waive storage charges on all spot gold transactions until 31 March 2016.
Cross-Exchange collaboration
According to Bloomberg[23], in June 2015 the Shanghai Gold Exchange (SGE) was in discussions with the DGCX about the introduction of yuan-denominated gold products into Dubai.
Earlier, in May 2014, the DGCX signed a Memorandum of Understanding (MoU) with the China Futures Association (CFA) to increase collaboration between the two bodies[24]. The China Futures Association is a Beijing based national association of futures industry participants in China[25].
Trading on DGCX
DCGX offers a number of membership types. Broker members can trade DGCX contracts on behalf of clients or on a proprietary basis. Trader members can trade all DGCX contracts on a proprietary basis. There is also a special category of membership called clearing members which are authorised to clear trades (see below). To trade on DGCX, a participant can either be a DGCX member or alternatively can trade through a DGCX broker member. Trading participants on DCGX would include banks, commodity trading advisors (CTAs), brokers and proprietary trading companies. The latest DGCX trading platform is hosted using trading platform technology provied by Cinnober[26]. Cinnober's trading infrastructure for DGCX is called the EOS platform[27][28].
DGCX also offers a free web-based GUI contract monitor tool called DGCX Marketwatch which can be used to keep track of DCGX contract prices during trading hours, including precious metals contract prices[29].
The DGCX plans to operate a 1 year designated market-maker scheme in most of its futures products running from 1 April 2016 to 30 March 2017. This scheme, for which market makers can apply, includes the DGCX standard Gold Futures and India Gold Quanto futures products, and possibly the Spot Gold contract[30].
Clearing on DGCX – DCCC
Trade clearing on DGCX takes place through the Dubai Commodities Clearing Corporation (DCCC). The DCCC, a fully-owned subsidiary of the DGCX, is the central clearing counterparty (CCP) for all DGCX trades. Clearing members of DGCX are also members of an electronic platform called 'TradeFlow DMCC' which is a warehouse receipt system that utilises electronic warrants and acts as a central registry of ownership of commodities in Dubai.
The DCCC's official definition of trade flow is as follows:
"TradeFlow is an electronic warrant platform which acts as the central registry of ownership for commodities stored in Dubai, stimulating trade by offering enforceable collateral based trade finance and exchange solutions; DCCC/DGCX uses the TradeFlow platform to validate delivery obligations as required for its commodity products transactions"
There are approximately 85 clearer members of DCCC, with representation from UAE companies as well as from companies headquartered in markets such as the UK, Singapore, (example United Overseas Bank Bullion and Futures (UOBBF)[31] and Switzerland. All DCGX trades clear through these clearing members.
Gold Refining and the Dubai Good Delivery (DGD) Standard
One of DMCC's gold market initiatives has been the creation of the Dubai Good Delivery (DGD) Standard for accreditation of gold refiners that produce brands of 1 kilogram gold bars (995 fineness) for the DGCX. The accreditation is of the refiners for their compliance with best practice in the gold refining industry, but the DGD Standard is specifically for the refiners' production of kilobars.
There are currently 13 DGD members including PAMP, Argor-Heraeus, Perth Mint, Rand Refinery, The Perth Mint, Heraeus, Emirates Gold, Istanbul Gold Refinery, and Krastsvetmet of Russia. There are also 14 former members of the DGD Standard including Royal Canadian Mint, Metalor, Johnson Matthey, and Dubai gold refiner Kaloti Precious Metals[32].The DGCX also lists the DGD members brands on its own website and refers to them as 'Approved Brands – Gold'[33].
The DMCC removed Kaloti from the DGD list in April 2015 saying that Kaloti had not "met DMCC's practical guidance for market participants in the gold and precious metals industry"[34].
Selected Precious Metals Refineries in Dubai/UAE
Emirates Gold Refinery
Emirates Gold, located in the DMCC, is a member of the Dubai Good Delivery list for gold. Emirates' refinery processes up to 200 tonnes of gold per year[35]. The refiner's gold bars have also been accredited for India's Multi-Commodities Exchange (MCX). Emirates produces a range of gold bars including the popular investment grade kilobar[36].
Al Etihad Gold Refinery
Al Etihad Gold is a member of the Dubai Good Delivery list for gold, located in the DMCC[37]. The refinery produces a range of gold bars from 400 ozs down to 100g, and minted gold bars from 100g down to 1g[38].
Kaloti Gold Refinery
Kaloti is a former member of Dubai Good Delivery list for gold. In April 2015, the DMCC removed Kaloti from the Dubai Good Delivery list. Kaloti's precious metals refinery operations are the largest in the UAE, and are based in the Emirate of Sharja (adjacent to Dubai to the north-east), and also in a new refinery in Dubai which has an annual production capacity of 1,400 tonnes of gold and 600 tonnes of silver[39]. Kaloti produces a range of cast gold bars from 400 oz bars, through to kilobars and 10 tola bars, down to 100g bars[40]. Kaloti is also a member of the Istanbul Gold Exchange and Shanghai Gold Exchange International.
Dijllah Gold Refinery
Dijllah Gold operates a refinery in the Saif Zone[41] in the Emirate of Sharjah, near Sharjah Airport. This refinery has an output capacity of 400 kilobars per day[42]. Dijllah's gold bar product range includes kilobars and ten tola bars[43]. Dijallah Gold has its headquarters in the Deira areas of Dubai, and a gold trading office in the Almas Tower in Dubai.
Al Ghurair Giga Gold Refinery
The Gigi Group and Al Ghurair run a joint-venture gold refinery called Al Ghurair Giga Gold, located in the DMCC. This refinery has an annual production capcity of 100 tonnes of gold[44].
Nadir Gold Dubai and IGR Global
Although it doesn't have a refining operation in the Emirate, Turkish gold refinery Nadir operates a marketing and distribution office in Dubai[45], overseeing Nadir's international activities. Nadir's office located in the Jumeirah Lakes Towers (JLT) complex. Likewise, Istanbul Gold Refinery's international subsidiary, IGR Global, runs a marketing and business development office in the DMCC in Dubai, located in the Almas Tower[46].
Precious Metal Vault Operators and Vault Locations in Dubai
Brinks, Transguard and G4S are the DGCX's three approved vault providers in Dubai[47].
Brinks Global Services operates precious metals vaults in both the Dubai Airport Free Zone and at Almas Tower in the Jumeirah Lakes Towers complex[48]. Transguard, which is a division of the airline Emirates, operates a precious metals vault in the DAFZ and has branches at the Almas Tower and the Gold Souk in Deira[49]. Transguard handles all valuable cargo going in or out of Dubai International Airport, and is specifically authorised to do so by royal decree[50].
In January 2006, the DGCX approved 3 vaults for settlement of its gold futures contracts. These vaults were:
Brinks Global's vault in the Dubai Airport Free Zone (DAFZ)
Transguard's vault in the Dubai Airport Free Zone (DAFZ)
MAF – Securicor vault in Rashidiya
Rashidiya is near the Gold Souk (Souq) in the Deira area, south of Dubai International Airport. MAF Securicor was a joint venture between Securicor and MAF Investments (a company controlled by Majid Al-Futtaim). In 2006, Securicor rebranded as G4S.
In April 2009, the DMCC opened its own precious metals vault in the 5th (lowest) basement of the DMCC Almas Tower at Jumeirah Lakes Towers, and one story below sea level[51][52].
This Almas vault is also operated by Brinks. The DMCC claims that this vault is the "largest non-sovereign vault in the Middle East". The Almas vault is also now a DGCX approved vault for the physical settlement of gold futures. Therefore, currently,  the DGCX approved vault locations are:
the Dubai Gold Souk
the DAFZ
the Almas vault
When the DGCX Spot Gold Contract was launched in December 2015, the DCCC specified Brinks Global Services and Transguard as the approved vault operators for the contract, with the same approved vault locations as above, being the DAFZ, the Almas Tower in the DMCC in the JLT, and the Gold Souk in Deira.
Dubai Gold Imports and Exports
The DMCC has published some gold import and export data but its most recent data runs from 2003 to 2011. Nevertheless, this data, sourced from the Dubai Customs Statistics Department, highlights the large volumes of gold flowing into and out of Dubai, and the consistent growth in the gold trade since 2003[53]. In 2011, 745 of tonnes of gold were imported into Dubai and 451 tonnes were exported (two way flow 1,196 tonnes in total). The corresponding figures for 2012 were 707 tonnes of gold imported and 418 tonnes exported (two way flow 1,125 tonnes in total). In contrast, during 2003, 385 tonnes of gold were imported into the Emirate, and 122 tonnes were exported (507 tonnes in total). Dubai's largest gold trade export destinations are India, Turkey and other Middle East countries such as Saudi Arabia and Egypt.
Dubai Gold and Jewellery Group & Dubai City of Gold
The Dubai Gold and Jewellery Group (DGJG)[54], based in Deira, is a trade body representing the interests of 600 members involved in gold bullion and jewellery production activities and in the gold jewellery wholesale and retail sector. Many of Dubai's gold outlets are located in the Gold Souk in Deira, one of the largest single gold retail centres in the world[55][56]. DGJG liaises with government bodies, facilitates member attendance at international exhibitions, and organises the annual 'Dubai City of Gold' conference[fn Dubai Gold and Jewellery Group (DGJG) incorporating Dubai City of Gold http://dubaicityofgold.com/about-us/]. The DGJG is supported by the Dubai Department of Economic Development (DED) [57].
The DGJG also publishes a daily Dubai "Retail Gold Rate" which consists of gold prices for 24 carat, 22 carat, 21 carat, 18 carat gold as well as a price for the Ten Tola (TT) bar. These prices are updated 4 times per day and once on a Saturday, and are used by gold retailers in Dubai and the UAE as a gauge with which to price their gold bar and jewellery sales[58].
Some of the very large Middle Eastern gold jewellery retail groups that are headquartered in Dubai include Damas[59], and Taiba[60].
Dubai Precious Metals Conference (DPMC)
A 'Dubai Precious Metals Conference' (DPMC)[61], backed by the DMCC, has taken place each April since 2012. The agenda for the latest DPMC can be seen on the Conference website[62]. The World Gold Council launched the Shariah Gold Standard at DPMC, in April 2016[63].
Trading Companies and Banks in Dubai's gold sector
Swiss precious metals group MKS has a presence in Dubai through its MKS Precious Metals DMCC office. MKS' refinery PAMP also maintains a wholseale and distribution office in Dubai, which is located in the Gold Souk in Deira[64][65].
The Giga Group, which jointly runs the Al Ghurair Giga gold refinery, imports bullion into Dubai from Swiss and German suppliers, and distributes to the local market[66].
INTL FC Stone,[67], the international commodities trading company, offers precious metals services to wholesalers in Dubai, and is also a trading member of the DGCX[68].
Banks active in the gold sector in Dubai include ICBC Standard Bank, Emirates NBD, and Standard Chartered. ICBC Standard Bank also offers financing, hedging and lending services, and has a physical storage and distribution capability out of Dubai[69]. Standard Chartered has a substantial presence in Dubai, and offers risk management, hedging and financing services to customers for gold and other precious metals[70]. Emirates NBD, which was the result of a 2007 merger between Emirates Bank International and the National Bank of Dubai (NBD), is Dubai's biggest banking group, and is active in the gold market through its wholesale and private banking divisions[71]. HSBC, Standard Chartered and Emirates NBD are also clearing banks for the DGCX[72].
Dubai Gold Coins
The Dubai Emirate issues gold coins designed by the DMCC and manufactured by Swiss gold refiner Argor-Heraeus. Editions include gold coins with the Burj Khalifa and Palm Jumeirah designs[73].
Conclusion
Over the last 15 years, Dubai has emerged as a significant player in world gold trade and in the gold refining sector. This is no mean feat given Dubai's previous position as a small middle-eastern gold market, and it highlights the impact of pro-gold government policy support from the UAE authorities.Dubai now acts as a regional gold distribution hub and also links into surrounding gold hubs such as Istanbul and the Indian market.
Despite some setbacks and lingering image problems about Dubai's laxness in complying with international standards of gold sourcing, the continued growth of exchange-based gold trading on the DGCX, and the Emirate's and wider Gulf's love of gold will ensure that Dubai and the UAE remain firmly at the heart of the world gold trade.
References and Links
1.^ Dubai Multi Commodities Centre DMCC – Dubai Multi Commodities Centre: http://www.dmcc.ae/gold_landing
2.^   Jumeirah Lakes Towers (JLT) Free Zone http://www.jlt.ae/about-jlt/
3.^  DGCX – Dubai Gold & Commodities Exchange: http://www.dgcx.ae
4.^ Financial Technologies (India) Limited (FTIL)http://www.ftindia.com
5.^ Multi Commodity Exchange of India Limited (MCX) http://www.mcxindia.com/
6.^ DMCC 50% share in DGCX: "DMCC partners Indian companies for bourse" Gulf News, November 2004 http://gulfnews.com/business/sectors/markets/dmcc-partners-indian-companies-for-bourse-1.338126
7.^ DMCC 50%, FTIL 40%, MCX 10%: "FTIL in joint venture for Dubai Exchange", Business Standard, November 2004 https://web.archive.org/web/20050330054700/http://www.dgcx.ae/BS_11Nov04.htm
8.^ DGCX shareholder profile: https://web.archive.org/web/20150910021200/http://www.dgcx.ae/index.php/en/home-1/stakeholders
9.^ "Financial Technologies exits DGCX with stake sale to DMCC" http://articles.economictimes.indiatimes.com/2016-01-28/news/70150272_1_ftil-dgcx-financial-technologies
10.^ UAE Securities & Commodities Authority http://www.sca.gov.ae/ENGLISH
11.^  International Organization of Securities Commissions (IOSCO) https://www.iosco.org/about/
12.^ NASDAQ Dubai http://www.nasdaqdubai.com/
13.^  Dubai Mercantile Exchange (DME) http://www.dubaimerc.com/
14.^  Dubai International Financial Centre (DIFC) http://www.difc.ae/
15.^  Dubai Financial Services Authority (DFSA) http://www.dfsa.ae/
16.^  DGCX Gold Futures – DMCC link http://www.dccc.co.ae/index.php/en/metals/gold-futures
17.^  India Gold Quanto Futures brochure http://www.dgcx.ae/index.php/en/2014-02-11-04-03-48/publications?download=618:dgcx-india-gold-quanto-futures
18.^  India Gold Quanto Futures detailed contract spec http://www.dgcx.ae/index.php/en/notices/item/download/453_482da16a61483ad7004d78bf21892a29
19.^ DGCX Spot Gold Contract Specs, DGCX website http://www.dgcx.ae/index.php/en/products/metals/spot-gold#contract-specification
20.^  DGCX Spot Gold Contract Specs, downloadable document http://thedgcx.com/index.php/en/notices/item/download/502_42bceba90b852204a50a2208e1e22a4f
21.^  DGCX Exchange by-laws http://www.dgcx.ae/index.php/en/home-1/exchange-rules
22.^ DCCC notification "List of Approved Brands, Vaults and Vaulting charges for Spot Gold Contract" December 2015 http://thedgcx.com/index.php/en/notices/item/download/506_44f5769ba70344360496c45a33e1d3db
23.^ "Shanghai Gold Exchange in talks with DGCX on introduction of yuan-denominated gold contracts into Dubai", Bloomberg, 25th June 2015: http://www.bloomberg.com/news/articles/2015-06-25/shanghai-gold-exchange-says-in-talks-with-cme-group-on-contracts
24.^ "DGCX expands ties with Chinese market with China Futures Association MoU", DCCC, 11 Feb 2014 http://www.dccc.co.ae/index.php/en/2014-02-11-04-03-48/item/581-dgcx-expands-ties-with-chinese-market-with-china-futures-association-mou
25.^ China Futures Association (CFA) http://eng.cfachina.org/
26.^ DGCX trading platofrm technology http://www.dgcx.ae/index.php/en/technology-2
27.^ Cinnober – DGCX profile http://www.cinnober.com/customer/dubai-gold-and-commodities-exchange
28.^ Cinnober – DGCX integrated trading and clearing http://www.cinnober.com/sites/cinnober.com/files/page/DGCX-Integrated-trading-and-clearing.pdf
29.^ DGCX Marketwatch http://marketwatch.dgcx.ae/
30.^ "Invitation to apply for Designated Market Maker Status in the specified DGCX Contracts", DGCX notice, November 2015 http://www.dgcx.ae/index.php/en/notices/item/download/499_8ca0cc3d069d8d0cb9dffa50f66c61b7
31.^ United Overseas Bank Bullion and Futures (UOBBF) http://www.uobbf.com.sg/uobbf/about_global_reach.html#global_reach
32.^ Current and Former Dubai Good Delivery (DGD) gold refinery members http://www.dmcc.ae/dgd-gold-members-final.pdf
33.^ DGCX Approved Brands – Gold http://www.thedgcx.com/index.php/en/clearing/approved-brands-gold
34.^ "DMCC removes Kaloti from Dubai Good Delivery list over gold sourcing" http://www.thenational.ae/business/economy/dmcc-removes-kaloti-from-dubai-good-delivery-list-over-gold-sourcing
35.^ Emirates Gold – http://www.emiratesgold.ae/company-profile.html
36.^ Emirates Gold refinery investment grade kilobar http://www.emiratesgold.ae/gold-kilo-bar.html?submenuheader=0
37.^ Al Etihad Gold http://www.aletihadgold.com/en-us/
38.^ Al Etihad gold bar range http://www.aletihadgold.com/en-US/products/
39.^ Kaloti Refinery http://www.kalotipm.com/Service
40.^ Kaloti refinery gold bar range http://www.kalotipm.com/Product
41.^ Sharjah Saif Zone http://www.saif-zone.com
42.^ Dijllah Gold Refinery http://dijllahgold.com/services1.php?id=7
43.^ Dijllah Gold, gold bar products http://dijllahgold.com/product1.php?id=1
44.^ Al Ghurair Giga Gold Refinery http://www.gigagroup.com/goldrefining.php
45.^ Nadir Gold Dubai http://nadirmetal.com.tr/en/affiliates/
46.^ IGR Global, Dubai http://www.igrglobal.com/about-us/our-people/
47.^ DGCX Partners – Approved Vaults for Gold and Silver http://www.dgcx.ae/index.php/en/partners?controller=sponsorwall&c=24
48.^ Brinks vault locations in Dubai, DMCC page http://www.dmcc.ae/tradeglow-warehouse-members-brinks
49.^ Transguard, Dubai http://www.transguard.ae/010101.asp
50.^ Transguard, DMCC page http://www.dmcc.ae/tradeflow-warehouse-members-transguard
51.^ DMCC Almas Tower precious metals vault http://www.dmcc.ae/gold-value-added-services
52.^ "Rising demand for Dubai's gold vaults" The National, March 2013 http://www.thenational.ae/business/industry-insights/economics/rising-demand-for-dubais-gold-vaults
53.^ DMCC, gold trade statistics, http://www.dmcc.ae/dubai-gold-trade-statistics
54.^ Dubai Gold and Jewellery Group http://dubaicityofgold.com/about-us/
55.^ Dubai Gold Souk, Deira http://www.goldsouks.com/dubai/
56.^ Dubai Gold Souk http://www.malloftheemirates.com/blog/dubai-tourism/dubai-gold-souk.aspx
57.^ Dubai Department of Economic Development (DED) http://www.dubaided.gov.ae/English/aboutus/Pages/AboutUs.aspx
58.^ DGJG Retail Gold Rates for a range of carats http://www.emirates247.com/business/gold-currency/latest-gold-forex-rates-in-uae-gold-dips-stays-above-1-200-2016-02-22-1.564538
59.^ Damas Jewellery group http://uae.damasjewellery.com/about-us
60.^ Taiba http://www.taiba.ae/
61.^ Dubai Precious Metals Conference (DPMC): http://www.dpmc.ae
62.^ DPMC conference schedule:https://www.dpmc.ae/agenda
63.^ Shariah Standard on Gold http://www.gold.org/reserve-asset-management/gold-financial-system/shariah-standard-on-gold
64.^ MKS and PAMP, Dubai offices http://www.mks.ch/index.php?id=38
65.^ PAMP Deira, MKS JLT http://www.pamp.com/wheretobuy#
66.^ Giga Group http://www.gigagroup.com/goldandjewellery.php
67.^ INTL FC Stone precious metals https://intlfcstone.com/Main-Channels/Commodities/Capabilites/Physical-Trading/Precious-Metals
68.^ "DGCX welcomes INTL FCStone into its member community", CPI Financial, 6 March 2016 http://www.cpifinancial.net/news/post/34981/dgcx-welcomes-intl-fcstone-into-its-member-community
69.^ ICBC Standard Bank, Precious Metals, Dubai https://www.icbcstandardbank.com/CorporateSite/Commodities/Precious
70.^ Standard Chartered – commodities https://www.sc.com/en/banking-services/business-banking/financial-markets/commodities.html
71.^ Emirates NBD http://www.emiratesnbd.com/en/index.cfm/specialized-services/rates-and-charges/gold-and-silver-prices
72.^ DGCX clearing banks http://dccc.co.ae/index.php/en/partners?controller=sponsorwall&c=22
73.^ DMCC gold coins produced by Argor-Heraeus http://www.uaegoldbullioncoin.ae/
Subscribe to Gold University Articles