How can we help? Ask a question or describe a problem you're having.
Search
Bullion Shop, Showroom & Vault in Singapore
BullionStar established the world's first integrated bullion center, combining a bullion showroom, retail shop and secure precious metals vault. We are located at the following address in central Singapore beside Clarke Quay MRT station, adjacent to the Central Business District (CBD):

45 New Bridge Road
Singapore 059398
Retail Shop
Customer Support
Retail Opening Hours -
Monday - Thursday: 11 am to 7 pm
Friday: 11 am to 5 pm
Saturday: 10 am to 2 pm
Closed on Sundays and Public Holidays
Customer Support Opening Hours -
Monday - Thursday: 7 am to 11 pm
Friday: 7 am to 6 pm
Saturday: 7 am to 3 pm
Closed on Sundays and Public Holidays
Closed on Sundays and Public Holidays.
BullionStar's one-stop walk-in bullion center offers customers the ability to view, buy, deposit, store, sell, audit and physically withdraw their bullion.
With 20 showcase displays of gold bars, silver bars, gold coins, silver coins, and numismatics as well as gold bullion jewelry, customers can view the huge product choice at their leisure while choosing their favourite bullion bars and bullion coins.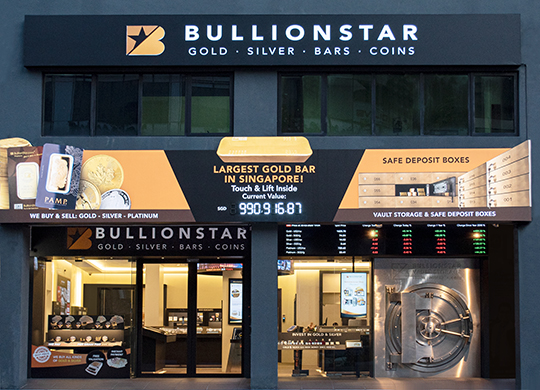 Walk-ins
No appointment is necessary to view, buy or pick-up online ordered bullion from BullionStar. We accept walk-ins and cash payments.
BullionStar's staff will be happy to guide you around the shop and offer you expert advice on all matters relating to bullion, mints, refineries and the overall precious metals market.
BullionStar also buys in scrap metal and jewellery at our bullion center. Visit us for a free valuation of your scrap metal or jewellery.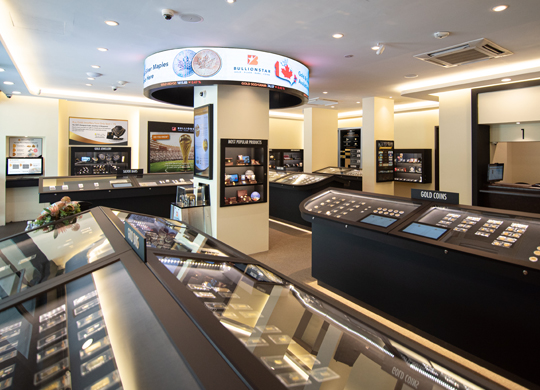 Integrated Bullion Vault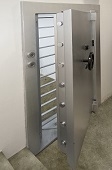 BullionStar's shop and showroom premises was previously a bank branch, and it's fortuitous that there was already a steel bar reinforced concrete bank vault built into this venue.
BullionStar has further reinforced this vault by installing a modern 1 ton vault door to the vault and added state of the art security systems covering seven different types of security surveillance.
By having a vault integrated within the bullion center with the bullion showroom and retail shop, BullionStar provides a unique a one-stop solution whereby customers have the convenience of depositing, auditing and physically withdrawing their precious metal at one and the same location as the shop and showroom without having to give any prior notification.
When you store your precious metals with BullionStar, you can simply turn up to physically audit or withdraw your metal. Your bullion will be double-checked before leaving the vault and also packaged in tamper-evident security bags for you convenience and piece of mind.
Related Topics
Buy Gold & Silver from BullionStar in 4 Easy Steps
BullionStar's Vault Storage Solution