De Nederlandsche Bank (DNB)
Introduction
The Netherlands officially reports gold holdings of 612.5 tonnes, making it the 10th largest central bank and official sector gold holder in the world, and 9th largest when excluding the International Monetary Fund's gold holdings[1]. Media focus on the Dutch gold holdings increased in late 2014 after the Dutch central bank announced that it had repatriated over 100 tonnes of gold back to Amsterdam that had previously been stored in New York.
Contents
The Netherlands owns over 600 tonnes in its official gold reserves. This gold is held and managed by the country's central bank, De Nederlandsche Bank (DNB) and stored with the FRB in New York, the Bank of England in London, the Bank of Canada in Ottawa, and at the DNB HQ in Amsterdam.

In late 2014, the DNB transported 122 tonnes of gold from the Federal Reserve Bank of New York to the DNB's headquarters in Amsterdam. This gold repatriation exercise was completed in secrecy and only revealed by the DNB after it had been completed.

The Dutch central bank sold 1100 tonnes of gold between 1992 and 2008. The DNB previously engaged in gold lending operations, but has not made gold loans since 2008.

In 2016 the DNB announced that it plans to move the gold stored in its Amsterdam headquarters vault to a new DNB cash center and storage facility in Camp New Amsterdam, which is about 60 kilometers south-east of Amsterdam near Zeist.

Like all central banks, the DNB refuses to publish a gold bar list (weight list) of the gold reserves which it claims to store in London, Ottawa, New York and Amsterdam.
Gold Ownership
The Netherlands official gold reserves are owned by the Netherlands state, and managed by the Dutch central bank and Eurosystem member, De Nederlandsche Bank (DNB).
"The Dutch central Bank manages more than 600 tonnes of gold. That gold is of the state and is in essence our national nest egg."
"De Nederlandsche Bank beheert ruim 600 ton goud. Dat goud is van de staat en is in wezen ons nationale appeltje voor de dorst."[2]
Gold Sales in 1990s and 2000s
The Netherlands built up its gold holdings mostly during the 1950s and 1960s similar to a lot of other developed Western European country gold holdings at that time. At its peak in 1978, the Netherlands held 1704 tonnes of gold, and in 1979 it held 1367 tonnes, after transferring 20% of its gold holdings into the European Monetary Cooperation Fund (EMCF). The 1990s and 2000s then saw substantial and sustained gold sales by the Dutch central bank, mostly from its gold holdings stored in New York, but using location swaps at the Bank of England in London, where the DNB gold in New York, which is in the form of US Assay Office melts (packages of 11-22 bars), was swapped with a counterparty for Good Delivery gold in London, and this gold was then sold by the Dutch.
In autumn 1992, the DNB sold 400 tonnes of gold in secrecy, and in 1996 it sold an additional 300 tonnes. As part of the first Central Bank Gold Agreement (CBGA1) between 1999 and 2004, the DNB sold another 235 tonnes of gold[3]. Then during CBGA2 between 2005 and 2009, the DNB sold another 165 tonnes leaving it with 612.5 tonnes of gold[4]. Since there have been no other sales, the DNB still holds 612.5 tonnes of gold to this today.
Storage locations and Distribution
The DNB holds its gold reserves across four locations, three of which are outside the Netherlands. In addition to Amsterdam, the DNB also stores gold at the vaults of the Federal Reserve Bank of New York (FRBNY), the Bank of England in London and with the Bank of Canada in Ottawa.
In November 2014, the DNB retrospectively announced that it had repatriated 122.5 tonnes of its New York held gold to Amsterdam[5]. Prior to this shipment, the DNB held 51% of its gold reserves in New York, 20% in Ottawa, 18% in London, and 11% in Amsterdam. After the repatriation, which only affected the New York and Amsterdam holdings, the DNB claimed to hold 31% of its gold in New York, 31% in Amsterdam, and unchanged percentages of 20% in Ottawa and 18% in London, respectively.
Only 4 central banks, Switzerland, Sweden, Netherlands and Belgium, claim to hold gold with the Bank of Canada in Ottawa. Wherever this gold is being stored, its not being stored at the Bank of Canada headquarters building in Ottawa, since that building is undergoing a multi-year full renovation until 2017 and the entire building and its vault have been vacated. If there was any physical gold actually being stored at the Bank of Canada on behalf of these 4 European central banks, then it was most likely moved to the vaults of the Royal Canadian Mint in Ottawa, which are just down the road from the Bank of Canada's headquarters.
The DNB explained this 2014 gold movement and redistribution exercise as an adjustment in its "gold stock location policy" that it claimed created a more balanced spread of its gold over the existing four gold storage facilities which it said was in line with other central banks' gold distributions. It also claimed that the gold repatriation would "have a positive effect on public confidence". This view contradicts somewhat with the DNB's pronouncement in 2012 that it held most of its gold abroad because "if the Dutch central bank wants to sell some of its gold, we don't have to ship it"[6].
Although the DNB did not specify how much gold in terms of tonnes it moved from New York to Amsterdam, nor how much gold in terms of tonnes it held in each of the four storage locations before or after the repatriation, these figures can be calculated based on its total holdings of 612.5 tonnes and the before and after repatriation percentage distributions.
DNB Gold Repatriation 2014
The DNB's gold repatriation involved moving 122.5 tonnes of gold from New York to Amsterdam[7]. Prior to this movement, the DNB held 67.4 tonnes in Amsterdam, 312.4 tonnes in New York, 122.5 tonnes in Ottawa, and 110.3 tonnes in London. The 122.5 tonne move reduced the holding in New York to 189.9 tonnes while increasing the Amsterdam holdings also to 189.9 tonnes. See table below for details.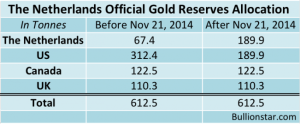 There were a few notable features of this 2014 gold repatriation exercise by the Dutch central bank. Firstly, it extended the gold repatriation trend that had been started in 2013 with Germany's repatriation of gold from New York (and Paris) to Frankfurt. Secondly, the Dutch gold transfer was carried out in complete secrecy and only announced to the public after it had been completed, unlike the German Bundesbank repatriation whose "7 year" plan was announced to the public before it had even begun. Thirdly, the DNB claimed to get back a large quantity of gold from the FRBNY in a short space of time, something which the Bundesbank was not able to do.
Although the DNB did not provide any details in its 21 November 2014 announce as to how the gold repatriation transport operation was carried out, Koos Jansen, BullionStar analyst reported from sources close to DNB that the repatriation had occurred in October and November 2014 by air transport to the Netherlands, followed by armoured car transport to the DNB vault in Amsterdam[8].
The DNB gold vault in Amsterdam
Camera crews have, on a number of occasions, filmed footage of the gold bar storage vault area at DNB's headquarters in Amsterdam, which can be seen in various short videos. The first of these vides were shot in 2012 and 2014[9][10][11]. At that time the gold stored in the DNB basement in Amsterdam was arranged on a series of open plan wooden shelves arranged in various aisles. This was before the October / November 2014 gold repatriation operation which boasted the Amsterdam holdings from 67 tonnes to 190 tonnes.
In February 2016, the DNB issued a press release announcing that it was considering the possibility of relocating the gold stored in Amsterdam to another location in the Netherlands since, according to the DNB, the Amsterdam headquarters building, which dates from 1968, needs to be redeveloped, and the existing vault area puts a security strain on the entire headquarters building[12][13].
In April 2016, Dutch TV channel RTL Z visited the DNB vault and filmed the storage area[14] which by that time had changed to rows of open plan blue metal shelving which looks identical to that used in the Bank of England vaults in London.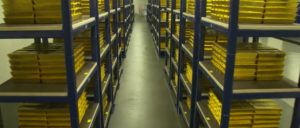 In October 2016, the DNB announced that is will be moving its gold (and banknote) storage from Amsterdam to a new facility at "Camp New Amsterdam". Camp New Amsterdam is located about 60 kilometers south-east of Amsterdam near Zeist, and is the site of an old Royal Netherlands air force base  at Soesterberg which was also used as a US Air Force in Europe base until 2008. Camp New Amsterdam is currently used by the Royal Netherlands Marechaussee, one of the branches of the Dutch armed services, and it will house a new DNB Cash Center which will also store the DNB's gold, banknotes and coins[15].
DNB denies Gold Purchase
On 27 January 2015, the International Monetary Fund (IMF) in its monthly update of central bank gold transactions reported that the DNB had bought 10 tonnes of gold in December 2014. A few hours later on the same day, the Dutch central bank denied that it had purchased 10 tonnes of gold in December 2014[16], but failed to explain how or why the IMF had reported this 10 tonne increase. In its press release, the DNB referred to a spreadsheet on its website which it said reflected its non-changing gold holdings of 19.691 million fine troy ounces of gold since 2008[17][18].
Reporting and Valuation
The Dutch official gold reserves of 19.7 million fine troy ounces (612.5 tonnes) are held as a reserve asset by the DNB and reported on the DNB's balance sheet under a 'gold and gold receivables" line item classification. This 'gold and gold receivables' asset is valued at market value in Euros at financial year-end[19].
Weight List Controversy
As well as its secrecy surrounding gold sales and gold repatriation, the Dutch central bank is also secretive about an inventory or gold bar weight list of its gold holdings. This secrecy around publishing industry standard weight lists is also common to other central banks in Europe such as the German Bundesbank and central bank of Austria[20][21]. In 2016, the DNB stated to BullionStar's Koos Jansen that it would not be publishing a gold bar weight list since it was administratively costly[22]:
"DNB is transparent about the amount (weight) and the value of our gold assets. This information can be found in our annual reports. Thereby, several media have visited the gold vault and video recordings have also been made. However, we do not intend to publish a gold bar list. This serves no additional monetary purpose to our aforementioned transparency policy, however it would incur administrative costs."
"DNB has internal gold bar lists, however the conversion of internal lists to documents for publication would create too many administrative burdens. We maintain our previous email, in which we stated publishing a gold bar list serves no monetary purpose other than transparency."
This implausible excuse by the DNB is in line with the general non-publication central bank policy regarding weight lists which appears to be a coordinated approach involving the input of the large gold custodians, the Bank of England and the FRBNY.
DNB Gold Lending
Although it's not clear if the DNB engages in gold lending at the present time, the Dutch central bank did engage in gold lending in the 1980s, 1990s and early 2000s via the Bank of England. According to the DNB's 2005 report "Gold Management of the Bank" (see link in references), the DNB author Jan Lamers stated that:
"DNB has also participated in this market for gold loans. This achieved some small returns on gold. In 1981 the DNB began with a loan of up to 10 tonnes of gold. With increasing demand for gold loans, the maximum size gradually increased to 142 tonnes in 1999; DNB's share of this market was not that great."
"Initially the DNB limited (the lending) to gold deposits placed with banks with a maximum duration of three months. This term was consistent with the policy term for time deposits in the currency portfolios. Then, to enhance returns, the maximum term was extended to 12 months, since only a small part of the gold stock was invested for longer maturities (longer than 12 months), and since interest rates were higher."
"From 2002, the low interest rate on the short-term deposits was not acceptable to the DNB. That is why gold deposits maturing were not extended, and the gold again returned to the vaults of the Bank of England. As a result, the DNB from autumn 2004, for the first time in 23 years, no longer has outstanding short-term gold deposits, however there are still gold interest rate swap contracts."
In a reply-to-a-set-of-parlimentary-questions in 2011 about the Netherlands gold holdings, the Dutch finance minister stated that:
"DNB heeft mij aangegeven dat zij in 2008 is gestopt met het uitlenen van goud" – 'The DNB has indicated to me that they stopped gold loans in 2008.'
Given that the DNB last sold sold in 2008 under the second Central Bank Gold Agreement (CBGA2), it is possible that DNB gold sales were merely cash-settled gold lending positions for gold that the DNB did not receive back from the borrower bullion bank.
References and Links
1.^ Official central bank gold reserves by country, World Gold Council website http://www.gold.org/research/latest-world-official-gold-reserves
2.^ "Money and Gold – From the Treasury of the Dutch central bank" DNB brochure https://static.bullionstar.com/blogs/uploads/2016/08/geld-en-goud-dnb.pdf
3.^ "Gold Management of the Bank" by Jan Lamers, Senior Policy Advisor, Financial Markets Division, De Nederlandsche Bank (DNB). January 2005 http://web.archive.org/web/20081117183716/http://www.dnb.nl/binaries/goudbeheer%20van%20DNB_tcm46-146095.pdf
4.^ Quarterly time series of central bank gold holdings, World Gold Council website https://www.gold.org/research/quarterly-times-series-world-official-gold-reserves-2000
5.^ DNB adjusts its gold stock location policy, DNB press release, 21 November 2014,  http://www.dnb.nl/en/news/news-and-archive/nieuws-2014/dnb315314.jsp
6.^ 90% of Dutch Gold Reserve Is Held Abroad, January 2012, Market Update website http://marketupdate.nl/nieuws/economie/valutacrisis/90-of-dutch-gold-reserve-is-held-abroad/#
7.^ "The Netherlands Has Repatriated 122.5t Gold From US", Koos, 21 Nov 2014 https://www.bullionstar.com/blogs/koos-jansen/the-netherlands-has-repatriated-122-5t-gold-from-us/
8.^ "Analysis Dutch Gold Repatriation: Why, How And When" Koos, 26 Nov 2014 https://www.bullionstar.com/blogs/koos-jansen/analysis-dutch-gold-repatriation-why-how-and-when/
9.^ "Nederlands goud vooral in buitenland", "Netherlands gold mostly held abroad?", Nieuwsuur, 6 January 2012, YouTube video, 6 minutes https://www.youtube.com/watch?v=fXoUoVsFwGA
10.^ "Should The Dutch Repatriate Gold From The US? Extract from Nieuwsuur January 2012 video, 2 minutes, with English subtitles, BullionStar YouTube channel https://www.youtube.com/watch?v=hvpufQ5pIcc
11.^ Dutch Youth TV "Het Klokhuis", short video about DNB gold within visit to DNB in 2014, BullionStar YouTube channel, November 2014 https://www.youtube.com/watch?v=bMe5gnNVcm8
12.^ "Exploration of relocation of DNB valuables area" (in Dutch), DNB website, February 2016 http://www.dnb.nl/nieuws/nieuwsoverzicht-en-archief/nieuws-2016/dnb338161.jsp#
13.^ "Dutch Central Bank Considers To Relocate Gold Vault And Publish Gold Bar List", 24 February 2016 https://www.bullionstar.com/blogs/koos-jansen/dutch-central-bank-considers-to-relocate-gold-vault-and-publish-gold-bar-list/
14.^ Video of Channel RTL Z visit to DNB gold vault in Amsterdam, April 2016 http://www.rtlz.nl/tv/laatste-videos/het-ligt-er-echt-voor-6-miljard-euro-aan-goud-bij-dnb
15.^ "DNB to move gold vaults and banknote activities", DNB press release, October 2016 https://www.dnb.nl/en/news/news-and-archive/persberichten-2016/dnb346811.jsp
16.^ "De Nederlandsche Bank (DNB) has not increased its gold holdings", DNB press release, 27 January 2015 http://www.dnb.nl/en/news/news-and-archive/persberichten-2015/dnb317996.jsp
17.^ Archive of spreadsheet which DNB claimed showed it did not buy any gold in December 2014, https://web.archive.org/web/20140915000000*/http://www.statistics.dnb.nl/usr/statistics/excel/t12.25ek.xls
18.^ "Netherlands Did Not Increase Gold Holdings In December", BullionStar blogs, 27 January 2015, https://www.bullionstar.com/blogs/koos-jansen/netherlands-did-not-increase-gold-holdings-in-december/
19.^ DNB annual report 2015, www.dnb.nl/en/binaries/Jaarverslag_ENG_web_tcm47-339389.pdf
20.^ "Central Bank Austria Claims To Have Audited Gold at BOE. Refuses To Release Audit Reports & Gold Bar List", BullionStar blogs, October 2016 https://www.bullionstar.com/blogs/koos-jansen/central-bank-austria-claims-to-have-audited-gold-at-boe-refuses-to-release-audit-reports-gold-bar-list/
21.^ "Update on Bundesbank Gold Repatriation 2015" https://www.bullionstar.com/blogs/ronan-manly/update-on-bundesbank-gold-repatriation/
22.^ "Dutch Central Bank Refuses To Publish Gold Bar List For Dubious Reasons" 27 Aug 2016 https://www.bullionstar.com/blogs/koos-jansen/dutch-central-bank-refuses-to-publish-gold-bar-list-for-dubious-reasons
Subscribe to Gold University Articles