Will The Renminbi Be Fully Convertible In 2015?
Let us begin by looking at withdrawals from the Shanghai Gold Exchange (SGE), as this is the best indicator for demand in the Chinese wholesale market – read this post for the mechanics of the Chinese gold market. In week 20 (May 18 – 22) withdrawals accounted for 43 tonnes, down 6.57 % week on week, but still a robust amount.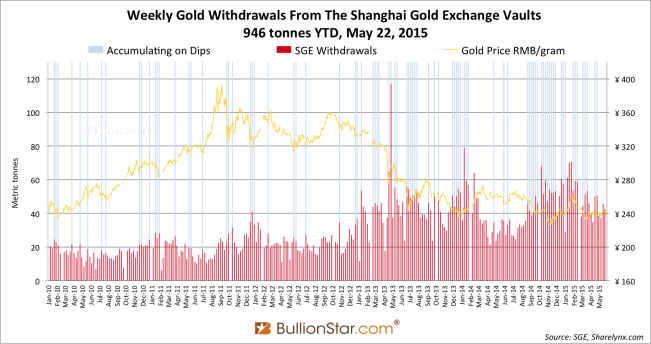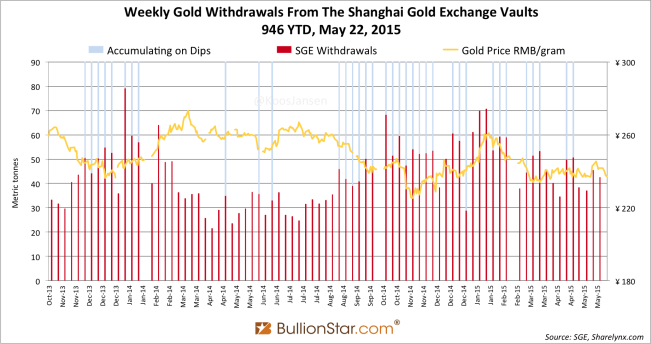 Year to date a whopping 946 tonnes have been withdrawn. That's 20 % more than withdrawals year to date at May 23, 2014, and 8 % more than withdrawals in 2013 at May 24.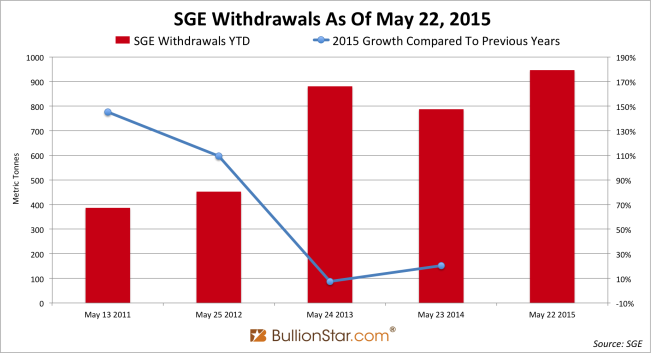 As I've written numerous times on these pages, SGE withdrawals can be supplied by either mine, import or scrap. To get to the best estimate of each category, we first have to look at trading activity on the Shanghai International Gold Exchange (SGEI) to define what was demand in the mainland – read this post for the workings of the SGEI. In week 20 the volume traded on the SGEI, which is mainly done in the iAu99.99 contract, accounted for 24.8 tonnes, year to date 523 tonnes has changed hands on the International Board. If we calculate by how much this volume could have distorted SGE withdrawals we get 13 tonnes – read this post on how I calculated the distortion ratio.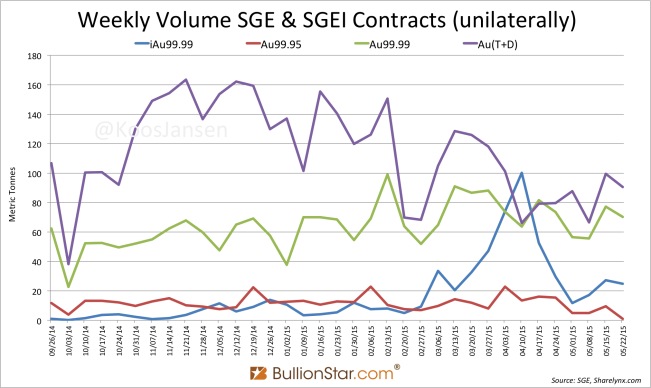 My best estimate is, China mainland wholesale gold demand was 933 tonnes (945.7 tonnes minus 12.9 tonnes) on May 22, 2015. How was this supplied? In 2013 the SGE was supplied by 11 % scrap (recycled gold) and in 2014 by 19 % scrap (2014 percentage is an estimate). Let's use 15 % for 2015. If we subtract 15 % (scrap year to date) from 934 tonnes, and then another 174 tonnes (mining year to date), we get 620 tonnes that have been imported into the mainland.
Speculation: as these estimated imports are relatively high to what we see being exported to the mainland from places like Hong Kong and Switzerland, my guess is Chinese import was actually a little less, and SGEI withdrawals – that were not imported into the mainland – have actually been a little more. I hope to finally get confirmation from the SGE anytime soon.
By the way, Yahoo Finance has recently started publishing SGE withdrawals. That's almost two years after me, but I'm glad they do.  
Full Renminbi Convertibility
When the renminbi is said to be "fully convertible" it means that China has opened up its capital account. This would, for example, allow Chinese citizens to invest their capital overseas in stocks and bonds and alike. This is what the Chinese government is slowly achieving. The Shanghai International Gold Exchange can, inter alia, be seen as a tool to gradually allow onshore renminbi to be traded abroad and offshore renminbi in the mainland.
Friday morning I called the SGE to ask about the current status regarding the use of onshore renminbi for SGEI (/International Board) contracts. Since September 2014 international traders can use offshore renminbi to trade all contracts on the International Board and most contracts on the Main Board (they can only withdraw gold from International Board contracts stored in the Shanghai FTZ). Domestic traders can trade all Main Board contracts and International Board contracts. Although, only a few banks – to my knowledge ICBC and China Industrial Bank – offer domestic clients SGEI brokerage to use onshore renminbi to trade International Board contracts.
Have a look at the next table for an overview. Kindly note, delivery is not the same as withdrawals (/load-out).
Pleas read my post Working Of The Shanghai International Gold Exchange for more information.
Rumors are spreading China is to open up its capital account this year to internationalize the renminbi and aiming the Chinese currency to be included into the SDR. From MarketWatch:
HONG KONG (MarketWatch) — China is expected to launch a slate of major policies "very soon" to open its capital account and make the yuan … a fully convertible currency by the end of this year, the country's largest state-controlled investment bank said in a report Tuesday. China International Capital Corp. (CICC) said that "2015 is no ordinary year for the internationalization" of the yuan, also known as the renminbi or "people's currency."The CICC report cited China's wish to have the currency become one of those used by the International Monetary Fund to value its Special Drawing Rights, the accounting unit used by the Fund. Since the vote to add new currencies to the SDR basket — held once every five years — is scheduled to take place in October, CICC said they expected China to quickly carry out its plans to further open its financial sector, including easing controls over the yuan. "We forecast the renminbi to be called a fully convertible currency by the end of this year," it said.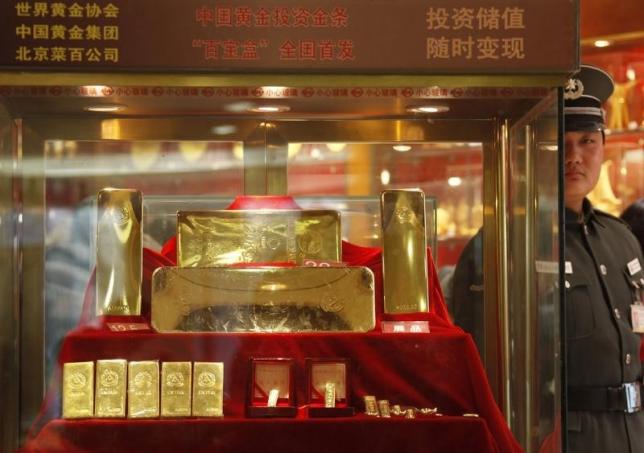 As I've stated before it's likely the PBOC will revise its official gold holdings to accomplish renminbi inclusion into the SDR – for more information read this post about the renminbi, the SDR and gold. According to Wang Lixing (known as Roland Wang in the west), Managing Director China for the World Gold Council, the power to price gold will shift to the Middle Kingdom when China has opened its capital account. Wang told Reuters on May 14, 2015(published only in Chinese that I'm aware of) . The next quotes from Wang are translated by Soh Tiong Hum!
Reuters, Beijing 14 May (author: Li Wenke) –

Wang Lixing, Managing Director China WGC, says on Thursday that despite China's economic slowdown and a red hot stock market that are a drag on gold consumption, China's gold consumption this year is expected to reach 900-1000 tons due to the 'One Belt and One Road' strategy as well as the liberalization of gold market. China's influence on the gold price is expected to rise.

…

Market liberalization will raise China's influence on price

Wang says that China's gold market continues to be liberalized. This includes opening up circulation channels, cancelling the use of permits and developing the International Board. Add loosening of import and export controls, demand is set to grow quickly which will add to China's influence on the international gold price.

"Relatively speaking, how fast the renminbi capital account can be opened will determine the extent of further liberalization of the gold market", he said.

In his opinion, gold retains strong features of a currency. As long as the renminbi capital account cannot be fully liberalized, gold will continue to be controlled.

For example, China's domestic investors still cannot conveniently participate in trading on the International Board. Key reason is control on foreign exchange, which the International Board requires the use of the offshore renminbi.
According to the SGE Domestic traders (members and customers) can use onshore renminbi to trade on the International Board (see above).
He emphasizes that the SGE international board and internationalization of the renminbi walk hand in hand. Gold trading using offshore renminbi is the first step of integration. As transaction volume grows and the market continues to attract offshore investors, in conjunction with internationalization of Chinese enterprises, China's market will elevate its influence on the international market.

Wang opines that the Chinese government's encouragement to mining and finance companies to internationalize with policies like 'One Belt and One Road' will benefit these companies' development.

He states 'One Belt and One Road' covers 70 countries including 16 major gold producers. This huge growth strategy helps nations to development their gold resources together. In addition, 'One Belt and One Road' also includes nations that have high demand for gold. Coming together will boost sales and consumption of jewelry.

Although China is a major gold consumer and producer, China can only achieve pricing influence if there are more participants engaging in an international effort.

"If our mining companies do not internationalize, if our financial enterprises participating in gold leasing and precious metals do not cover the globe, there is no point to talk about global influence" he says.

…

At the forefront of an effort to secure gold pricing influence is the Shanghai Gold Exchange's international board, established in September 2014, which for the first time allows foreign investors to trade contracts in renminbi. Insiders reveal that China plans to launch a gold price fixing in renminbi this year. Price fixing will be done at SGE.
To be continued…