India Precious Metals Import Explosive - August Gold 126t, Silver 1,400t
In the month of August 2015, India imported 126 tonnes of gold and 1,400 tonnes of silver, according to data from Infodrive India. Gold import into India is rising after a steep fall due to government import restrictions implemented in 2013.
Year-to-date India has imported 654 tonnes of gold, which is 66 % up year on year. 6,782 tonnes in silver bars have crossed the Indian border so far this year, up 96 % y/y.
Gold import is set to reach an annualized 980 tonnes, which would be up 26 % relative to 2014 and would be the second highest figure on (my) record – my record goes back to 2008.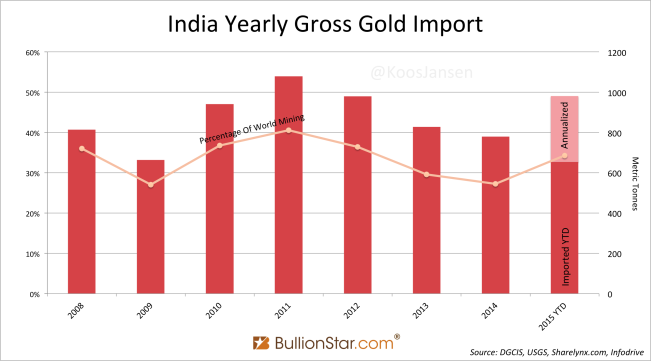 Silver import is on track to reach an annualized 10,172 tonnes, up 44 % y/y! This would be a staggering 37 % of world mining.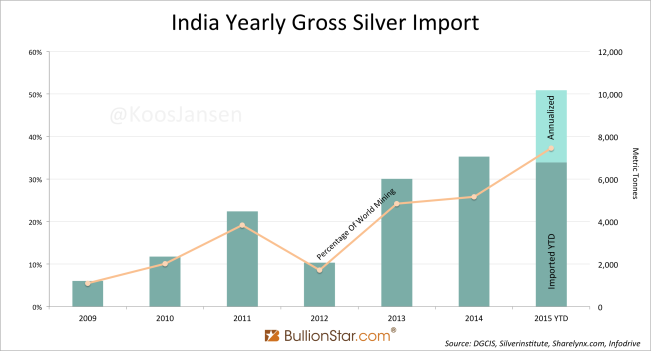 August trade data is preliminary and will be revised. However, these revisions are usually not significant. On 24 March 2015, I wrote an article based on preliminary data that suggested March silver import would transcend 130 tonnes, a few months later official data from the DGCIS disclosed that the Indian silver import figure for March was 132 tonnes.
India Gold Import Is Rising
When the gold price made its famous nosedive in April 2013, demand from the East – India and China – exploded. The Chinese government counted its blessings and encouraged its populace to import an unprecedented 1,500 tonnes. In contrast, the Indian government was not willing to allow its people to satisfy themselves in buying gold. The reason being, a current account deficit.
The Indian government decided in June 2013 to raise the import duty on gold from 4 % to 8 % and in August 2013 from 8 % to 10 %. Additionally, in August the 80/20 rule was implemented – forcing traders to export 20 % of all imported gold. As a result (official) gold import dropped from an all-time high in May 2013 at 165 tonnes, to a mere 16 tonnes in September 2013. We can only speculate how much was smuggled into India at the time.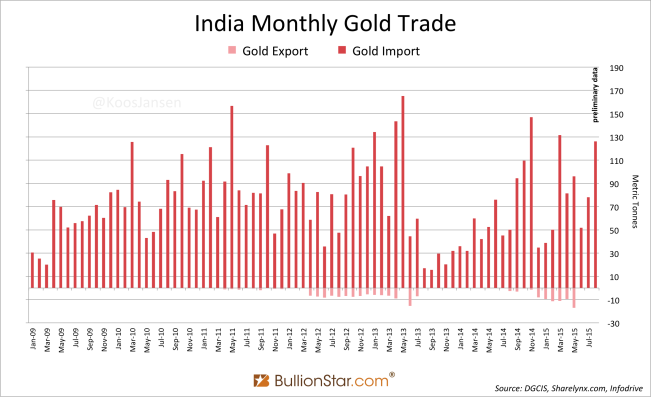 The restrictions shocked the Indian precious metals market and premiums on local gold skyrocketed to 25 % (including the 10 % import duty) in December 2013. When the market eventually found a way within the existing framework to supply those in demand, premiums came down and official imports rose; illustrating the Indian people are not likely to stop buying gold, as they're aware "their rulers are thieves".
Finally, the 80/20 rule was withdrawn in November 2014 allowing gold to be imported more easily. The premium at Indian bullion shops over the international gold price (XAU/USD) has been slightly above the 10 % gold import duty this year.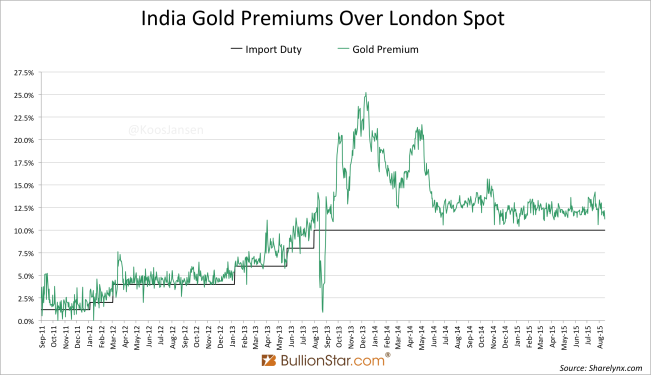 The next strategy from the Indian government and the World Gold Council is to monetize gold "to reduce reliance on import" (click to read the proposal). The most recent draft describes how people can deposit their gold at a bank for interest and the banks can use this gold to lend out, though the exact workings of the renewed scheme are still unclear. In my humble opinion monetizing gold in India will not succeed and imports will not be dampened. The Indian people don't want to lend their gold and they don't want to melt their inherited emotionally-critical wealth.
India Silver Import Is Rising
When the Indian government raised the import duty on gold in 2013, it simultaneously raised the import duty on silver to 10 %. However, the premium on silver didn't reach 25 % like gold. Many people switched to purchase silver instead of gold. Import since 2013 has increased dramatically.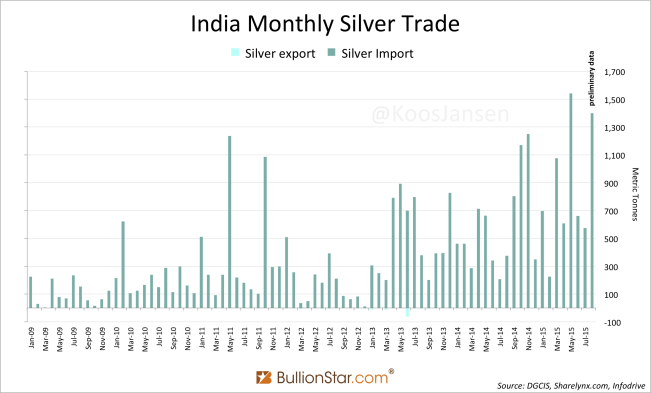 Last May India imported a record 1,542 tonnes of silver, in August an estimated 1,400 tonnes was shipped in, which would be the second highest number on record – my record goes back to 2008.
This year India is set to import 37 % of global silver mining output. Perhaps more interesting, annualized import equates to 18 % of total above ground silver inventory, based on numbers from GFMS.
Gold is hardly used in industries, more so hoarded by investors and central banks and has a high stock to flow ratio. GFMS estimates there is 180,000 tonnes of above ground gold of which India is set to import 980 tonnes (1 % of above ground stock). Silver has many industrial applications, is used up and is not anymore hoarded by central banks. Resulting in relative low above ground stocks which are partially being imported by India – not likely to be exported any time soon. Potentially creating scarcity at current prices. In a forthcoming post we will zoom in on the supply and demand metrics of the Indian silver market.