Dutch Central Bank Considers To Relocate Gold Vault And Publish Gold Bar List
According to a press release the management team of the Dutch central bank has requested to investigate relocating the banknotes and gold vault that is currently located in the basement of bank's headquarter at the Frederiksplein in Amsterdam.
In the press release we can read the reason for the investigation to relocate the vault flows from preparations to renovate the building that dates from 1968. While planning the renovation the subject to relocate the vault was brought up as the burdens for securing the metal is currently felt by all employees and visitors at the central bank's headquarter. Storing 189.9 tonnes of gold at the Frederiksplein encompasses high security standards for all employees working in the building while nearly none of them have anything to do with the vault. In addition, whenever large batches of banknotes are transported to or from the vault the security measures can be complex in the center of Amsterdam. From this discomfort it's considered to relocate the vault.
In November 2014 De Nederlandsche Bank (DNB) disclosed to have repatriated 122.5 tonnes from the Federal Reserve Bank Of New York (FRBNY), which brought the total amount of gold stored in Amsterdam to 189.9 tonnes and left an equal amount (189.9 tonnes) in New York. In London at the Bank Of England DNB has stored 110.3 tonnes and in Ottawa, Canada, 122.5 tonnes are stored. In total Dutch official gold reserves stand at 612.5 tonnes.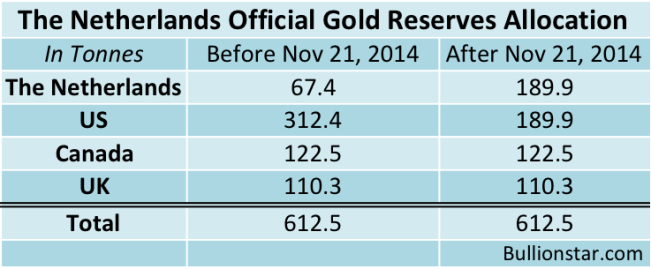 From my perspective the official reason presented to relocate the gold can be legitimate, but it can be a decoy as well. After studying film footage shot in the DNB gold vault from October 2010, January 2012 and March 2014, all from before the repatriation in November 2014, we must conclude the vault compartment we can see is sufficiently large to hold 67.4 tonnes, but would be very tight to hold 189.9 tonnes. Surely there are other compartments in the vault, as we can see in the videos, though I'm not sure if all areas have been designed to carry exceptional large tonnages of gold. The soil in Amsterdam is known for largely consisting of clay, as opposed to the bedrock in Manhattan, this can be problematic for storing gold. There is a possibility the vault in Amsterdam is not suited to store 189.9 tonnes of gold, or more if DNB would ever decide to repatriate additional gold from the US, UK or Canada.
When I called DNB today I was directed to a spokesman, Martijn Pols, whom I asked when a final decision would be made on the vault relocation and whether they have any new locations in mind. I was told the Dutch central bank  will come to a final conclusion by the end of this year and no new locations are on table as of yet. While talking to this gentleman I also took the opportunity to ask about the gold bar list.
On 26 September 2015 I visited a conference in Rotterdam, the Netherlands, called Reinvent Money. One of the speakers was Jacob De Haan from DNB's Economics and Research Division – you can watch his presentation by clicking here. In his presentation De Haan repeatedly talked about the importance of transparency in central banking. These statements raised my eyebrows, as I've submitted a FOIA request at DNB in 2013 to ask for all correspondence between DNB and other central banks in the past 45 years with respect to its monetary gold, which was not honoured. From my experience DNB was anything but transparent.
After the presentation I approached De Haan and asked, if transparency is so important to DNB, why it has never published its gold bar list – an act of transparency that could be accomplished within minutes. De Haan offered me he would look into that. He gave me his email address and we agreed to stay in touch.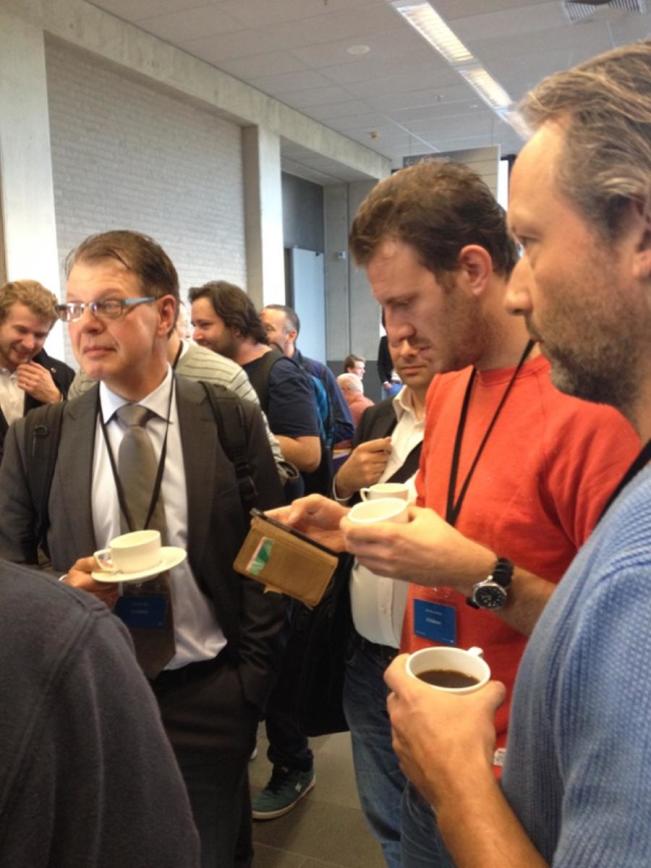 The next day I send De Haan an extensive email explicating my request at DNB to publish the gold bar list of the Dutch official gold reserves in excel format. I wrote him it wouldn't take DNB any effort, as I assumed the bar list is already in their possession. De Haan never replied to me over email, so I called his office in December 2015 to ask what the status was of my request. De Haan's secretary answered my inquiry was not rejected but still being processed.
Today, when I asked DNB's spokesman over the phone about the bar list he answered the subject is still being discussed internal, he even confirmed De Haan was involved in this matter. Currently DNB is considering to release the document while carefully weighing al pros and cons, I was told. In the conversation Pols stated DNB knows the German central bank released a bar list in October 2015 and there was a wish in Amsterdam to mutually harmonize this policy. I added that if DNB would go ahead with its list their action would only be credible if the list would be complete, including all refinery brands, refinery bar numbers and year of manufacturing, in contrast to the incomplete list the Germans published. Pols was aware of the format the Germans had chosen and took note of my comment. An ensuing question from my side what's holding back DNB in releasing the list could not be clearly answered.