This Is What The AIIB Is About
Until March 31 countries can submit for membership of the Asian Investment Infrastructure Bank (AIIB), a financial institution proposed by China, which has the purpose of being a multilateral framework to finance infrastructure projects in the wide Eurasian region. In recent weeks many Western countries have submitted for membership, the US rejected application as it fears strong cooperation between Asia and Europe will weaken the US dollar hegemony. On April 15 the final list of the founding members will be disclosed.
In October 2013 the initial idea for the AIIB was first put forward by Chinese President Xi Jingping "on constructing a 21st Century Maritime Silk Road to promote maritime cooperation". The strategic vision has currently developed into the New Silk Road Economic Belt, of which the AIIB is one segment. Another segment is, for example, the Silk Road Infrastructure Fund.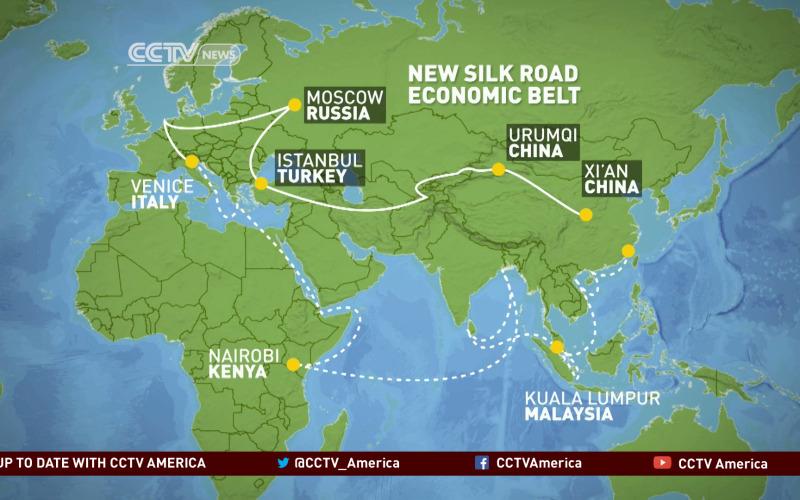 The New Silk Road Economic Belt Strategic Vision
As early as February 2014, Xi held a meeting with the Gulf Cooperation Council (GCC) to establish better ties between China and the Gulf, for free trade and to secure China's oil supplies.
That same month China's Foreign Minister Wang Yi went on a flurry of trips to meet with Israeli Prime Minister Benjamin Netanyahu, the Saudi Arabian crown prince, the Iranian Foreign Minister, as well as many nations in the Gulf and North Africa. West Asia is the region where more than 30 ports of various sizes and functions allow China to both import 60% of its annual requirements of oil and export goods destined for Europe, the premier market for "Made in China", as well as transport to and from Africa.
It was agreed Beijing will finance a three hundred kilometers high-speed rail between the cities of Eilat and Ashdod, connecting the Red Sea coast to the Mediterranean.
As explained in a study by the Center for Research in International Affairs in Herzliya, the Chinese focus to build new ports and the high-speed rail in West Asia will, inter alia, service an alternative transport route that could continue to operate in the event of a crisis blocking shipping in either the Suez Canal or Strait of Hormuz.
UPDATE April 1, 2015: Prime Minister Benjamin Netanyahu has signed a letter of application for Israel to join the China-led Asian Infrastructure Investment Bank (AIIB)…
Also in February 2014, Xi and Putin reached a consensus on the construction of the Belt and Road project, as well as its connection with Russia's Euro-Asia railways.
In May 2014 Chinese Premier Li Keqiang visited four African nations; Ethiopia, Nigeria, Angola and Kenya to boost ties. Chinese vice-minister for foreign affairs told reporters that about 60 agreements have been signed during Li's trip, which "highlights the great importance we attach to China-Africa relations". Kenyan President Uhuru Kenyatta has said Li's visit would be a "game changer" and the region requires "a strong partner who will not only support it in economic ventures but also in peace settlement". It's estimated 85 % of Africa's export to China are raw materials, such as oil and minerals.
The AIIB is very much about developing infrastructure in Asia. For China the New Silk Road Economic Belt strategic vision is about importing (/securing) resources such as oil, have strong export channels and to strengthen ties with trading partners. The main significance of the AIIB is non-US cooperation which will further weaken the US dollar hegemony and change the international monetary environment in the years to come.
Western and non-region members are currently:
Australia
Austria
Brazil
Denmark
France
Germany
Italy
Luxembourg
Netherlands
New Zealand
Spain
Switzerland
UK
Finland
Norway
Iceland
Malta
Poland
Portugal
South Africa
Sweden
Asian (regional) members are now:
Bangladesh
Brunei
Cambodia
China
Georgia
Hong Kong
India
Indonesia
Jordan
Kazakhstan
Kuwait
Laos
Malaysia
Maldives
Mongolia
Myanmar
Nepal
Oman
Pakistan
Philippines
Qatar
Russia
Saudi Arabia
Singapore
South Korea
Sri Lanka
Tajikistan
Thailand
Turkey
Uzbekistan
Vietnam
Taiwan
Kyrgyzstan
Iran