Switzerland Gold Export China October 29t
First, withdrawals from the vaults of the Shanghai Gold Exchange (SGE), our best measure for Chinese wholesale gold demand, accounted for 49 tonnes in week 44 (9 – 13 November), up 9 % from the previous week. Year to date SGE withdrawals have reached 2,259 tonnes, which is already more than any previous yearly total.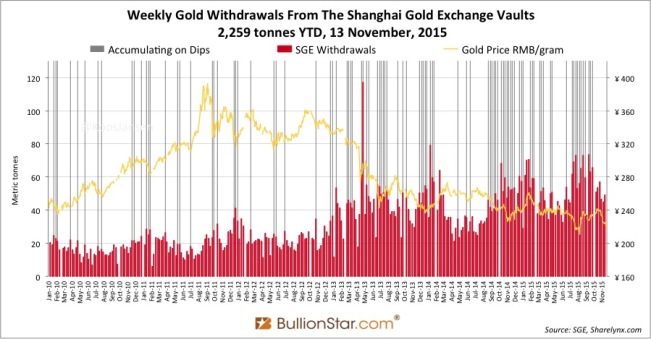 Seasonally, SGE withdrawals are the highest around new year, therefore I expect them to increase from current levels before the end of 2015 – perhaps transcending 60 tonnes a week. Chinese people traditionally exchange gifts during new year and lunar year, often in the form of gold.
As SGE vaults have likely been depleted from July until September – after the crash in the Chinese stock market withdrawals skyrocketed – I don't expect Chinese gold imports will decline until the January 2016. Year to date China has net imported 1,058 tonnes, according to lagging data released by various customs departments around the world.
The most recent data from Swiss customs points out there were 29 tonnes of gold shipped directly to China mainland in October, up 34 % m/m. Year to date (Jan – Oct) Switzerland has net exported 217 tonnes directly to China.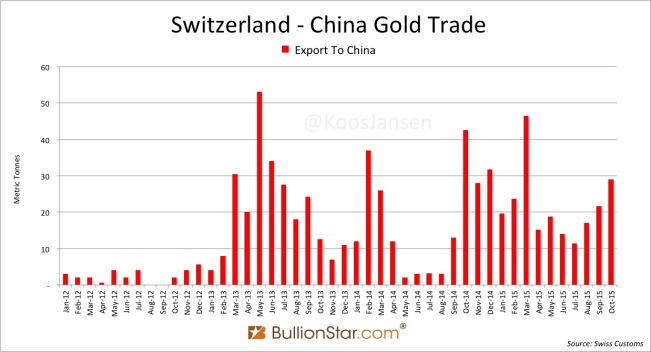 A couple of years ago all net gold export from the UK (a large supplier of gold to the East) to China flowed via Switzerland or Hong Kong. Because the UK has started to export gold directly to China since 2014, Swiss gold exports to China have been somewhat decreasing.
Year to date (Jan – Sep) Hong Kong has net exported 582 tonnes directly to China.
Year to date (Jan – Sep) the UK has net exported 210 tonnes directly to China.
Year to date (Jan – July) Australia has net exported 49 tonnes directly to China.