Renminbi Internationalization And China's Gold Strategy
Here we go!
A seminar about gold supporting the internationalization of the renminbi and China's financial strength was held in Beijing on 18 September 2015. One of the keynote speakers was Song Xin, President of the China Gold Association (CGA), Chairman of the Board of China International Resources Corporation, President of China National Gold Group Corporation and Party Secretary, who believes China's economic power must be serviced by appropriate gold reserves to support the renminbi. An article written by Song published on Sina Finance in 2014 stated (translation by BullionStar):
For China the strategic mission of gold lies in the support of renminbi internationalization. Gold … forms the base for a currency moving up in the international arena.

If the renminbi wants to achieve international status, it must have popular acceptance and a stable value. To this end… it is very important to have enough gold as the foundation and raising the 'gold content' of the renminbi. Therefore, to China, the meaning and mission of gold is to support the renminbi to become an internationally accepted currency and make China an economic powerhouse.

That's why, in order for gold to fulfill its destined mission, we must raise our gold holdings a great deal, and do so with a solid plan. Step one should take us to the 4,000 tonnes mark, more than Germany and become number two in the world, next, we should increase step by step towards 8,500 tonnes, more than the US.
President of the CGA before Song was Sun Zhaoxue, who shared many of the viewpoints of his successor. In 2012 a famous article from Sun was published in Qiushi magazine, the main academic journal of the Chinese Communist Party's Central Committee, wherein he plead for stimulating the Chinese citizenry to buy gold next to increasing China's official gold reserves (translation by BullionStar):
Currently, there are more and more people recognizing that the 'gold is useless' story contains too many lies. Gold now suffers from a 'smokescreen' designed by the US, which stores 74% of global official gold reserves, to put down other currencies and maintain the US Dollar hegemony. Effectively, the rise of the US dollar … and later the euro currency, from a single country currency to a global or regional currency was supported by their huge gold reserves.  

Individual investment demand is an important component of China's gold reserve system, we should encourage individual investment demand for gold. Practice shows that gold possession by citizens is an effective supplement to national reserves and is very important to national financial security.
Regular readers of this blog will know what Sun wrote in 2012 regarding 'individual gold investment' is exactly what has unfolded; through the Shanghai Gold Exchange (SGE) we could see thousands of tonnes of gold moving into the mainland in recent years. According to my estimates Chinese privates gold holdings have reached 12,000 tonnes – next to the People's Bank Of China's (PBOC) gold buying program.
Since my last extensive blog post (20 May 2015) on PBOC gold purchases I've been able to collect more clues related to the amount of gold China's central bank has harvested in exchange for its lopsided US dollar holdings. Last week I spoke to an insider with connections at Western bullion banks. This gentleman confirmed proxies of the PBOC purchase gold directly in the London OTC gold market that is shipped to Beijing. Implying much of the 1,750 tonnes that have mysteriously vanished from the London Bullion Market (left London without being disclosed in UK customs statistics) in between 2011 and early 2015 went to China. This supports the analysis the PBOC is buying at a pace of 500 tonnes a year in the international OTC market (not through the SGE) and owns approximately 4,000 tonnes by now.
Furthermore, it seems the writings from Song and Sun correspond with China's real undertakings in the gold market, which influences our valuation of their words. There are no transcripts from the seminar in September, but I found an article (in Chinese) that summarizes what Song and others have said. Please read the gripping translation below.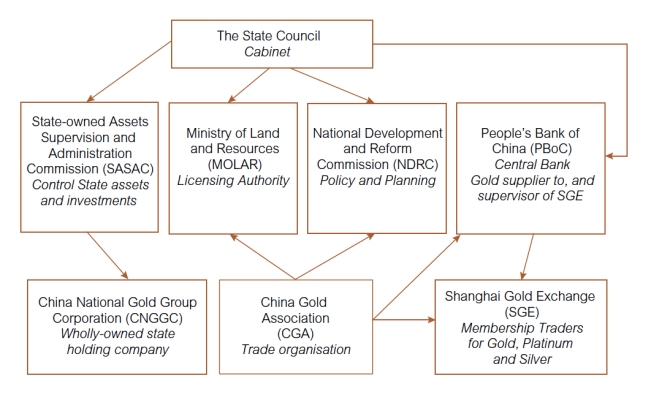 Note, Song is the President of China National Gold Group Corporation, which started an alliance with Russian gold miner Polyus Gold to deepen ties in gold exploration. China and Russia aim to trade (newly mined) gold over the Shanghai International Gold Exchange in renminbi for international institutions and central banks as part of the Silk Road Gold Fund to attract the center of the international gold market towards the East.
Renminbi Internationalization and China's Gold Strategy Seminar
Date: September 22, 2015. Source 
On 18 September 2015 the "Renminbi Internationalization and China's Gold Strategy Seminar" was smoothly held in Beijing. The seminar was guided by the China Gold Association and jointly held by the Chinese Gold Research Center of Capital University of Economics and Business and Beijing Gold Economic Development Research Center. It was supported by Zhao Jin Futures, Shandong Zhaojin Investment Co., Ltd., Shenzhen Jinmingzhu Jewelry Co., Ltd. and Chifeng Jilong Mining Industry Co., Ltd.
Over 130 representatives from the governments, banks, gold mining industry, gold investment organizations, jewelry companies and educational institutions attended the seminar. Wang Wenju, Vice President of Capital University of Economics and Business announced to rename the Chinese Gold Market Research Center of Capital University of Economics and Business on the seminar site.
Wang Jiaqiong, President of Capital University of Economics and Business, Song Xin, President of Chinese Gold Association & General Manager and Secretary of the Party Committee of China National Gold Group Corporation, Wang Xiaomei, Deputy Party Secretary of China National Gold Group Corporation, Wei Benhua, Former Director of the State Administration of Foreign Exchange and Former General Representative of Chinese International Monetary Fund, and other leaders and representatives attended the seminar. 13 experts from China Gold Association, Shanghai Gold Exchange, Renmin University of China, Chinese Social Science, Capital University of Economics and Business, China Center for International Economic Exchanges, China Forex Investment Research Institute, Gold Economic Research Center, ICBC, China Construction Bank, Shandong Gold Group and Shandong Zhao Jin Group delivered splendid speeches.
President Wang Jiaqiong delivered a speech. In his speech, Wang Jiaqiong pointed out, RMB internationalization is a struggling process in need of strategic research. In the seminar, many experts, scholars and entrepreneurs were discussing renminbi internationalization and Chinese gold strategies. They would propose wise ideas and good policy suggestions after brainstorming, playing as a think tank in the development of China. The research team led by Professor Zhu Heliang from our university spent years studying Chinese gold strategy problems and some research results obtained the central affirmation and recognition. All of your arrival can better support our in-depth research on relevant topics and construction of related disciplines.
In the opening ceremony, Wang Wenju announced the renaming of the Chinese Gold Market Research Center of Capital University of Economics and Business, which focuses on the current gold market, to Chinese Gold Research Center of Capital University of Economics and Business with the purposes of better studying gold problems comprehensively, displaying the function of gold in national economy and society, boosting renminbi internationalization and keeping pace with the times. The school would offer vigorous support and hope that the new research center can strengthen team building and display think tank functions.
In his speech, Song Xin mentioned that the Chinese gold industry has achieved a great-leap-forward development since the new century. In 2014, Chinese gold yield had turned China into the biggest gold producing country in the world for eight consecutive years and the biggest gold consumption country again. Whether in the past, present or future, gold plays a crucial role in the development of human society. Renminbi internationalization has boosted China's march towards an economic power from an economic giant. The new age has endowed gold with more important missions. Gold has shouldered a heavy responsibility of "increasing credit" for renminbi internationalization and increased the "gold content" for renminbi internationalization. 
Recently, the Central Bank announced to increase gold reserves to the public many times in succession. In fact, it's the strategic layout and major move for laying the renminbi's international credit foundation. We always suggest formulating and boosting national gold strategies in pace with national financial strategies positively, further improving the quantity and proportion of gold in national foreign exchange reserves, developing occupancy volume of gold production and increased gold resources. We further suggest perfecting the gold market, promoting foreign currency in individuals, boosting Chinese and western wealth flowing, improving our control power of global gold wealth flowing, accelerating renminbi internationalization, helping the renminbi enter special drawing rights currency basket, rebuilding international currency system, balancing American hegemony process, and positively displaying the due function of gold and the gold industry. Leaders from Capital University of Economics and Business have supported the research on gold problems for a long time. The team led by Professor Zhu Heliang has persistently pursued basic research on gold with outstanding viewpoints. They have obtained relevant departments' high attention for long. I hope that Capital University of Economics and Business can further display its gathering advantages of majors and talents, and strengthen the cooperation with Chinese Gold Research Center, China National Gold Group Corporation and its subordinate companies.
In the seminar, experts thoroughly analyzed the essence and inherent laws of renminbi internationalization, new positioning and functions of gold in the non-gold standard currency system. They discussed the strategic significance of gold in renminbi internationalization from historical and actual perspectives and Chinese gold strategies in the new age. Experts unanimously regarded gold as playing an irreplaceable role in currency internationalization progress. The important element of gold shouldn't be ignored during renminbi internationalization. The country should attach great importance to the development of the gold industry and market and increase gold reserve from a strategic height.
The seminar is the "prelude" of the first renminbi internationalization and Chinese Gold Strategy Research Project jointly carried out by Chinese Gold Research Center of Capital University of Economics and Business and Beijing Gold Economic Development Research Center. After the seminar, key viewpoints were to be collected and submitted to related departments. Chinese Gold News will set up a special column and publish solicited articles about "renminbi Internationalization and Chinese Gold Strategies". Meanwhile, two organizations will organize special research teams, focus on the topic research of "renminbi internationalization and Chinese Gold Strategies", and open the research results for publication. With national major strategy research as their own duty, the two organizations have formed a strategic alliance in terms of promoting renminbi internationalization and adjusted research directions of Chinese gold strategies in order to make effort and contribution to the prosperous cause of China.