Global Financial Turmoil, Gold Price Doesn't Move
It's remarkable the Greek tragedy has had no influence on the gold price in recent weeks. We've heard repeatedly Europe and Greece could not reach a deal for an extended bailout, are financial markets suffering from Euroscrisis fatigue?
Team Dijsselbloem-Juncker states they stretched all they could and offered the Greek government a reasonable deal that would require more reforms the Hellenic Republic, but team Varoufakis-Tsiparas will not agree with the proposed reforms. On Thursday June 25 another final meeting ended with no success, while Greece had a payment of €1.6 billion to the IMF coming up on June 30, negotiations were pushed to Saturday June 27. Dangerous territory, a bank holiday usually kicks of in the weekend when financial markets are closed.
Again, on Saturday June 27 no agreement could be reached, crowds started to appear at ATMs in Greece. The Greek government closed the banks, only allowing people to withdrawal €60 a day, and organized a referendum (held on Sunday July 5) to let the Greek people decide if the latest offer from their creditors should be accepted, yes or no.
On June 30 Greece defaulted by not paying the IMF €1.6 billion, followed by a media war between team Varoufakis-Tsiparas and Europe in which both sides are accusing each other of spreading false rumors on the current state of affairs; shaking the fundamentals of the great European project.
Concurrently the Chinese stock market fell into an abyss, from a peak on June 12 down 29 % on July 3, nearly ¥15 trillion yuan (over $2 trillion dollars) was moved out of the Shanghai Composite Index. Yet, recent financial turmoil has not moved the gold price. Not in dollars (or renminbi, as the renminbi is pegged to the US dollar):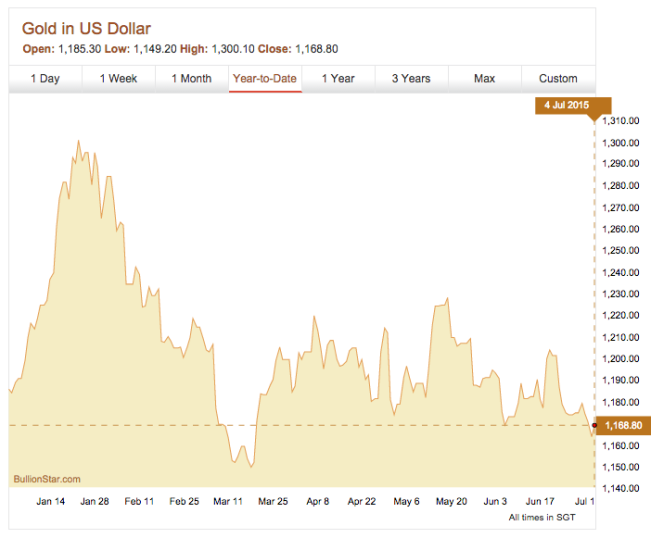 Not in euros: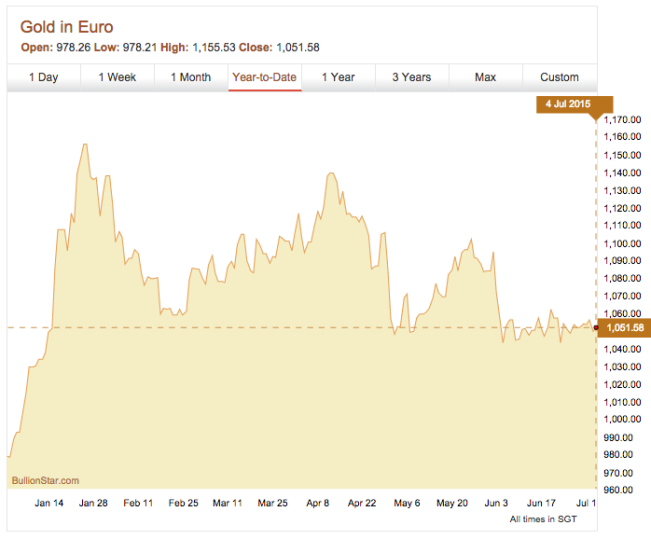 This smells like market rigging. Surely, the last thing the authorities need at this moment is gold on the move. Various media and bullion dealers reported demand for physical gold in Europe is strong. Walter Hell-Höflinger, owner of a gold shop in Austria, stated: "The critical thinkers have lost faith in politicians, their currencies and in the media. The price of gold is actually artificial."
I've asked Torgny Persson, CEO of BullionStar.com in Singapore, and CEO of LibertySilver.se and LibertySilver.ee in Europe, about the recent sales dynamics at his bullion shops. This is what he told me:
– Precious metals demand in the last week leading up to the Greek referendum has been about 150 % higher than normal both in terms of order quantity and order volume. This is true for Bullionstar.com as well as for LibertySilver.se and Libertysilver.ee

– Based on my conversations with the western world's leading refineries and precious metals wholesalers, they have experienced similar increases in the last week.

– There's however no shortage of gold or silver at this point although bottlenecks in minting capacity may soon lead to prolonged delivery times if the demand is kept up. 
During week 25 (June 22 – 26) gold withdrawn from the vaults of the Shanghai Gold Exchange (SGE) accounted for 46 tonnes. Year to date 1,162 tonnes have been withdrawn.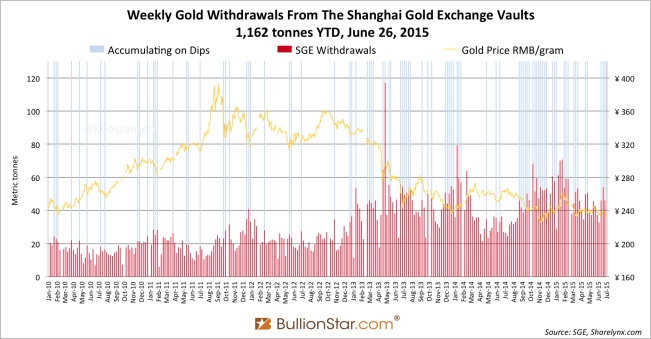 Withdrawals have been strong in recent weeks, however, at this point it's not sure if SGE withdrawals equal Chinese wholesale demand. We'll find out if more trade data is released.
In short, for the first time ever a developed country has defaulted on an IMF loan, the future of the euro is at stake (kindly note The Netherlands and Germany have backup currencies ready, that's partially the reason they repatriate gold), the stock market of the world's second largest economy declined by nearly 30 % in less than three weeks, but the gold price doesn't move.
Rigging markets can be very effective, short-term. Remember ABN-AMRO wrote in June last year "gold's safe haven status should be revised", because the gold price was moving sideways since 2013. Some analysts and investors forget about thousands of years of history and go with the trend. No matter how you look at it, gold is in a bear market, but will it remain there?
Tomorrow the Greeks will vote and the European struggle continues. In fear of a financial meltdown China has desperately ordered fund managers to invest $19 billion of their own money into stocks, it suspended IPOs and launched a market-stabilization fund. Let' see what happens.
Just in:
Germany suggests Greece could exit eurozone 'temporarily'
Greece must introduce another currency if "no" vote wins – Schulz
Chinese banker: "The government must rescue the market, not with empty words, but with real silver and gold,"