Chinese Lunar Year Gold Buying Frenzy Started
Every year around January first the Chinese ramp up gold buying at retail level to an unprecedented pace (click, click and click to read about the buying spree last year). The Chinese calendar (Lunar Year) is slightly different than the Western (Gregorian) calendar. In China new year will be celebrated on February 19, 2015, this time to begin the year of the goat. For the occasion the Chinese buy each other gifts, quite often in the form of gold.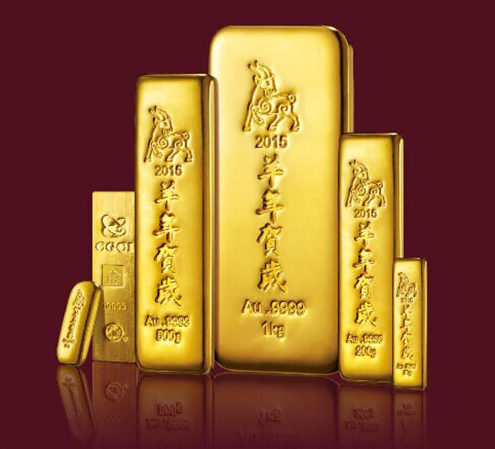 We can see elevated gold purchases on wholesale level (SGE withdrawals) of late, rapidly being sold to end consumers in the shops at the moment. China Gate News Channel reported on January 3rd a "stampede phenomenon" in a shopping mall in Beijing, were gold was sold at a rate of 400,000 yuan per minute.
Reporters saw hundreds of people this morning to appear in a stampede phenomenon. To prevent congestion stores set up a special security tower, have someone on the lookout, to control the shoppers.

…Additionally the staff was increased to ensure smoothly shopping.
Perhaps the shopping mall was prepared for the stampede after what happened last year; in some Chinese shopping malls 200 Kg was sold in one hour.
400,000 yuan per minute means it's likely more than 0.6 metric tonnes of gold is sold per day in just one shopping mall in Beijing. How many of these shopping malls are there across China? I wish I knew.
These numbers provide an interesting perspective to reflect on SGE withdrawals. The Chinese SGE report that was released today only covered the last three trading days of 2014. Withdrawals (December 29 -31) were strong at 29 tonnes, a rate that transcends global mining production. Total withdrawals for 2014 have reached 2,102.4 tonnes, down 4 % y/y.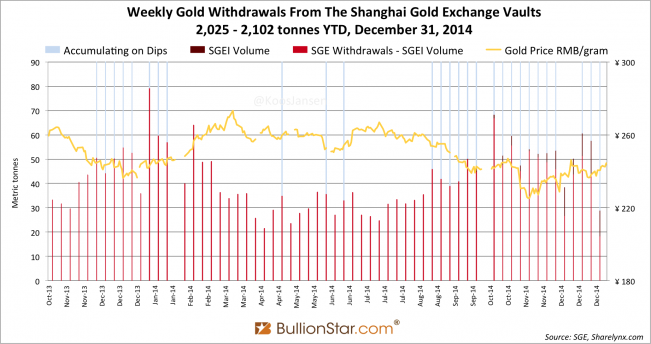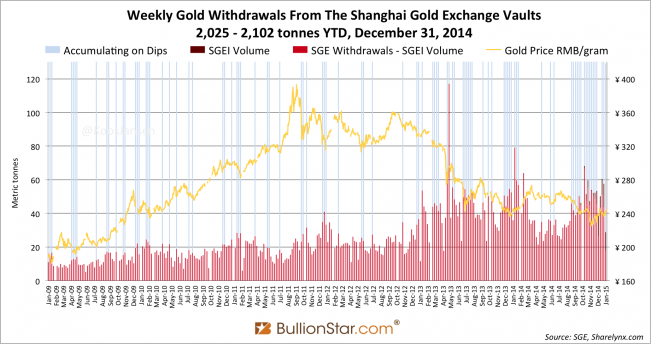 I we correct SGE withdrawals by SGEI trading volume – read this post for a comprehensive explanation of the relationship between SGEI trading volume and withdrawals – SGE withdrawals in the mainland, were at least 18 tonnes, at most 29 tonnes (in the last three days of 2014). Total SGE withdrawals in 2014, in the mainland, were at least 2,025 tonnes, at most 2,102 tonnes.
My estimates for the supply side of the Chinese gold market in 2014 are (based on 2,025 tonnes SGE withdrawals):
Import 1,218 tonnes.
Domestically mined 451 tonnes.
Recycled through the SGE 356 tonnes.
This would mean at least 1,669 tonnes has been added to Chinese non-government gold reserves, putting the total at 11,623 tonnes. Guessing PBOC reserves at 4,000 tonnes, the total amount of physical gold in China could be approximately 16,000 tonnes.
Read the end of this post to learn how I conceived this chart.