Should I Invest in Precious Metals Bars or Coins
Given that the world's leading precious metals Refineries and Mints fabricate a wide variety of bullion bars and coins in gold, silver and platinum, a natural question for buyers of investment precious metals is whether to purchase precious metals bars, precious metals coins, or both.
While the final decision between buying precious metals bars or precious metals coins is a matter of preference for the purchaser, it is useful to understand the relative merits of both precious metals bars and coins.
Bullion Bars
Precious metal bars are fabricated by refineries as a practical form in which to hold a known weight of physical gold, silver or platinum, in a known and trusted metal purity. But while weight and purity are fundamental to a bullion bar, refineries also take design and aesthetic principles into account. The market for bullion bars therefore consists of many bar sizes, bar finishes, and different brands, all unique in appearance.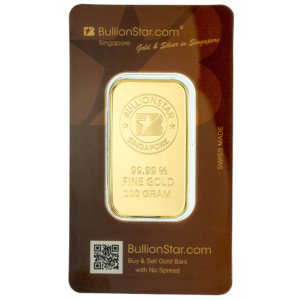 Minted or Cast Gold & Silver Bars
Investment precious metals bars are generally fabricated as either minted bars which have a high-lustre polished finish, or else as cast or poured precious metals bars which have a more natural traditional appearance.
Bullion Bar Packaging
Some bars, especially smaller minted bars, often come presented in secure transparent packaging which doubles as the bar's official assay certificate. Some larger bars, e.g. PAMP 1 kg gold bars, will come with a separate certificate of authenticity, but most will not.  Most silver bars, especially the larger ones, will not be in secure packaging as many of these bars are designed for stacking.
Bullion Bar Serial Numbering
Nearly all gold bars, silver bars and platinum bars will display the refinery or mint name of the fabricator, the refinery logo, and the weight and fineness stamped or embossed on the front surface of the bar. Many precious metals bars also display unique serial numbers on the bar surface, or else in some cases a serial number printed on the secure packaging. Designs on precious metals bars don't tend to change much from year to year, except for ornate bars which form part of a series or that celebrate a specific event such as the Lunar New Year.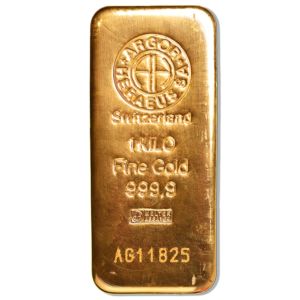 Good Delivery Gold, Silver & Platinum Refiners
One important consideration when buying investment grade precious metals bars is to know whether the refiner of the bar is on the London Bullion Market Association (LBMA) Good Delivery List for gold or silver. Likewise for platinum bars, it's important to check whether the refiner is listed on the London Platinum and Palladium Market (LPPM) Good Delivery List for platinum. Both LBMA and LPPM are global industry associations for the precious metals markets, and their Good Delivery Lists are an endorsement that the listed refiners meet the Associations' high quality production standards in the refining of precious metals.
Purity/Fineness of Precious Metals Bars
The purity of investment grade gold bars will generally be 0.9999 or higher i.e. 99.99% pure gold or higher. Popular gold bar weights are 1 kilogram gold bars and 100 gram gold bars, but refineries produce gold bars in many smaller weights such as 1 troy ounce down to 1 gram bars. Investment gold bars are also produced in traditional weight denominations such as the Tola and Tael.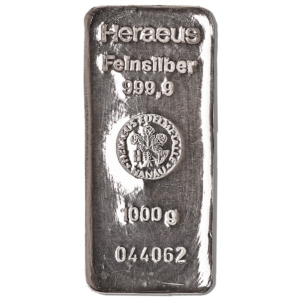 Investment silver bars will generally have a silver purity of 0.999 i.e. 99.9% pure silver or higher, and since silver is a lot less costly than gold, silver bar sizes produced by refineries will be larger than for gold, ranging in weights from the very large 1,000 troy oz (31.1 kg) and 15 kg silver bars down to 1 kg and smaller sizes.
Investment grade platinum bars are generally fabricated with a platinum purity of 0.995 i.e. 99.5%, and popular weights are 1 kg, 500 grams, 100 grams and 1 oz.
BullionStar stocks a wide range of investment grade gold bars, silver bars and platinum bars produced by refiners which are listed on the LBMA / LPPM Good Delivery lists, and these bars are exempt from Singapore's Goods and Services Tax (GST) when bought or sold.
Examples of leading precious metals refineries are PAMP, Argor-Heraeus, Valcambi, and Metalor, all four of which are in Switzerland, Heraeus of Germany, Rand Refinery of South Africa, and Nadir of Turkey. Note that some of the leading mints also operate refineries, and these mints, such as the Royal Canadian Mint and Perth Mint, also produce gold and silver bullion bars.
Bullion Bar Price Premiums & Spreads
As per all investment grade physical precious metals, the prices of bullion bars will have a premiums over spot precious metals prices. This is because the fabrication of bullion bars entails refining and minting costs, and other costs such as distribution, shipping, insurance and marketing. Generally, larger precious metals bars will have lower premiums that smaller bars.
If you plan to trade physical precious metals bars, you can opt for bars such as the BullionStar 100 gram gold bars without spread and the BullionStar 1 kg silver bars without spread. The BullionStar gold bar is produced by Swiss gold refinery Argor-Heraeus. The BullionStar silver bar is produced by Germany's Heraeus precious metals refinery.
In general, it's best to limit your investments in gold bars, silver bars, platinum bars to well known brands from the leading precious metals refineries. In this way, you will know that your purchases are authentic and will have liquidity at resale.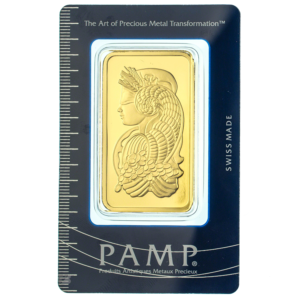 Bullion Bar Size & Divisibility
Whether to buy large or small bars depends on your preference. If divisibility is a consideration and you have planned to sell a part of your investment in the future, it might be more practical to purchase smaller bars, for example ten 100 gram gold bars rather than one 1 kilogram gold bar. In that way, one or two 100 gram bars could be sold without liquidating the whole investment.
Whether to buy one or more brands will also depend on your preference. While gold bars and silver bars are primarily a form of saving and investment, they can also be simultaneously collected. For example, you could pursue an investment approach of purchasing all 1 troy ounce minted gold bars from the leading refiners, or all 100 gram minted gold bars, or all 1 kg cast gold bars.
For those who wish to save in the form of precious metals bars but do so in a cost efficient and incremental fashion, BullionStar's Bullion Savings Program (BSP) should be considered. This allows savers to buy fully-backed metal grams in gold, silver or platinum, and then subsequently convert these grams into 100 gram PAMP cast gold bars, 15 kilogram Heraeus silver bars or 1 kilogram Heraeus platinum bars, respectively, when the BSP holder has accumulated sufficient grams of the relevant metal.
Bullion Coins
Bullion coins refer to gold, silver and platinum coins which contain known quantities of precious metals and which are traded in terms of their weight and purity. Leading bullion coins are minted by the world's most prestigious mints. These include such mints as the Royal Canadian Mint, the US Mint, the Perth Mint, the Austrian Mint and Britain's Royal Mint.
All of these leading national mints are under ownership of their respective national governments, and so the authenticity of their bullion coin products is guaranteed and trusted. For example, the US Mint is part of the US Treasury. The Canadian Mint is a Crown Corporation of Canada. The Royal Mint is owned by Her Majesty's Treasury (HM Treasury). The Perth Mint is owned by the Government of Western Australia.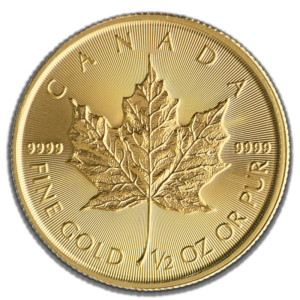 Types & Characteristics of Bullion Coins
One of the most attractive features of bullion coins are their intricate and attractive designs, and the names of these bullion coins are synonymous with their designs, for example the Canadian Maple Leaf, the Austrian Philharmonic, the US Mint Eagle, and the Royal Mint Britannia. Bullion coins will generally be issued by their issuing mints each year and will have the year of issue imprinted on the coin. The designs on some bullion coins change each year, on others the same design persists between years. Some bullion coins also contain security features such as radial lines and micro engraving to deter forgery.
Another distinguishing characteristic of bullion coins issued by national mints is that they are legal tender in the countries in which they are issued. While bullion coins are non-circulating legal tender due to their high value relative to normal circulated coins, having a legal tender status is beneficial in some countries due to, for example, preferential tax treatment, as the coins are recognised in national legislation as being free of taxes such as sales tax and capital gains tax.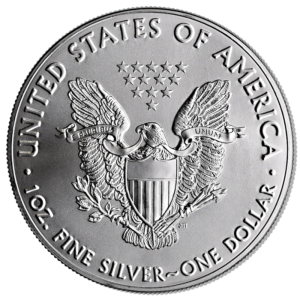 Although bullion coins are primarily purchased as a form of saving or investment, with many of the bullion coins having changing designs year to year, bullion coins are also attractive to investors who like the aspect of collectability. For example, investors can collect all the yearly issues of a bullion set of coins such as the Queen's Beasts set from the Royal Mint, or the Lunar series' from the Perth Mint.
Bullion Coin Purity/Fineness
Most leading gold bullion coins have a purity of 0.9999 (99.99%). Similarly, silver bullion coins will have a silver purity ranging from 0.999 to 0.9999 (99.9% to 99.99%) and platinum coins have a platinum purity of 0.995 (99.5%) or higher. Bullion coins are fabricated in a number of weight denominations with the most common weight being the 1 troy oz coin, which is seen as the flagship issue of most mints. Due to its relatively lower value compared to gold and platinum, some silver coins are produced in quite large weights such as 1 kg and 10 ozs, as well as in lower weights of 5 ozs, 2 ozs and 1 oz.
Examples of well-known gold bullion coins are the Perth Mint's Gold Kangaroo Nugget, the Austrian Mint's Gold Philharmonic, and the Royal Mint's Gold Britannia. Example of silver bullion coins are the US Mint's American Silver Eagle, the Perth Mint's Silver Koala, the Chinese Mint Silver Panda, and the Mexican Silver Libertad coin. Examples of investment grade platinum bullion coins are the Perth Mint Platinum Platypus, the US Mint Platinum Eagle and the Royal Mint Platinum Queen's Beasts series coins.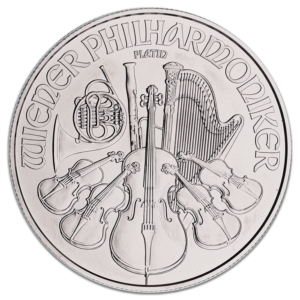 Bullion Coin Price Premiums & Spreads
Bullion coin prices will reflect a price premium relative to spot precious metals prices. This premium is due to fabrication and other mint costs as well as a market premium related to supply and demand. Premiums and spreads on 1 oz coins are are generally low due to high production levels and thus higher trading liquidity. BullionStar, for example, offers trading in the Singapore Silver Merlion Round at a low spread of 0.99%.
Bullion coins from the leading mints are also very well known throughout the world. You can walk into a bullion dealer or coin shop in almost any city in the world and provided it is a known coin, the dealer will accept your bullion coin and offer to buy it if you want to sell it.
Bullion coins are great for gifting and are also popular in many cultures for giving to family and friends for anniversaries, weddings, festivals and other commemorations. The availability of small denomination coins and the wide variety of bullion coins available make gold and silver bullion coins unique presents.
Well-known gold and silver coins can also be used for exchange and barter in times of financial crises and war, and bullion coins can be easily transported across national borders. For example, in combat, British RAF pilots and SAS special forces personnel will usually carry gold sovereigns stitched into their clothing, portable wealth which might help them bargain their way out of hostile situations.
In Conclusion
Both bullion bars and bullion coins are a way, in fact the only way, to gain direct ownership of physical precious metals. The final choice of whether to buy bullion bars or bullion coins will depend on individual preference and interest.
Bullion coins and bars from leading mints and refineries are well known globally and widely held by the precious metals investing public. The secondary markets among the world's bullion dealers are therefore highly liquid.
Both bullion bars and bullion coins allow investors to gain access to the asset class of physical precious metals ownership while diversifying their overall investment exposure. Physical precious metals are a long standing store of value for wealth preservation, as well as a safe haven during financial market crises.
A precious metals diversification strategy might be to buy bullion bars in bulk but complement this with and a number of small denomination coins. That way, you are saving on the premium as larger bullion bars generally have a lower premium than coins, but at the same time you are diversifying if you need to liquidate a smaller portion of your holdings in an event such as a financial crisis.