Storing Precious Metals & Bullion
One of the most important decisions when saving and investing in precious metals is where to store your gold, silver and platinum bars and coins. Paramount to this choice of storage location is safety and security. Given the high value content of physical precious metals, many people choose to store their precious metals bars and coins in insured and audited vault storage, under the custody of a secure storage provider.
If you choose this route, you will need a jurisdiction that is safe and stable, in a vault that is secure and protected, while having the ability to deposit, withdraw, access and audit your precious metals in a convenient and timely manner. You will also need to ensure, through your own due diligence, that the storage provider you choose is trusted, and is truly an independent storage provider not owned by a bank, i.e. that it is a precious metals storage provider residing outside the banking system.
Singapore – The Model State of Safety and Security
Singapore is undoubtedly the best place in the world in which to store physical precious metals. No other offshore storage location in the world offers a jurisdiction as safe and secure as Singapore. Singapore has a very strong rule of law and strong respect for property rights. With enviable order and security, there is hardly any crime in Singapore, and rarely any serious crime. Singapore has even been ranked the safest country in the world.
In Singapore, there are no reporting requirements on buying, selling, or storing investment precious metals. Nor are there any sales taxes on investment precious metals, as  investment grade precious metals bars and coins are exempt from Singapore's Goods and Services Tax (GST). In fact, there are no taxes whatsoever on precious metals in Singapore, e.g. no capital gains tax, no import taxes, and no inheritance taxes.
Famed for its open economy and business-friendly climate, the Republic of Singapore consistently ranks at the top of international indexes for ease of doing business, economic freedom, rule of law, and lack of corruption.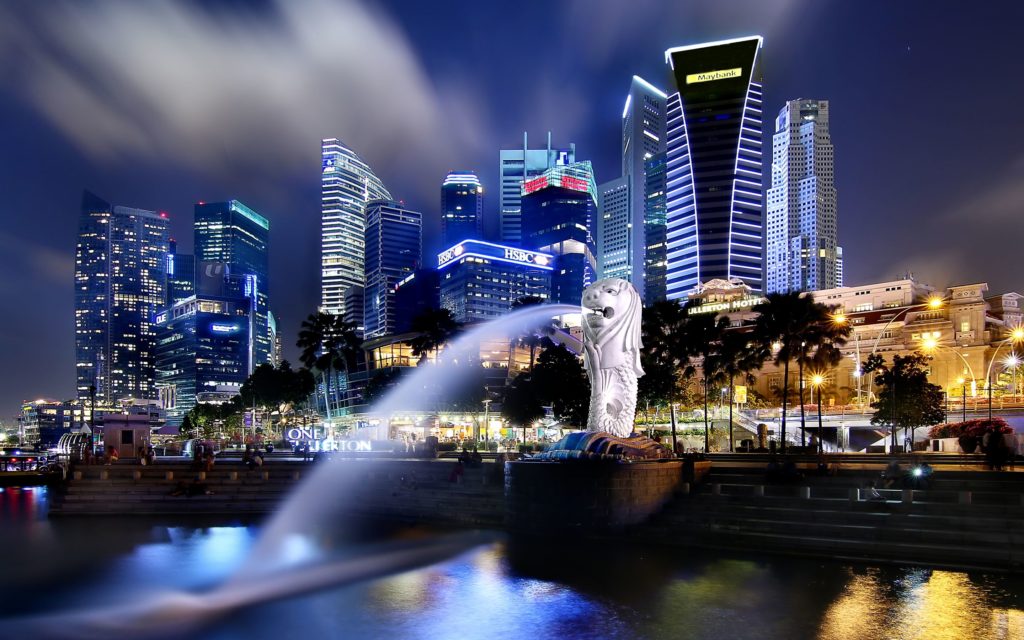 It is precisely because of these factors that the city-state of Singapore is also a noted international banking and investment hub with many of the world's largest financial institutions, from both East and West, having a significant presence in the country.
Furthermore, the Singapore gold market is one of the largest gold trading and gold distribution hubs in the region, hosting one of Asia's most active gold markets, with a market infrastructure to match. This infrastructure comprises bullion banks from East and West, commodity trading houses, gold refineries, bullion dealers and secure transport providers. The Singaporean government also actively supports and encourages the development of the country's precious metals sector through enabling legislation, tax exemptions on precious metals transactions, developmental incentives, and an equitable regulatory environment.
No other country in the world has government agencies which have made it their explicit goal to actively promote and encourage the precious metals sector. This is why, all in all, Singapore is the best place in the world in which to locate secure precious metals storage facilities and in which to store gold bullion and silver bullion in high security vault storage.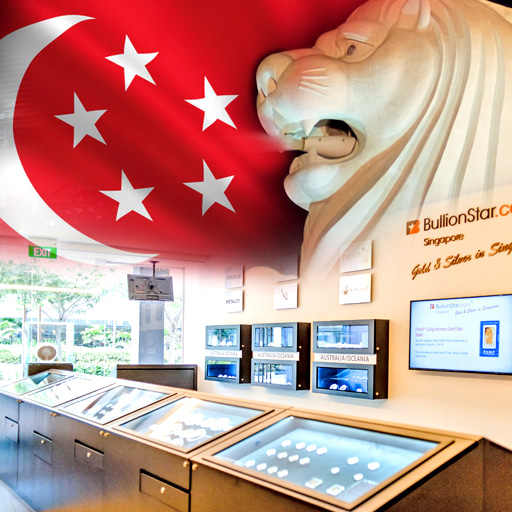 BullionStar's Secure Storage Vault
Located in the heart of Singapore adjacent to the Central Business District, BullionStar's unique bullion center combines an integrated bullion showroom, retail bullion shop and secure precious metals vault, all in the one and same location.
BullionStar's precious metals vault is a highly secure steel bar-reinforced concrete vault constructed to bank vault standards. Indeed, BullionStar's vault was originally constructed as the vault of a bank branch of Overseas Union Bank (OUB) which was previously located on the site of BullionStar's shop and showroom.
Having added a modern 1 tonne vault door to the vault and installed state of the art security systems covering seven different types of security surveillance, BullionStar's vault is world class in its security and surveillance features, which include including motion sensors, biometric scanners, seismographic sensors, and high-resolution cameras.
Singapore's auxiliary police are also on alert twenty-four hours a day, seven days a week and will immediately respond to any alarms, intruders or suspicious activity at BullionStar's vault premises. These security police are are licensed to carry firearms.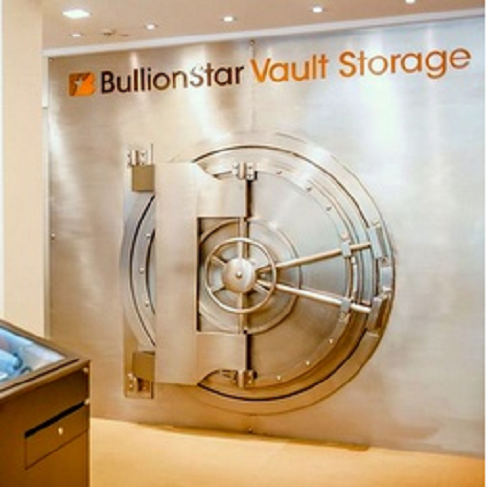 An Online platform from Transactions to Storage
One of the most impressive aspects of BullionStar's vault storage service is that its is fully integrated into BullionStar's online platform, meaning that as a storage customer you have full control to buy, sell, deposit, withdraw and audit your precious metals bars and coins online at any time, 24/7.
For example, using BullionStar's platform, you can buy precious metals bars or coins immediately no matter where you are in the world, and store this metal in BullionStar's vault by selecting 'vault storage' during your online order. With your metals stored in the vault, you can also immediately sell your precious metals back to BullionStar and receive payment to your bank account, in cash, to your BullionStar account or even settle your sell order in one of the leading cryptocurrencies.
All customer precious metals held in BullionStar's vault are stored on an allocated basis and you as the customer have full direct legal ownership of your bullion bars and coins. Allocated means that you, the customer, own your precious metals and the metals are held in safekeeping for you by BullionStar, the secure storage provider.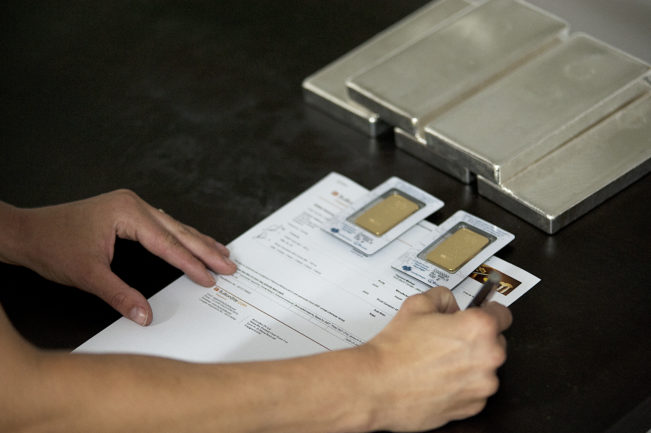 All bullion entering and exiting BullionStar's vault is handled under camera surveillance and meticulously documented. BullionStar also take photos of your bullion, depicting the actual items including their specific serial numbers where applicable, and uploads these photos to your BullionStar account, meaning that you have online access to see all the bullion held in the vault for your account. Every storage customer also has a vault certificate which is accessible online and which evidences ownership of your bullion.
Physical Audits
As a vault storage customer, you can also place orders to physically withdraw your stored bullion from the vault and either have your metals shipped to you or collect it at BullionStar's bullion center in Singapore, all without any appointment necessary. The same applies to physically auditing your metal. As a BullionStar customer, you can walk in to the shop and showroom and audit your metal without an appointment.
Customer walk-in physical audits are one of the five comprehensive forms of auditing employed by BullionStar which allow vault storage customers to verify the existence and safety of their bullion in BullionStar's vault. Other forms of audit employed include a 'Live Audit Report' which lists all customer bullion stored in the BullionStar vault and through which each customer can verify online his/her stored bullion by the anonymous vault account number, as well as twice-yearly physical auditing of all customer bullion by the LBMA-approved independent auditor Bureau Veritas.
Fully Insured
All precious metals held in BullionStar's vault are fully insured at full replacement value for all risks of physical loss or damage including terrorism, sabotage and mysterious disappearance. As a storage customer of BullionStar, you will therefore never suffer any risk for loss of or damage to  your stored precious metals in the unlikely event of such an occurrence. BullionStar's vault insurance is furthermore underwritten by one of the world's largest insurance specie underwriters, Chubb Insurance, and an Evidence of Insurance Certificate of this Chubb Insurance can be viewed on BullionStar's website.
And because the jurisdiction of Singapore is one of the safest nations in the world, insurance premiums in Singapore are relatively low compared to other countries, a factor which is reflected in BullionStar's storage fees. To prove this, Bullionstar offers the most competitive precious metals storage fees in the bullion industry for allocated and fully insured bullion with, for example, storage for gold bullion products at only 0.39% per annum, and storage for silver and platinum products at only 0.59% per annum.
US citizens with an Individual Retirement Account (IRA) holding precious metals bars and coins can store their IRA held bullion in BullionStar's vault in Singapore. With an IRA, although the IRA custodian/trustee has to be based in the US, the secure storage vaults which safekeep the bullion held within an IRA can be based outside the US. As one of the safest and most secure jurisdictions in the world, Singapore is an ideal location for IRAs to use to hold precious metals offshore.
Conclusion
While there are ways to store precious metals at home and on your property, none of these are as safe and secure as storing your bullion in a high security vault in a safe and stable jurisdiction.
When storing gold in your own home country, you will also need to take into account the risk of gold confiscation by your government. Around the world, there have been many modern examples of governments forcibly confiscating gold from their citizens using legal powers and by imposing legal penalties for non-compliance. Gold confiscation by governments is one method of financial repression, and usually happens in a financial crisis, national emergency or currency devaluation event when governments look at physical gold as a threat to the stability of their fiat issued currencies, and move to outlaw gold hoarding by their citizens while imposing currency or exchange controls.
Having your gold and other precious metals already stored overseas in a secure and independent offshore jurisdiction will mitigate this confiscational risk while diversifying your precious metals storage strategy.
As an offshore bullion storage location, Singapore is unparalleled due to its safety and security, low crime rates, strong rule of law, and the Singaporean government's active support for the bullion industry. There is little or no chance of precious metals confiscation in Singapore compared to other jurisdictions. With no reporting requirements on precious metals, you will also retain full confidentiality for your stored precious metals when you store them in Singapore.
BullionStar is the leading bullion dealer in Singapore with a secure precious metals vault to match, a vault which employs state of the art security.  This is combined by a walk-in bullion center and a modern online platform.
BullionStar has been in operation in Singapore since 2012 and at our current shop, showroom and integrated vault premises at 45 New Bridge Road since 2014. With the vault storage service fully integrated into all aspects of BullionStar's online bullion transaction platform, storing your gold bullion, silver bullion, and other precious metals in Singapore could not be simpler.