Heraeus Platinum Bar - 1 kg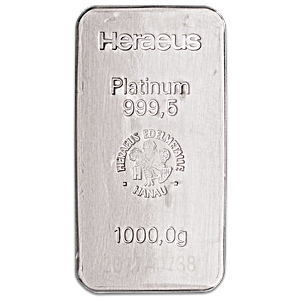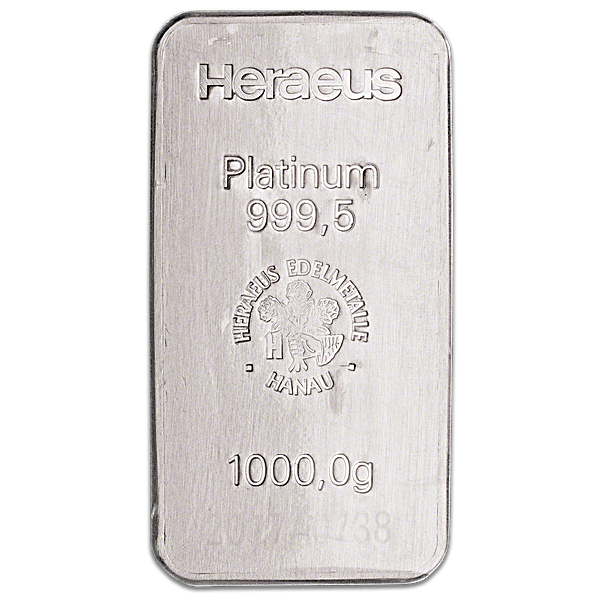 Roll over image to zoom in
Heraeus Platinum Bar - 1 kg
Limited Time Offer
Regular Price
OUT OF STOCK
Great Premium:
Product Highlights
Country: Germany
Manufacturer: Heraeus
Size: 96 mm x 51 mm x 9.7 mm
Purity: .9995
Weight: 1 kg (32.151 troy oz)
Tax Status: No Tax/No GST
Product Information:
This 1 kilogram platinum bar from the German precious metals refiner Heraeus is a cast platinum bar containing 99.95% pure platinum.
The front of the bar displays the name of the refinery 'Heraeus', the bar's weight and platinum purity, and the well-known Heraeus refinery "hand with roses" logo.
Each Heraeus 1 kg platinum has a unique serial number consisting of a year, a letter, and a series of numbers.
Heraeus is one of German's leading precious metals refineries and is headquartered in Hanau near Frankfurt. The group also has precious metals refineries in Hong Kong and the USA.
Heraeus is listed on the prestigious Good Delivery Refiner list for platinum maintained by the London Platinum and Palladium Market (LPPM), signifying the very high standards of Heraeus platinum bar production.
As a high purity investment platinum bar, this Heraeus 1 kg platinum bar is exempt from Singapore Goods and Services Tax (GST).
Contact Us Regarding This Product
Customers who viewed this item also bought