Heraeus Silver Bar - 15 kg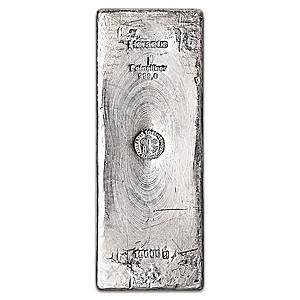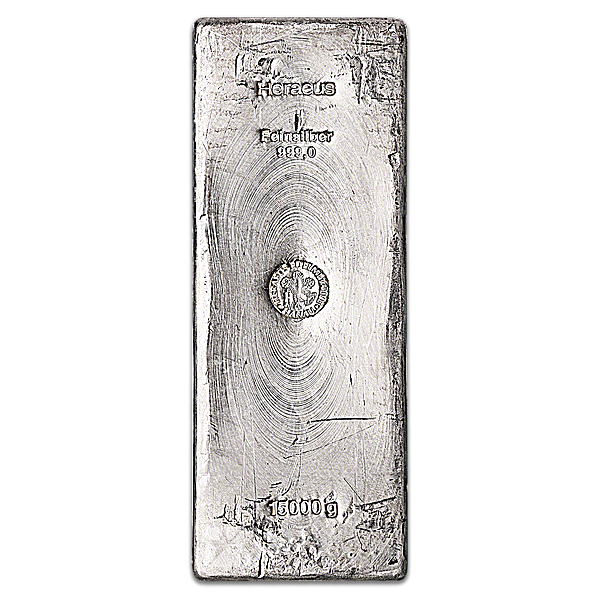 Roll over image to zoom in
Heraeus Silver Bar - 15 kg
Limited Time Offer
Regular Price
IN STOCK: 46 bars
Great Premium:
If you want to invest in silver like the pros do, you need some large silver bullion bars in your portfolio. This 15 kilogram silver bullion bar is equivalent in weight to approximately 482 one-ounce silver bars or coins and is more cost-effective due to its low premiums.
Product Highlights
Country: Germany
Manufacturer: Heraeus
Size: 105 mm x 275 mm x 75 mm
Purity: .999
Weight: 15 kg (482.261 troy oz)
Tax Status: No Tax/No GST
Product Information:
This 15 kg silver bar is a cast silver bar produced by Heraeus, Germany's most famous precious metals refinery. Weighing 15,000 grams, each of these Heraeus silver bars has a silver purity of 99.9% or higher.
The front surface of the 15 kg cast silver bullion bar is embossed with the refiner's name 'Heraeus' the bar's silver purity, 'Feinsilber 999" or 'Feinsilber 9999' and the bar's weight '15000g'. All silver bullion bars produced by Heraeus since 2014 have a silver purity or fineness of .9999. The front face of the bar also features the Heraeus' refinery logo, a "hand with roses" design surrounded by the words "Heraeus Edelmetalle Hanau". The dimensions of the Heraeus cast 15 kg silver bar are 275 mm in length, 105 mm width, with a depth of 75 mm.
For investors intending to buy one of the largest silver bullion bars on the market, the Heraeus 15 kg fine silver bar is a suitable choice, and comes from a producer which is highly regarded in the world silver market. Weighing in at 482 troy ounces, the Heraeus 15 kg silver bar is just less than half the weight of the 1000 oz silver bars that are traded in the wholesale silver market .
Heraeus is committed to ensuring that all silver used in its silver bar production is sourced from legitimate mines and suppliers that comply with Heraeus' ethical code of purchasing policy.
Heraeus is a member of the London Bullion Market Association's (LBMA) prestigious Good Delivery List for Silver, and the Heraeus refinery has been based in Hanau, near Frankfurt, for over 160 years.
Contact Us Regarding This Product
Customers who viewed this item also bought