100 Gram PAMP Swiss Cast Gold Bullion Bar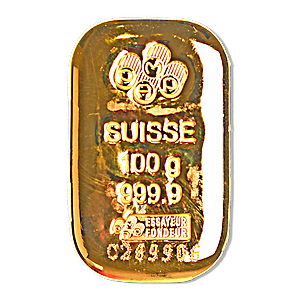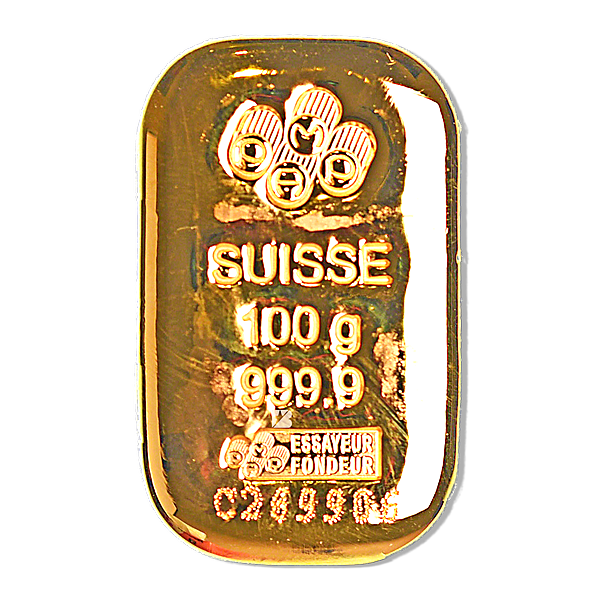 Roll over image to zoom in
100 Gram PAMP Swiss Cast Gold Bullion Bar
Limited Time Offer
Regular Price
IN STOCK: 162 bars
Great Premium:
These classic-looking 100 gram gold bullion bars are a great way to grow your precious metals portfolio inexpensively thanks to its low premiums and spreads.
Product Highlights
Country: Switzerland
Manufacturer: PAMP
Size: 44 mm x 27 mm x 5 mm
Purity: .9999
Weight: 100 gram (3.215 troy oz)
Tax Status: No Tax/No GST
Product Information:
PAMP's 100 gram cast gold bar is a 99.99% purity gold bar manufactured in Switzerland at the famous PAMP gold refinery in the Canton of Ticino.
The front surface of the PAMP 100 gram cast gold bar displays PAMP's well-known insignia of 4 circles, and the bar's weight and purity with the words "SUISSE 100 g 999.9" stamped in the centre, as well as the official Swiss stamp of authenticity "Essayeur Fondeur".
Each bar has a unique serial number, which is also embossed on the bar's front surface.
Switzerland boasts 4 large gold refineries, three of which including PAMP, are located within a few kilometres of each other in the south of the Canton of Ticino. The Argor-Heraeus refinery is in Mendrisio, just 2 kms from PAMP, while Valcambi in Balerna, is just a few kilomteres from PAMP. Together, PAMP, Valcambi and Argor-Heraeus form what is known as Switzerland's Golden Triangle of gold refineries.
PAMP cast gold bars are an ideal way for saving in gold and are a highly liquid investment.
Contact Us Regarding This Product
Customers who viewed this item also bought