West To East Gold Distribution Update
The great distribution of wealth and power, facilitated by gold, from west to east is still going strong. From looking at available global trade numbers we know the main gold vein runs from the UK through Switzerland, through Hong Kong, eventually reaching Shanghai. Let's take a look at the latest data.
Starting Point: The London Gold Vaults
It started in January when the UK, home of the London Gold Market, net exported 74 tons of gold to Switzerland. As we can see in the chart below this is not unusual, we saw similar events in the beginning and in the end of 2011. But this year export accelerated to a spike May, in which 237 tons were net exported to the Swiss. A staggering amount of gold, nearly as much as the official gold reserves of the Bank Of England. Through the summer these exports remained elevated, year to date the UK has net exported 1235 tons of gold in total, of which 1109 tons to Switzerland.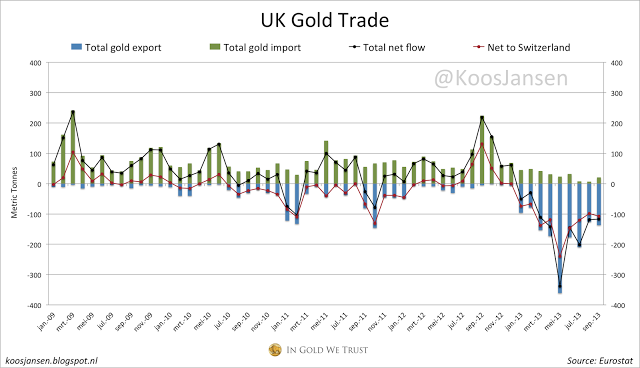 In September the UK net exported 117 tons of gold, down from 119 tons in august, – 1.7 % m/m. Net export to Switzerland was 107 tons in September, up from 98 tons in August, + 9.1 % m/m. This implies we have not seen the end of the gold exodus from the UK.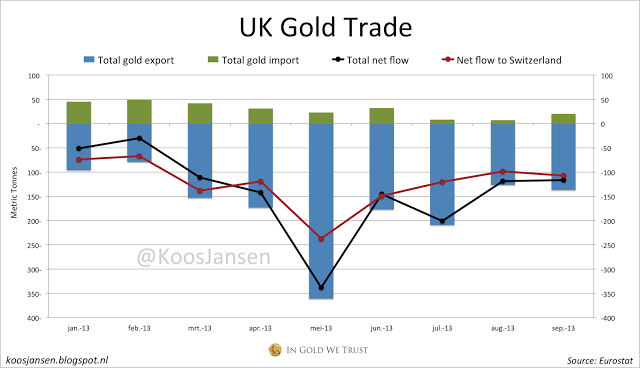 GLD Redemptions
A significant portion of UK gold exports are being supplied by ETF stocks. GLD, which is the biggest gold ETF in the world and whose vaults are in London, was drained for 444 tons in the first three quarters of this year. At this moment GLD's inventory stands at 866 tons, more stock suited for it's authorized participants to be redeemed and shipped to the east.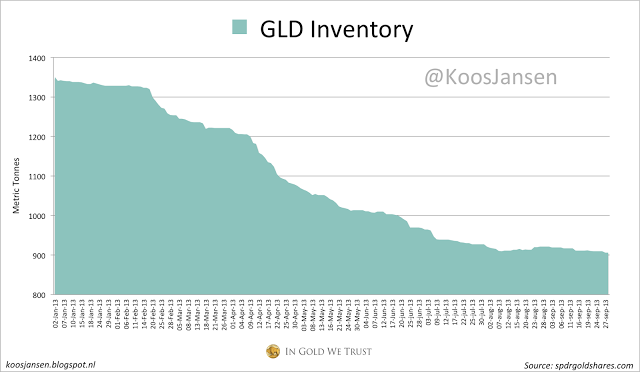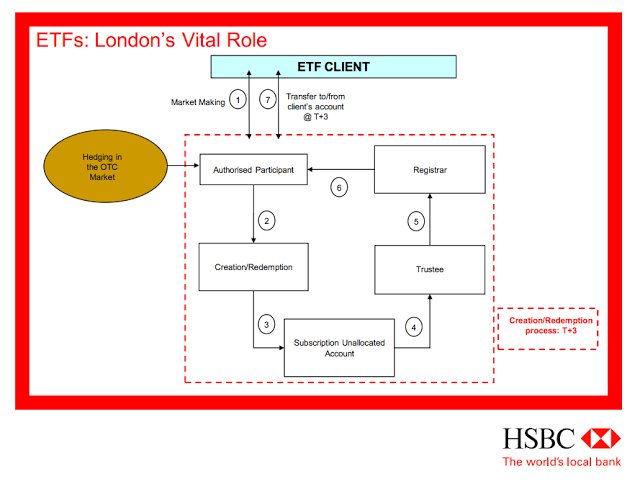 note "Unallocated Accounts"
Remelting The Gold Bars In Switzerland
Although the Swiss, discreet as they are, do not publish country specific with whom they trade gold, nevertheless, their total trade numbers are very clear. Being one of the biggest trading,
refining
and storage centers in the world, vast amounts of gold cross their borders. In 2012 they have imported 2267 tons of gold and exported 1550 tons. On average import has transcended export by 25 % in recent years, which emphasizes Switzerland's storage function over this period. This has changed as the Swiss have imported 2420 tons and exported 2184 tons in the first three quarters of this year. Meaning not only trade is surging, but also that the gap between import and export is tightening. As was 
confirmed
 by Switzerland's biggest refinery, all gold coming in from London is being remelted into kilobars and sent forward to China.
If we annualize gold export for 2013 the outcome is 2912 tons, 1362 tons more than in 2012. Gold that partially is shipped to Hong Kong, partially directly to Shanghai.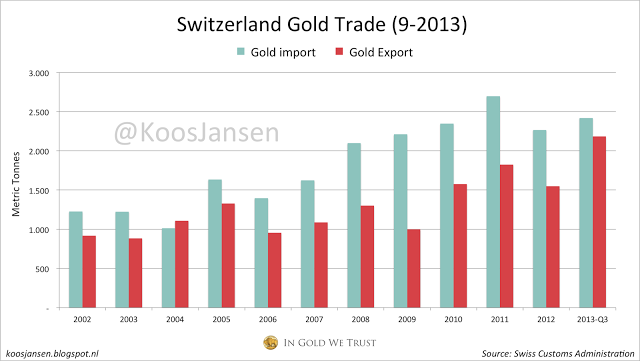 Transit Port Hong Kong
Most (but certainly not all!) gold that is imported by China mainland comes in through Hong Kong. Year to date Switzerland has net exported 697 tons of gold to Hong Kong. A surge of 445 % if we measure just the first three quarters relative to 2012 totals.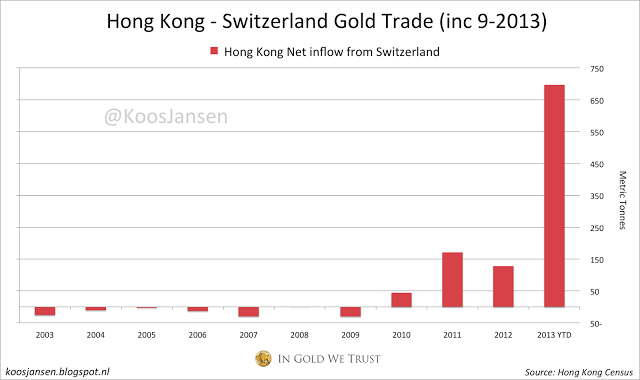 Net export from Hong Kong to the mainland is 826 tons of gold year to date.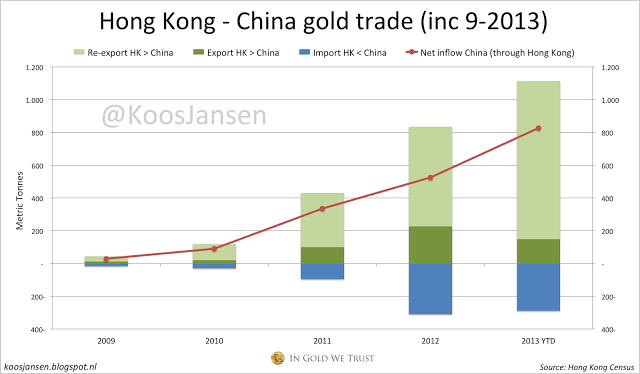 Just the official route has brought 826 tons of gold to China year to date, annualized 1100 tons. If we add 400 tons Chinese mining supply the total is 1500 tons othat will meet demand.
Whilst the
World Gold Council
estimates Chinese consumer demand will be over 1000 tons, my estimate is it will be over
2000 tons
. In my humble opinion just the
official route
raises a few eyebrows to the WGC demand numbers. If we then take into account gold is also shipped into China through other ports than Hong Kong, more eyebrows are raised.
In a future post I will describe in detail how I calculated my estimate.
In Gold We Trust