Week 39 Shanghai Gold Exchange Physical Delivery
I was very delighted yesterday that me and Jan Skoyles published the second part of our 
collaboration
.
A fantastic overview of the Chinese gold market. Watch out next week for the sequels! Now let's rush to last weeks SGE delivery numbers.Shanghai Gold Exchange
– 50 metric tonnes delivered in week 39 (left the SGE vaults), 23-09-2013/28-09-2013
– w/w + 113.83 % – 1662 metric tonnes delivered year to date
– weekly average 42.6 tonnes YTD, 2013 estimate yearly total 2173 tonnes.
For more information on SGE delivery read this, on it's relation to Chinese demand read this.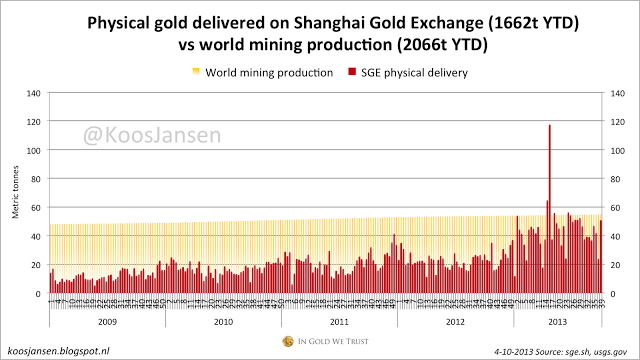 Screen dump from SGE delivery report; the second number from the left (本周交割量) is weekly delivery, the second number from the right (累计交割量) is total delivery YTD. 

Premiums based on the SGE week reports. Difference between SGE gold price in yuan and international gold price in yuan.