Switzerland Has Never Exported This Much Gold
Four of the largest gold refineries on earth are located in Switzerland, being Metalor, Pamp, Argor-Heraeus and Valcambi. It's estimated 70 % of the world's refining is done near the Alps, therefor massive amounts of gold are distributed here; Switzerland has imported 808 tons of gold in the third quarter of 2013, and exported 680 tons in this period. Year to date import is 2420 tons, and export 2184 tons. Switzerland has never exported this much gold in 9 months, or in 12 months, the yearly total estimate is 2912 tons. I dare to say more than 1100 tons of this will hit the Chinese shores, wether it be Hong Kong or any other port.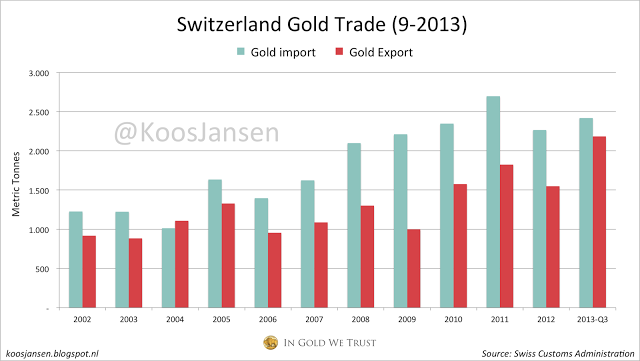 We know Hong Kong has net imported, in between January and August, 598 tons from Switzerland. Much of this is sent forward to Shanghai, but the Chinese are also importing directly from the Swiss. We know this from SGE physical deliveries and from Alex Stanczyk, Chief Market Strategist at Anglo Far-East Bullion, who I interviewed a couple of months ago. He told me China imports a lot that's not going through Hong Kong (or through the SGE!).
Our firm has got personal experience dealing with the guys that transport the gold, the security companies. One of our partners had lunch in the recent past with the head of the largest global operations company in security transport. He said there is a lot of gold that they're moving into China that's not going through exchanges. If the gold is for the government they don't have to declare where it's going. They don't have to declare where it's going in, or where it's heading. If you look at the way the Chinese do things, why would they tell?   
Given the fact the Gold/Silver ratio is 59 currently, silver data from the Swiss looks a bit pathetic, but for all you silver bugs I made a chart! In the third quarter of this year the Swiss imported 545 tons of silver and exported 608 tons. Year to date import is 1328 tons, export 1653 tons.