Silver Maple Leaf Sales Surge 76 % Y/Y
In the third quarter 9.5 million ounces (295 tonnes) of silver were sold in Maple Leaf Coins by the Royal Canadian Mint, according data released on Friday. Third quarter silver coin sales at the Canadian Mint were up 76 per cent from the third quarter in 2014 and up 40 % from the second quarter in 2015.
The data available on the website of the Royal Canadian Mint shows Q3 silver Maple Leaf sales were the highest since Q2 2011 (346 tonnes) when the silver price peaked above 45 US dollars an ounce. Currently, spot silver is trading at 14.25 US dollars an ounce. Many retail precious metals investors have taken the opportunity this year to buy silver coins at bargain prices while there still is great economic uncertainty around the world.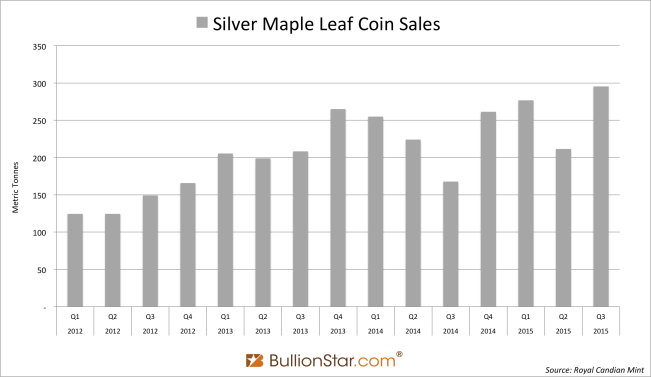 Year to date Maple Leaf sales have reached 784 tonnes of silver, which is 1,046 tonnes annualized. The annualized pojection would be the highest yearly sales by the Canadian mint on record.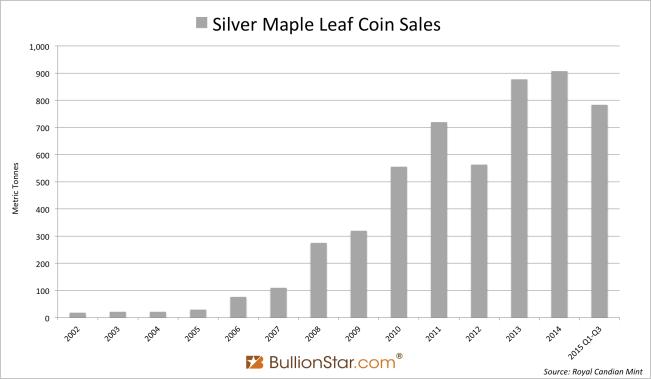 Silver Maple Leaf sales have significantly increased since the financial crisis. In 2006 annual sales barely transcended 75 tonnes, in 2014 total sales reached 908 tonnes. The same trend is visible at the US Mint, where in 2006 a modest 332 tonnes in silver coins were produced (mainly American Eagles), in 2014 a staggering 1,390 tonnes in silver coin was minted.
The production of silver American Eagles at the US Mint accounted for 444 tonnes in Q3 2015, up 74 % year on year. Year to date (Q1-Q3) the US Mint has produced 1,153 tonnes in silver coins, which is 1,538 tonnes annualized (a virtual all time record).
Data from The Silver Institute indicates yearly coin demand (3,347 tonnes, 2014) is roughly 10 % of total physical demand (33,178 tonnes, 2014). Though, in 2015 coin demand will likely have a far greater share of total demand, as the output of just two mints (Canada & US) is set to reach 2,584 tonnes.