SGE Chairman: India Will Become SGE's Largest Partner
The latest Indian Bullion Bulletin has just been released wherein the chairman of the Shanghai Gold Exchange (SGE) Xu Luode presents the SGE's international ambitions – read below.
The Chinese government regards the gold market as an indispensable component of China's financial market and attaches great importance to its growth and development.
The Shanghai International Gold Exchange
Xu provides an excellent all round update of the SGE, though he's somewhat exaggerating the performances of the SGE International Board (SGEI) till thus far. I don't blame him though, the SGEI has great potential.
One way to enhance SGEI trading would be to allow individual foreign investors to have easy access to the international exchange and its wide range of products, which is currently limited to SGEI members (banks, refineries, etc). Xu notes this will change soon.
I've gotten numerous questions by email from investors worldwide that would like to trade on the SGEI, but can't get through. At this stage it's simply not possible, but my contacts at ICBC will timely notify me when everybody can trade at the SGEI. I'll keep you posted.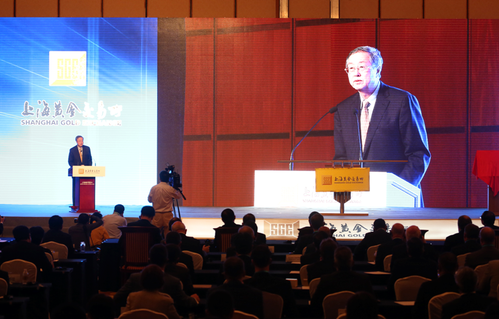 Xu Luode from the Bullion Bulletin:
Embrace Global Markets, Strengthen International Cooperation, Share China Opportunities, Advocate Mutual Benefits
Shanghai Gold Exchange, A Market-based and Global Exchange Center
Xu Luode, Chairman, Shanghai Gold Exchange
The Shanghai Gold Exchange ("Exchange" or "SGE") was officially established on October 30, 2002 by the People's Bank of China ("PBC") under the approval of the State Council. In just little over a decade, the SGE has firmly placed itself as the most important domestic trading platform and central hub for spot and investment products in gold, silver and platinum. SGE's success also extends to the international stage: it has been ranked as the world's largest exchange for physical gold bullions for seven years in a row, and its trading volume in gold and silver reached 11.6 and 430.5 thousand metric tons respectively in 2013, which puts it as the fourth largest exchange in the world for gold and third largest in silver.
I. Background and Significance of the Launch of the International Board
The official launch of SGE's International Board on September 18, 2014 has unveiled a new chapter in the reform and development of China's gold market, and marked a solid step in the opening up of the China's gold market to global investors. Its strategic launch underscores both SGE's own development needs and its desire for greater integration with international markets. The background and significance of the International Board are:
1. China has an enormous market base for gold products and harbors great potential.
In recent years, we have witnessed the trend of "oriental gold" playing an increasingly important role in the global market attributable to the rapid development of the China's gold market: in 2013 alone, the gold produced and imported by China exceeded 50 percent of the world's gold production and 60 percent of the world's gold consumption, respectively. As the world's biggest gold producer, consumer, and importer, China is gradually integrating itself into the global gold market. Meanwhile, China is still a relatively young market as compared to its more established siblings in the world; similarly, SGE has been operating for less than 12 years and is still in its early development stage. But the future is bright: as the urbanization spreads to far corners of China and national income level surges, the development and growth potential of the China's gold market has never been stronger.
2. Chinese government has been a major proponent for advancing China's gold market and ushering in its era of internationalization.
Chinese government regards the gold market as an indispensable component of China's financial market and attaches great importance to its growth and development. PBC has laid a solid foundation for transforming it from a domestic commodity market based on spot products to an international investment market based on derivatives. On another front, the Chinese government established the Shanghai Pilot Free Trade Zone ("Shanghai FTZ") in September 2013, signaling its determination to introduce more innovations and reforms to the domestic financial system. As national efforts to internationalize RMB reach their crescendo, China's domestic gold market is facing an auspicious window and timing for pursuing its internationalization and greater openness.
The significance of the launch of the International Board is manifest in the following three aspects:
(1) The International Board provides a vital link between the domestic and international gold markets.
By inviting foreign investors to trade in China's domestic market, the International Board has greatly expanded the size of the market and increased market liquidity. Foreign investors can take advantage of the diverse range of trading, pricing, and hedging instruments as well as the arbitrage opportunities of "RMB-denominated gold price, RMB interest rates, and RMB exchange rates" provides, and share in the benefits and wealth brought about by China's market reforms and development.
(2) The International Board provides a new investment channel for offshore RMB.
The International Board offers an attractive investment channel for foreigners holding offshore RMB and imbues offshore RMB with greater investment value and liquidity than ever before. At the same time, the International Board has spurred innovations in FX and interest rate products, improved the visibility and standing of RMB as an international money of account and settlement currency, and accelerated RMB's march to becoming an international currency.
(3) The International Board lends greater weight to the importance of Asian gold market on the international stage.
China, India, Dubai and Singapore all enjoy vibrant trading scenes and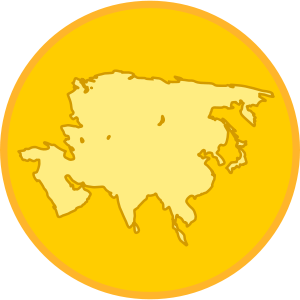 comparative advantages; however, in the eyes of many investors, the influence wielded by the Asian markets is still very limited as a whole. Using the International Board as a launch pad, China's gold market will embrace greater openness and foster stronger ties with its neighbors and, together, elevate the trading and pricing influence of Asia in the world's gold market.
II. Key Features of the International Board
The launch of the International Board has attracted major spotlights from international markets due to its five prominent features:
1. Internationalization of market participants.
SGE's first 40 highprofile international members include major global commercial banks, investment banks, gold refiners, and investment firms such as HSBC, Standard Chartered, Scotia Mocatta, Goldman Sachs, ANZ, Metalor, Heraeus and PAMP. International members are permitted to trade in all products listed on the Exchange through proprietary accounts and on behalf of international investors.
2. Internationalization of funds.
Offshore RMB and offshore convertible currencies can be used in the trading of RMB-quoted precious metals products offered by the Exchange via the PBC's Free Trade Accounting Unit.
3. Internationalization of pricing.
All products listed on the Exchange are denominated in RMB. As more market participants gather to trade on the Exchange, and onshore investors and domestic funds become more intertwined with offshore investors and offshore funds, the sphere of influence of trading prices on the Exchange will gradually expand from nearby regions to the whole world and, at the same time, RMB-denominated gold benchmark price will emerge as another financial index of global significance.
4. Internationalization of products.
SGE integrates the Main Board with the International Board so that domestic and foreign investors can trade in the same arena. After being admitted to the Exchange, international investors are allowed to trade in a wide array of products, including the three spot gold products listed on the International Board as well as spot and deferred products on the Main Board. In addition, to better meet the needs of the market, the Exchange has further optimized the structure of products and recently introduced (T+N) deferred products as a new choice for the investors. SGE has also embedded bullion leasing service in its design of the International Board. SGE will concentrate on the launch of this service as its next step toward offering the full range of services that international investors demand.
5. Internationalization of delivery, storage and transportation services.
SGE provides delivery, storage, logistics and other supporting services for the importation and transit of gold through its fully modernized vault in the Shanghai FTZ that is capable of holding thousands of metric tons of gold. International investors may choose to conduct the delivery of physical gold at this vault at their own discretion. The physical gold so delivered may be imported into China by any qualified entity commissioned by the Exchange, or transited without restriction to any other country in the world.
III. Market Performance and Development Outlook of the International Board
As of November 2014, international members have traded more than 100 metric tons of gold in aggregate with a total turnover of around RMB 25 billion; imported gold tipped in at around 12 metric tons, and a total of 15 metric tons of gold have been deposited into the International Board Certified Vault. The market functions of the International Board are beginning to take root and contribute positively to the national economy. As is widely expected, the International Board has shown a promising start, but SGE's internationalization initiative has just taken its first step, more efforts and time will be needed to realize the full market functions and economic impacts of the International Board.
1. Strengthen international cooperation and seek mutual benefits.
SGE and CME have recently signed a Memorandum of Understanding with regards to future cooperation efforts. As a perennial major consumer of gold and a close neighbor of China, India will undoubtedly become one of SGE's most important partners in the coming years. SGE looks forward to forming close partnerships with the Indian market.
2. Attract more foreign entities and investors to participate.
At present, a large number of international organizations have expressed their strong desire to join in the SGE and the Exchange itself has started the admission process for a second group of international members. Looking ahead, SGE will continue to admit competitive foreign entities as its members in accordance with market needs, and will allow international members to conduct brokerage services when the time is ripe and accelerate the preparatory steps for the eventual admittance of foreign individual investors.
3. Further tap into market potentials and improve investor service.
In the future, the SGE will continue to optimize and enrich its range of bullion products, gradually open its silver, platinum, palladium and other precious metals products as well as price asking products and derivatives such as forwards and options to international investors. Furthermore, the SGE will focus on enhancing its transit and leasing businesses, gradually roll out foreign currency-based collateral services and FX swaps, accept offshore funds from more varied sources for International Board transactions, further improve the financial services offered to international members and customers in regards to account opening and cross-border funds transfers, provide customized and streamlined financial solutions to international members, and, by adopting a top-down design, offer exceptional and expedient services to international investors.
………………………………………………
Mr. Xu Luode, Bachelor of Economics and senior accountant, is the Chairman of Shanghai Gold Exchange. He is also the Vice Chairman of China Gold Association, the Vice Chairman of China Payment and Settlement Association, the Executive Member of China Finance Society, and the Executive Member of China Numismatic Society.