Netherlands Did Not Increase Gold Holdings In December
Many newswires are reporting the Dutch central bank has increased its gold holdings by 10 tonnes in December 2014. However, the increase in holdings is not shown on the balance sheet of the central bank of the Netherlands.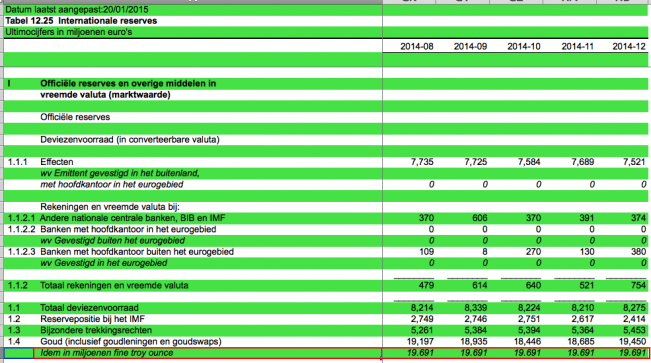 Just a  moment ago the Dutch central bank (DNB) officially denied the increase of its precious metals holdings. So we can rest assure DNB did not buy any gold.
From the DNB website:
DNB has not increased its gold holdings

Press release. 27 January 2015

De Nederlandsche Bank (DNB) has not increased its gold holdings. Several media reported this Tuesday that based on IMF figures, DNB's gold stock increased in December 2014. This is incorrect.

DNB's correct and current gold holdings can be verified at http://www.statistics.dnb.nl/usr/statistics/excel/t12.25ek.xls. The table shows that in December 2014, DNB's gold stock consisted of 19.691 million fine troy ounces and remained unchanged compared to all preceding months.

This is the same information that DNB reports to the IMF on a monthly basis.
DNB released the announcement on Twitter at about 3 PM GMT+1. I made the screen shot of their balance sheet half an hour before this announcement. That's all I know.
De goudvoorraad van #DNB is niet toegenomen. Meer info zie: http://t.co/vZt2SeF1FB

— Nederlandsche Bank (@DNB_NL) January 27, 2015