Mainland & Hong Kong Net Gold Import Jan-Aug 1154 Tons
Although the price of gold has not been able to remain north of $1400 in August, the Chinese continued accumulating gold throughout the month in order to 'store wealth among the people'. When looking at data from the Hong Kong Census And Statistics Department extraordinary large amounts of gold were imported by Hong Kong as well as the mainland in August. For the mainland this data is only part of the picture as they also import through other ports than Hong Kong. It's save to say they import significantly more than the numbers published in this post.
In August Hong Kong net gold import was 142 tons, up from 73 tons in July + 95 % m/m, year to date net import is 437 tons. This is a lot of gold for a country being populated by just 7 million people. It's likely gold from all over the globe is being stored in Hong Kong given the fact the special administrative region is currently one of the biggest precious metals trading hubs in the world. Gross Hong Kong gold import year to date is 1572 tons, gross export 1134 tons.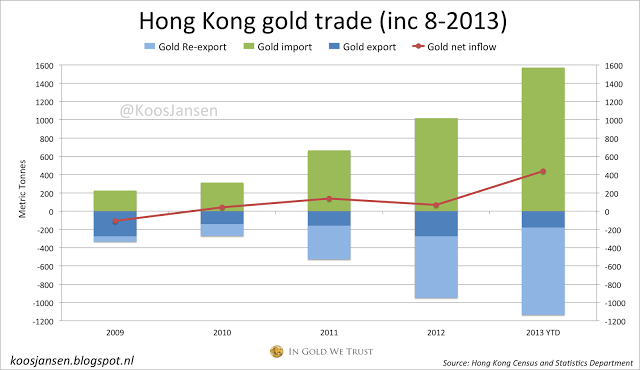 In August the mainland net imported 110 tons from Hong Kong, down from 114 tons in July – 3% m/m, year to date net import is 717 tons.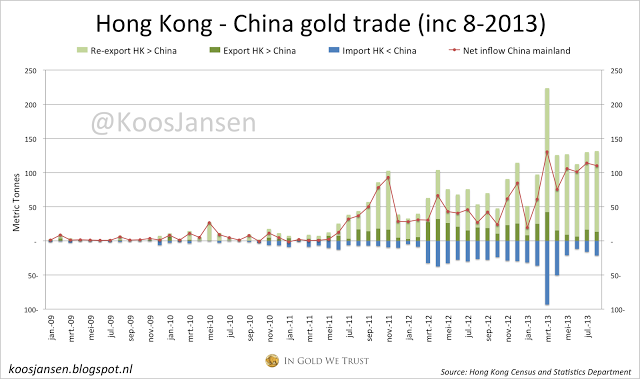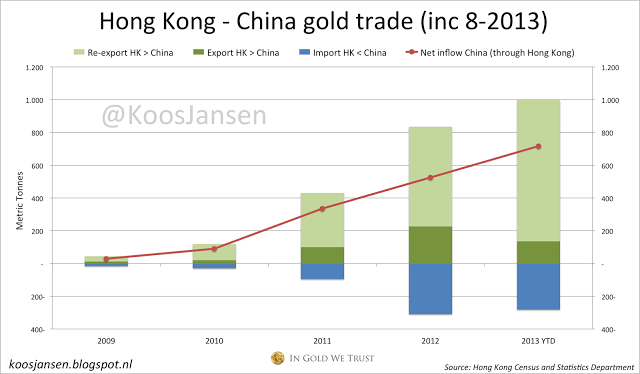 The goldtrail from the UK to Switzerland to China is still in full effect (August gold export numbers from the UK I will publish later this week). The Swiss net exported a whopping 133 tons to Hong kong in August, up from 91 tons in July + 46 % m/m, year to date 598 tons.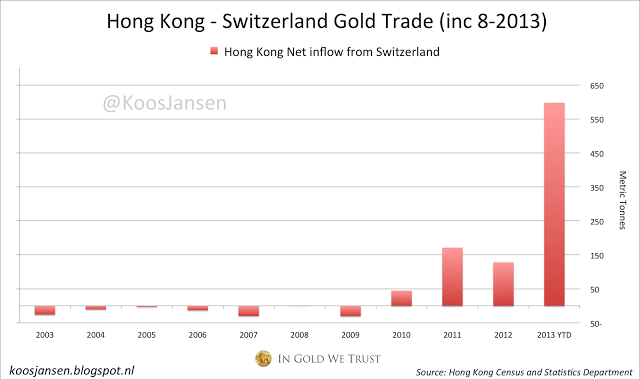 In the screen dump below from the HK Census report you can see gold import from Switzerland (CH) in August highlighted. The third column is the amount of gold imported year to date.

The mainland and Hong Kong combined net gold import year to date is 1154 tons.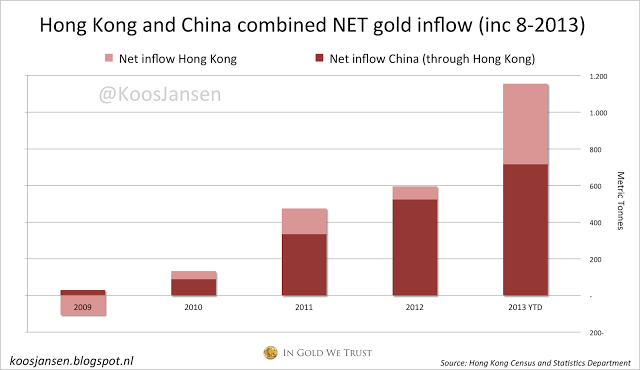 For my charts I add up the following gold categories from the trade reports:
HKHS code (Hong Kong Harmonized System)

98002:        GOLD COIN AND CURRENT COIN
97101:        GOLD (INCLUDING GOLD PLATED WITH PLATINUM), NON-MONETARY, UNWROUGHT OR IN SEMI-MANUFACTURED FORMS, OR IN POWDER FORM
For clarity, these charts are all based on trade numbers from Hong Kong. With these numbers we know how much gold ends up in Hong Kong itself (import minus export) and how much gold Hong Kong trades with other countries (net import or export). The "China net inflow charts" are only about the amount of gold that China mainland net imports through Hong Kong. 

In Gold We Trust