July Silver Import India High At 797 Tons, YTD 3942 Tons
The results of India's import duty on gold – that went up in January from 4% to 6 %, in June to 8 % and in August to 10 % – are obvious. Premiums have risen, "official" gold import has dropped significantly since June (shrinking the country's trade deficit to a 30-month low in September) and silver import has skyrocketed.
Every month India's ministry of commerce and industry (DGCIS) releases a summary of principal commodity trade. Gold and silver imports are disclosed in Rupee. After converting the Rupee's to dollars and than to kilograms, we know more or less how much precious metals were gross imported by India.
In July India imported 60 tons of gold. Up 35 % from June and down 26 % from July 2012. Year to date gold import is 690 tons, up 26 % compared to the same period last year.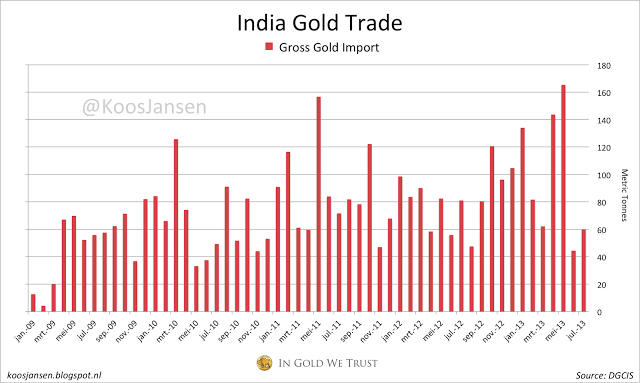 Silver imports were up in July, 14 % from June and 103 % from July 2012, at 797 tons. Year to date silver import is 3942 tons, up 138 % compared to the same period last year.