Greater China Net Gold Import 1316 Tons YTD
In September the mainland net imported 109 tons of gold from Hong Kong, down from 110 tons in August, – 1% m/m, year to date net import is 826 tons. Annualized mainland net import through Hong Kong is 1101 tons, a surge of 109 % as total import in 2012 was 525 tons.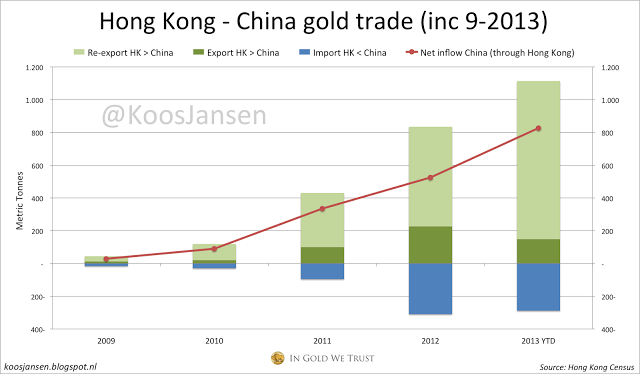 Note, the mainland also imports gold from other ports than Hong Kong. More about gold imports through Shanghai in future posts.
Hong Kong
In September Hong Kong net gold import was 52 tons, down from 142 tons in August, – 63 % m/m, year to date net import is 489 tons. Hong Kong gross gold import year to date is 1751 tons, gross export 1262 tons, which confirms Hong Kong's position as the leading Asian trading hub.
The goldtrail from the UK through Switzerland to China is still in full swing. The Swiss net exported 99 tons to Hong kong in September, year to date 697 tons.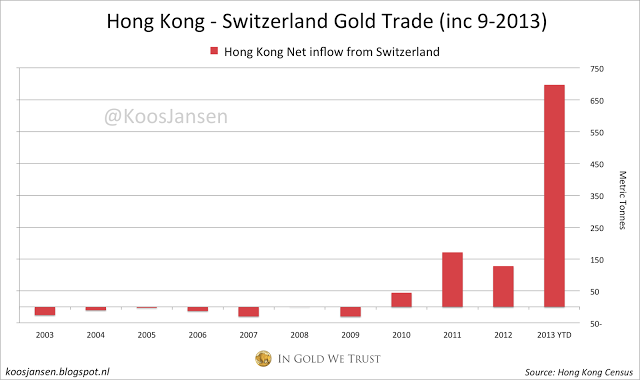 In the screen dump below from the HK Census report you can see gross gold import from Switzerland (CH) in September highlighted. The third column is the amount of gold imported year to date.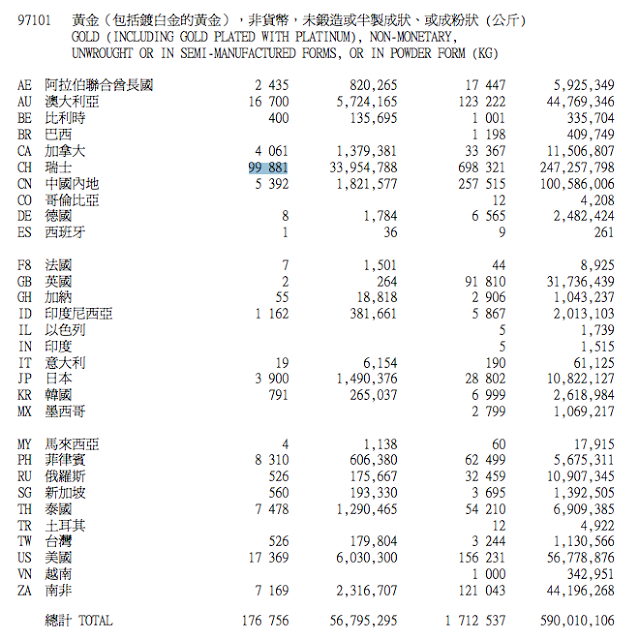 The mainland and Hong Kong combined net gold import year to date is 1316 tons.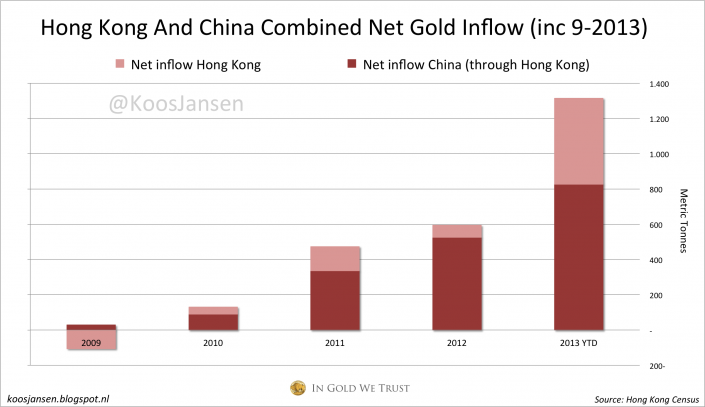 Other media
CME Group 7 October 2013:
Jewelry Demand Sluggish from India and China
Bloomberg 1 Nov 2013:
Gold shipments to China from Hong Kong fell for a second month after the premium to take immediate delivery declined, indicating waning physical demand in the nation poised to become the largest consumer.
Slowing demand?? My interpretation of the trade numbers is somewhat different; of what is published by the Hong Kong Census and Statistics Department we know demand from greater China is still unprecedented, and if we connect these numbers to SGE physical deliveries it proves to be even stronger.
For the charts in this post I have summed up the following gold categories from the trade reports:
HKHS code (Hong Kong Harmonized System)
98002: GOLD COIN AND CURRENT COIN
97101: GOLD (INCLUDING GOLD PLATED WITH PLATINUM), NON-MONETARY, UNWROUGHT OR IN SEMI-MANUFACTURED FORMS, OR IN POWDER FORM
For clarity, these charts are all based on trade numbers from Hong Kong. With these numbers we know how much gold ends up in Hong Kong itself (import minus export) and how much gold Hong Kong trades with other countries (net import or export). The "China net inflow charts" are only about the amount of gold that China mainland net imports through Hong Kong.