Global Gold Trade Declines In H1 2014
After having seen unprecedented amounts of physical gold moving across the globe in the aftermath of the goldprice collapse in April 2013, trade has been less robust in the past few months. In 2013 the UK net exported 1424 metric tonnes, Switzerland gross imported 3061 tonnes and gross exported 2777 tonnes, Hong Kong gross imported 2239 tonnes and gross exported 1642 tonnes, and China net imported 1540 tonnes. Gold trade in the first half of 2014 is down form these extreme levels, mainly in the second quarter. My focus in this post will be the physical flows from west to east.
Recently there have been reports in the gold blogosphere that Chinese demand is not down from its levels in 2013 and that net import continues to be strong. This is in conflict with Chinese wholesale demand, measured by SGE withdrawals, that has come down to lower levels since March, leaving the long term uptrend intact. In the next chart the interval averages show average demand in between new year celebration peaks – with the exception of the frenzy buying throughout 2013.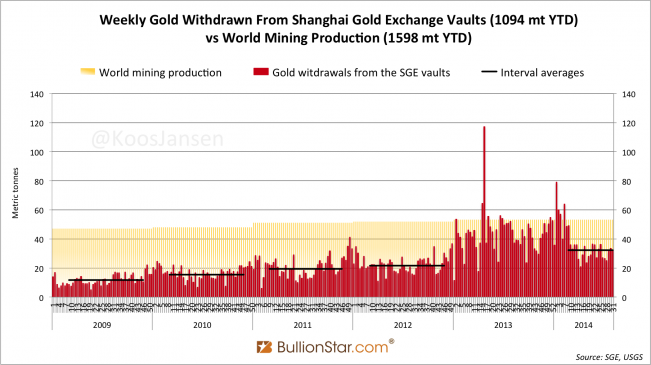 The elephant buyer of physical gold in 2013 was China, which caused physical gold to move from the vaults of the London Bullion Market to the vaults of the Shanghai Gold Exchange (SGE); the single exchange in China where imported gold is required to be sold first before entering the Chinese marketplace. Less gold being withdrawn from the SGE vaults in Q2 has resulted in less physical gold to move from west to east.
China has stated in April this year it will start bypassing Hong Kong for it's gold imports and this is reflected in customs data from Switzerland and the UK, though these numbers do not make up for lower net export from Hong Kong to the mainland.
On a side note, Hong Kong has never been the sole entry point for China, but the special administrative region has been used as the main conduit. This will probably end when the Shanghai Gold Exchange (SGE) international board is fully operational in the Shanghai Free Trade Zone (FTZ). Hong Kong is the parking spot for gold before commercial banks get approval from the People's Bank Of China (PBOC) to ship the metal into the mainland, additionally Hong Kong is a major trading hub for the rest of East Asia. The SGE international board will take over the parking spot function of Hong Kong and likely facilitate physical and paper gold trade for the region; a serious threat for Hong Kong's gold trade. Perhaps this is why The Chinese Gold & Silver Exchange Society, a precious metals exchange in Hong Kong, is seeking for an alliance with the SGE.
According to Hong Kong customs net export to the mainland has been dropping significantly four months in a row from 112 tonnes in February to 41 tonnes in June, down 63 %. Spot the same trend in SGE withdrawals in the first chart. Because SGE withdrawal data is published approximately two month in advance of trade data, it can be seen as a precursor of Chinese import.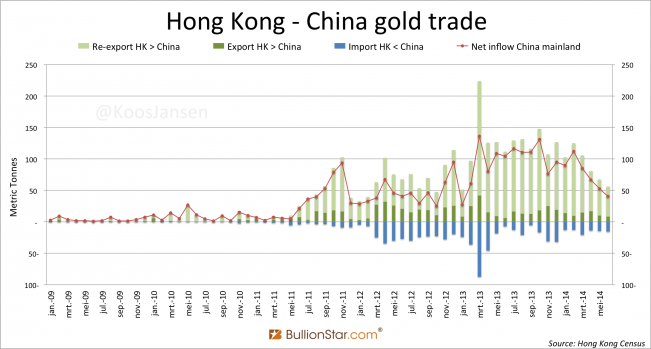 Net export to the mainland in the first six months of 2014 accounted for 447 tonnes, down 14 % from 518 tonnes in 2013.?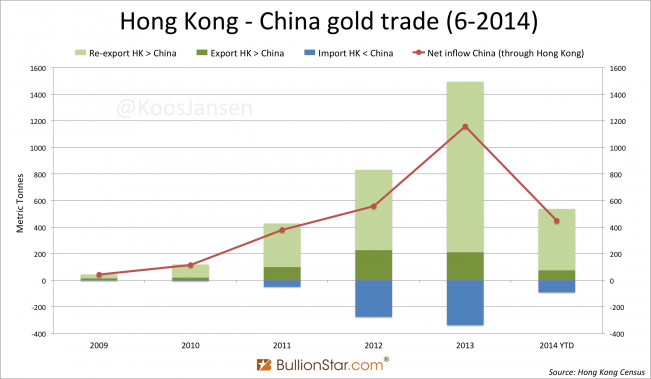 Overall gold trade through Hong Kong was down as well. H1 2014 gross import fell 19 % y/y to 833 tonnes, gross export fell 27 % y/y to 592 tonnes.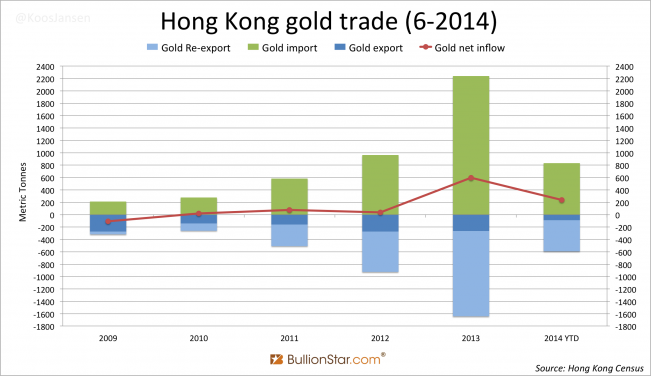 Switzerland has net exported 92 tonnes to China in H1 2014, it's not known how much Switzerland has net exported to China in 2013, because Switzerland only published total gold trade that year. However, from Hong Kong customs, it is known how much Switzerland net exported to Hong Kong in 2013. In H1 2013 Switzerland net exported 375 tonnes to Hong Kong, y/y this is down 35 % at 242 tonnes.
In the chart below, build from data from the Swiss Customs Administration disclosed in 2014, we can see UK net export to Switzerland is dropping as well as net export from Switzerland to Hong Kong and China. Net export from Switzerland to India is slightly increasing at 44 tonnes in June. Switzerland remains a net importer through all first six months of 2014.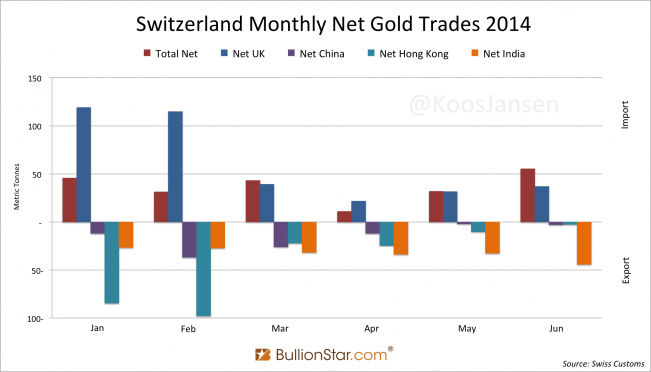 H1 2014 total Swiss gross import stands at 1065 tonnes, down 34 % from 1603 tonnes in 2013. Gross export stands at 847 tonnes, down 44 % from 1499 tonnes in 2013.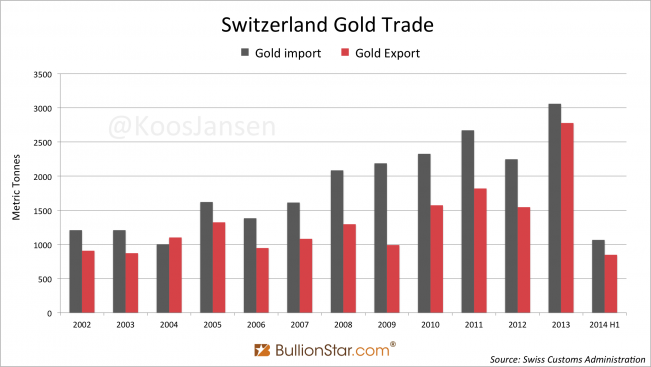 Since I finally got confirmation from authorities in the UK about anomalies in UK's trade statistics before 2011, I'm positive Eurostat's data on UK gold trade post 2011 is accurate.
Eurostat reported that in 2013 more than 75 % of UK's gross gold export left for Switzerland. In H1 2014 this ratio is the same though the tonnage is a lot less.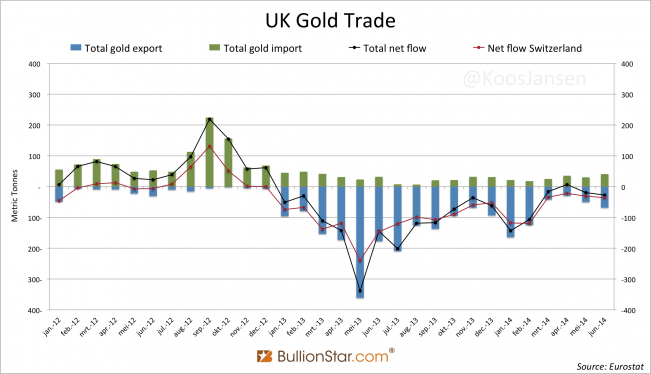 Whereas in H1 2013 the UK net exported 817 tonnes, in H1 2014 total net export was down 62 % at 306 tonnes. UK's net export to Switzerland fell 54 % from 784 tonnes in H1 2013, to 360 tonnes in H1 2014.
China's statement made this April on bypassing Hong Kong for direct gold imports is clearly visible in UK's trade with China. For the first time in years the UK is directly exporting gold to China, as can be seen in the next chart.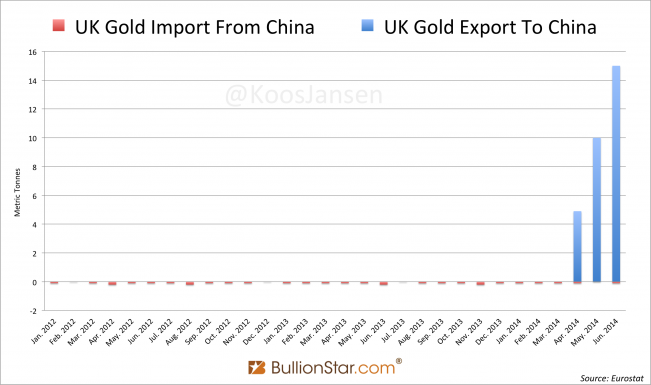 Net gold export to China in H1 from Hong Kong, Switzerland and the UK combined accounts for 569 tonnes. Total net import of China is likely to be tad higher, given the fact there are more countries at play. My estimate, using SGE withdrawals as a reference, is 611 tonnes for H1 2014 (down 21 % y/y).