East Asia Geared Up For RMB Gold Trading
Weekly withdrawals from the Shanghai Gold Exchange (SGE), which equals Chinese wholesale demand, have been nearly flat for four weeks in a row. 33 metric tonnes have been withdrawn in week 32 (August 4 – 8), up a modest 4.2 % w/w. Year to date 1,127 tonnes have been withdrawn, annualized 1,831 tonnes.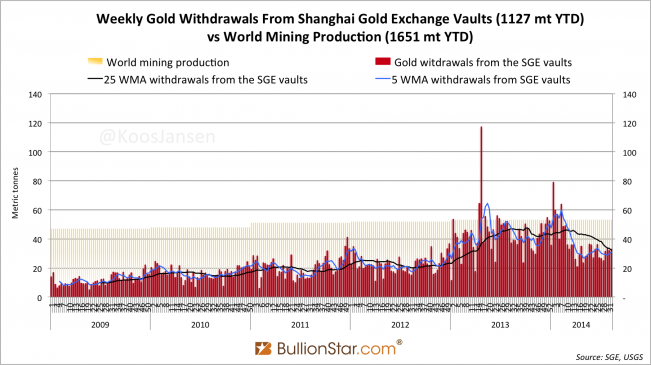 Gold premiums also remained flat, around zero.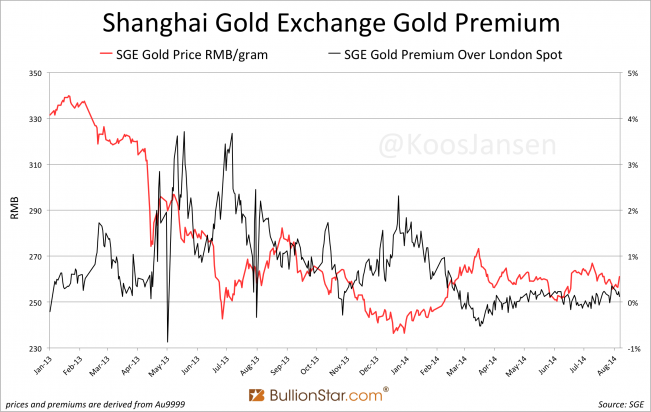 The total volume of gold contracts traded on the SGE during week 32, including the Chinese OTC market, was 131 tonnes. On the Shanghai Futures Exchange (SHFE) the traded volume was 365 tonnes, added to the SGE volume makes 496 tonnes (counted unilaterally).
In the next screenshot the number boxed in red is the total volume of gold traded on the SGE in Kg's, counted bilaterally.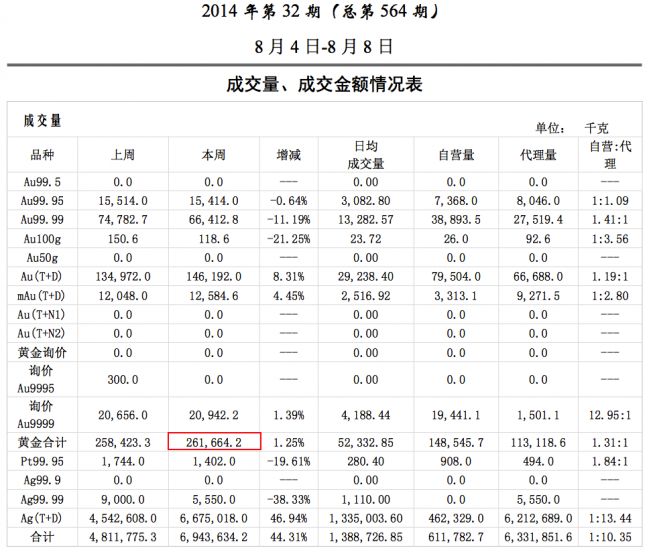 In comparison, on the COMEX the weekly volume was 2,092 tonnes and it's estimated that in the London Bullion Market 25,000 tonnes are being traded weekly. But will the western paper markets be able to stay in the driver's seat of the gold market? We know China is developing it's market infrastructure not only for physical gold trade, but also to expand paper trading to steal pricing power from the dominant forces in the West and to promote the internationalization of the renminbi.
Bloomberg recently reported the SGE will launch gold trading in the Shanghai Free Trade Zone (FTZ) on September 26. From what was disclosed previously by the SGE this will likely be a gold-backed spot contract traded through the SGE's subsidiary the Shanghai International Gold Trading Center. The next step would be the launch of gold derivatives. According to Bloomberg the FTZ hosts a vault capable of storing 1,500 tonnes of gold. If this vault is in addition to the 2,000 tonnes vault opened in the FTZ by precious metals transportation and storage company Malca-Amit I do not know. Approximately at the same time as the SGE's international board will go live, the kilobar gold contract will be launched in Singapore.
The SGE international board will allow investors worldwide to trade gold in renminbi, which undoubtedly will lead to higher trade volumes on the SGE. The gold industry is fully prepared in East Asia for what might be a pricing shift, following the great physical shift of recent years – most notably 2013. According to analyst Kenneth Hoffman:
Several massive gold vaults have already been built in Singapore, Hong Kong and China proper to house all the metal moving from West to the East. Funds, traders and analysts are all gearing up in the East to analyze and trade gold, with its center of movement now firmly in Asia.   
The previous quote was taken from a slide of Hoffman's presentation on June 18.