Chinese Gold Mining Exploding
In September 37.642 tons of gold were produced in China, according to the China Gold Association. January-September Chinese gold mining totaled 307.809 tons. Compared to last year, gold production increased by 19.608 tons, an increase of 6.8 %. China is on track to mine 410 tons in 2013, being the biggest gold miner for seven consecutive years.
In 1949 the Chinese only mined 4 tons..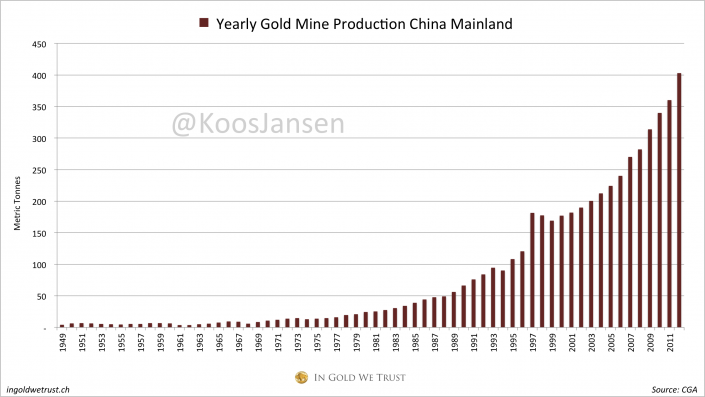 Note this is only domestic mining. The Chinese own many overseas mines, but I have little information on how much gold is being extracted from these. From a report of the World Gold Council in 2010 we get a glimpse of what the Chinese were up to until 2009.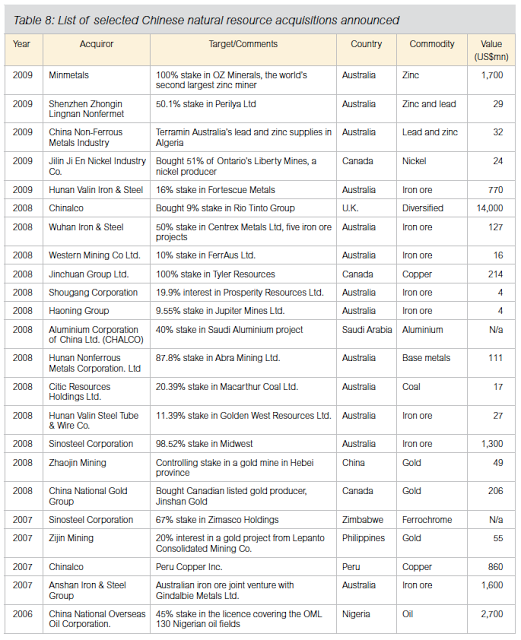 One to keep an eye on is China National Gold Group Corp, China's biggest state owned gold mining company, it's international branch is named China Gold International Resources Corp. We can read on their website they are focussed on acquisition targets worldwide.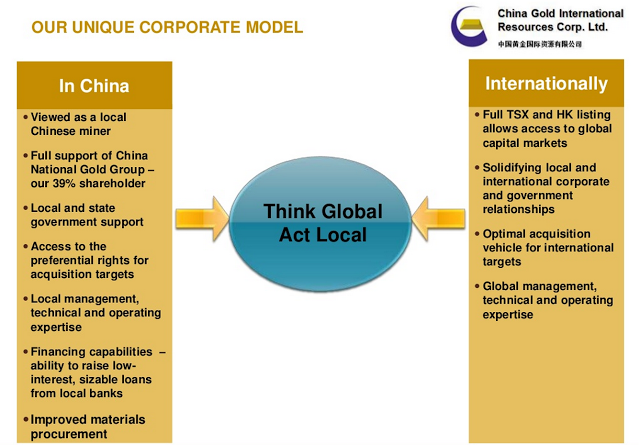 President of China National Gold Group Corp and chairman of China Gold International Resources Corp is, CCTV economic person of the year 2011, Sun Zhaoxue. One of the most influential persons in the Chinese gold market because he is also the president of the China Gold Association, that acts as a bridge between the Chinese government and gold producers in protecting business interests and providing information, consultancy, co-ordination and intermediary services for them. Whenever he speaks in the media he is very clear on how important gold is for China. I've published an exclusive translation a few months ago of an article he wrote for Qiushi magazine in 2012. A few snippets he dropped on offshore mining (although I recommend reading the whole thing and then email it to all your friends and family):
Because Gold possesses stable intrinsic value, it is both the cornerstone of countries' currency and credit as well as a global strategic reserve. Without exception, world economic powers established and implement gold strategies at the national level.
…Going to the source, the rise of the US dollar and British pound, and later the euro currency, from a single country currency to a global or regional currency was supported by their huge gold reserves. 
…We need to establish a more clear national gold strategy, look at benefits over a long term as a starting point, amply make use of two markets, two resources, continue to grow gold reserves and progressively become a 'gold-reserve' nation that is commensurate with the country's economic strength. 
…the state will need to elevate gold to an equal strategic resource as oil and energy, from the whole industry chain to develop industry planning and resource strategies.
…To bear national responsibility and increase national gold reserves in the "Twelve Five" period, China Gold Group Corporation must firmly grasp the lifeline of resources with methods such as exploration to increasing proven reserves, merger and acquisition, base construction and opening up offshore gold resources to accelerate increase of national gold reserves.
 …Concurrently, actively implement a globalization strategy that will exploit overseas resources and increase channels to grow China's gold reserves. 
…The world economy faces new changes, new challenges and new opportunities, therefore we must relook the status and function of gold from a strategic height and create and implement a national gold strategy, to strengthen our country's ability to counter complex situations.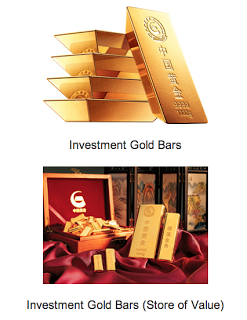 China Gold Group gold bars
From a PBOC paper in 2010 (of which I hope to publish a proper translation soon) we can read the Chinese government is keen on overseas acquisition. Google Translate:
…Study the expansion of physical gold market supply channels. Combined with the actual development of China's gold market, according to market demand conditions, to expand import and export of gold qualified number of commercial banks, and promote market innovation, improve market liquidity. On the basis of market principles in the further development of the gold loan market.
…to focus on supporting large-scale development and implementation of "going out" strategy, a really good job to support large-scale gold group "going out" related financial services.
In Gold We Trust