Chinese Gold Demand 998 MT YTD
Demand In Week 28 Low At 25 MT
According to the SGE reports published every friday on the previous trading week, Chinese wholesale gold demand year to date, as measured by SGE withdrawals, came in at 998 metric tonnes at the end of July 11 – at the time of writing it surely has passed 1000 tonnes. If we annualize this number the outcome is 1853 tonnes, which would require China mainland to net import 1173 tonnes (this excludes PBOC purchases, according to my analysis the PBOC does not purchase any gold through the SGE). I have calculated net import as: SGE withdrawals – mine – scrap = import. Of which 1853 tonnes are annualized SGE withdrawals, 451 tonnes are Chinese domestic mining (according to CPM Group) and 229 tonnes are estimated scrap supply (in 2013 recycled gold through the SGE accounted for 229 tonnes; estimated scrap supply is the part of the equation with the lowest accuracy). Net import year to date (July 11) calculated as such stands at 632 tonnes.
Demand in week 28 (July 7 – 11) was relatively weak, 25 tonnes were withdrawn from SGE designated vaults that are spread over the mainland.
My research indicates that SGE withdrawals equal Chinese wholesale gold demand. For more information click this link.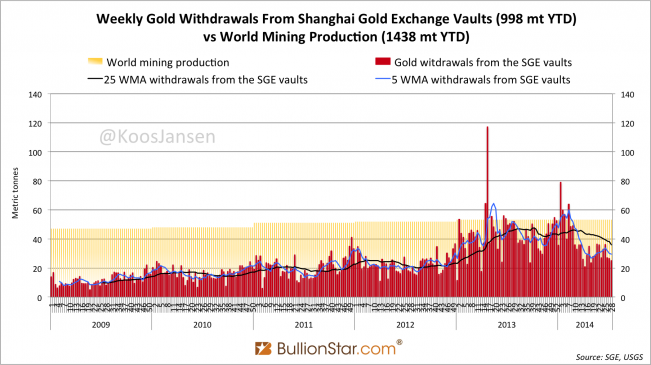 This is a screen shot from the weekly Chinese SGE trade report; the second number from the left (blue – ?????) is weekly gold withdrawn from the vaults in Kg, the second number from the right (green – ?????) is the total YTD.

This chart shows SGE gold premiums based on data from the SGE weekly reports (it's the difference between the SGE gold price in yuan and the international gold price in yuan).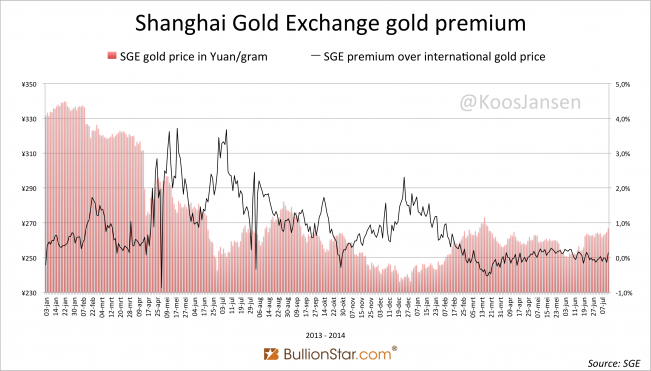 Other news:
– Copper has been trading in backwardation on the Shanghai Futures Exchange for two weeks now (July 18).
– China's first options exchange is expected to launch this year.