China Mainland Gold Import Accelerating
This week the the Hong Kong Census and Statistics Department officially released their trade numbers from October. Whilst they offer specific numbers in advance to anybody willing to pay, I rather wait for the total booklet to be published free of charge.
Most significant is the amount of gold net exported to the mainland, up 21 tons from 109 tons in September to 130.2 tons in October, + 19 % m/m, +446 % y/y, just shy of the all time record of 130.3 tons in March. Reinforcing an upward trend that started in 2011. Year to date Hong Kong net gold export to the mainland stands at 957 tons, + 200 % relative to the same period in 2012.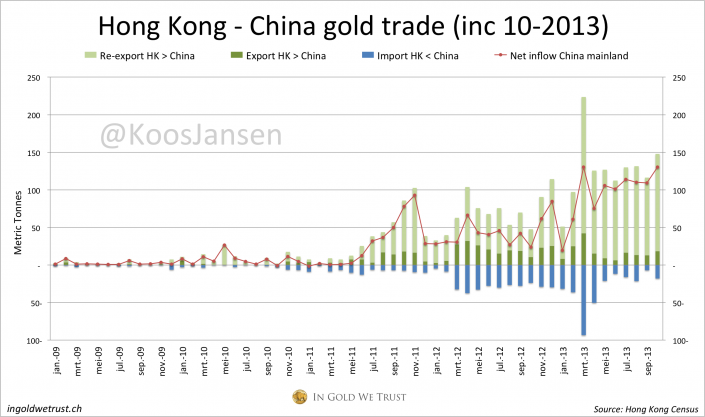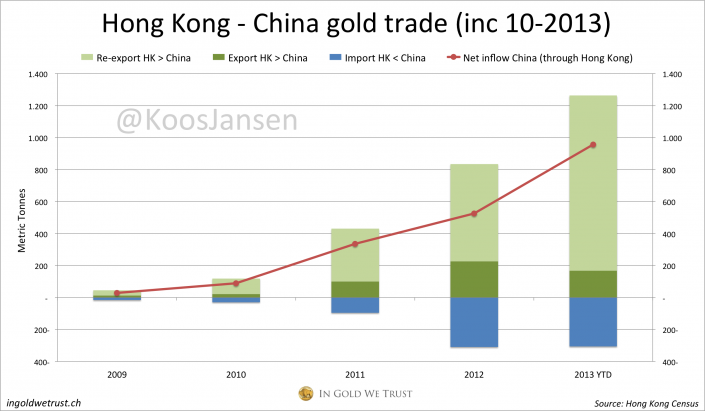 The main source for Hong Kong's gold is still Switzerland. Hong kong net gold import from Switzerland in October was 85 tons, down from 99 tons in September, – 14 % m/m. Year to date total net import from the Swiss stands at a massive 782 tons.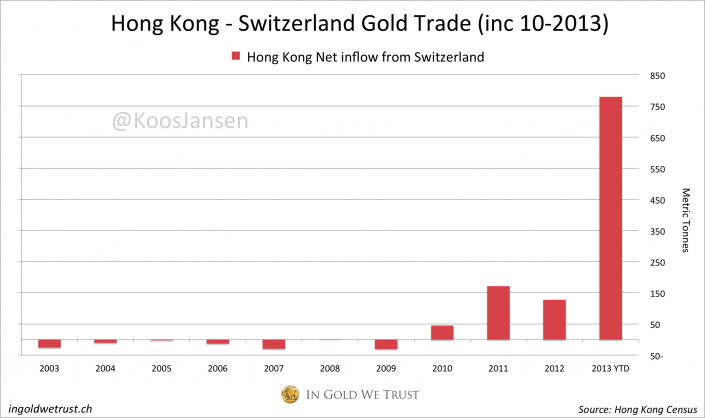 In the screen dump below from the Hong Kong Census report we can see gross gold (HKHS code 97101) import from Switzerland (CH) in October in the first column. The third column is the amount of gold imported year to date. The other big suppliers are Australia (AU) 141 tons, Great-Britain (GB) 92 tons, the United States (US) 172 tons, and South Africa (ZA) 138 tons.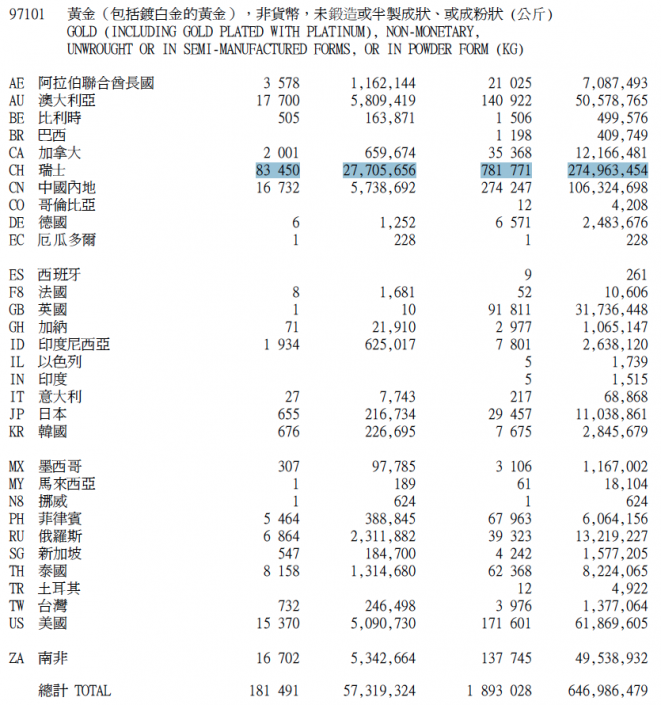 At the bottom of the screen dump we can see  total Hong Kong gross gold (HKHS code 97101) import year to date, 1893 tons. If we add gold coin import the total amounts to 1933 tons YTD, total gross export is 1423 tons YTD; net import stands at 510 tons YTD. Some of this gold is bought in jewelry form by mainland tourist and shipped home undeclared. In Hong Kong there is 0 % tax on jewelry, in the mainland this is 22.5 %  – valued added tax (VAT) 17.5 % and consumption tax 5 %. It's quite common for the Chinese to go on jewelry shopping trips to Hong Kong, how much gold is imported this way (undeclared) into the mainland I will analyze in a forthcoming post.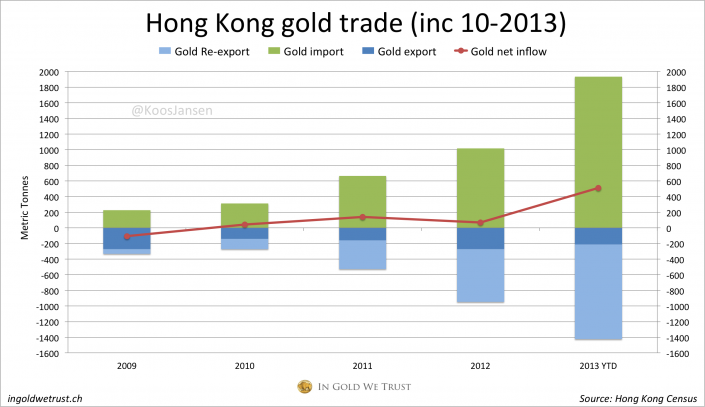 The mainland and Hong Kong combined net gold inflow year to date is 1466 tons.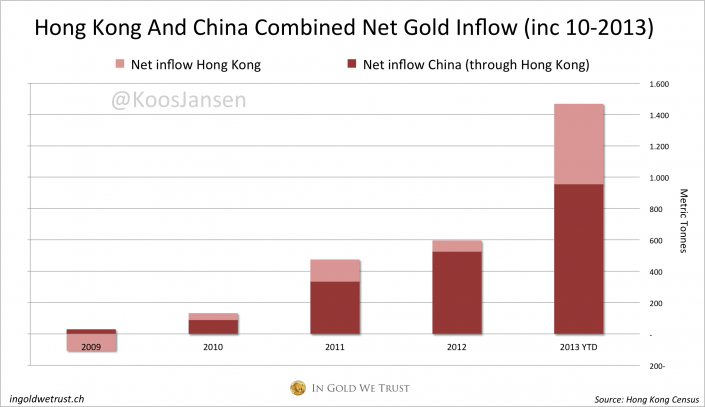 For the charts in this post I have summed up the following gold categories from the trade reports:
HKHS code (Hong Kong Harmonized System)
98002: GOLD COIN AND CURRENT COIN
97101: GOLD (INCLUDING GOLD PLATED WITH PLATINUM), NON-MONETARY, UNWROUGHT OR IN SEMI-MANUFACTURED FORMS, OR IN POWDER FORM

In Gold We Trust
For clarity, these charts are all based on trade numbers from Hong Kong. With these numbers we know how much gold ends up in Hong Kong itself (import minus export) and how much gold Hong Kong trades with other countries (net import or export). The "China net inflow charts" are only about the amount of gold that China mainland net imports through Hong Kong.