Biggest Newspaper Netherlands Interviews Koos Jansen
From De Telegraaf, Thursday April 9, 2015.
By Theo Besteman:
China Conquers The World With Gold
After a serious knee surgery in 2013 sound engineer Jan Nieuwenhuijs began a blog about gold. Two years later, the 33-year old from Amsterdam is an international gold expert, his analyzes are praised by investors on Wall Street. "China takes over US dominance," he concludes.
His blog about the gold market began as a hobby when he was homebound because of his knee injury. By his internet alias Koos Jansen he started researching the Chinese gold market. His unorthodox analyzes were quickly noticed. Especially when his discovery of the concealed but unprecedented gold buying program by China proved to be accurate.
What he showed was that estimates by the World Gold Council, the global trade association of jewelers and bullion dealers, reflected only half of China's actual purchases. An authority fell. "Gold Guru" Willem Middelkoop said at the time to literally have fallen out of his chair when he found out – through Nieuwenhuijs his publications – how much gold China was buying.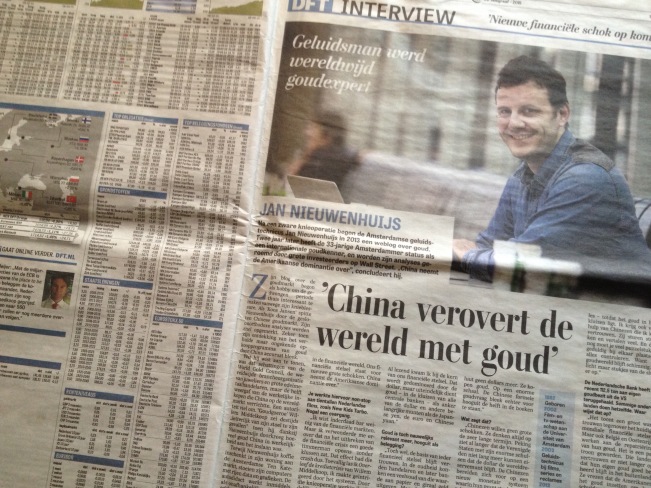 While Nieuwenhuijs is making coffee at his home in Amsterdam, computers screens are displaying rows of data and charts. The autodidact now works as an independent analyst for BullionStar in Singapore. Also investment banks on Wall Street and news agencies use his analyzes.
Why your fixation on gold purchases by China?
"This gold hunt shows that China has been preparing in the background to play a bigger role in the financial world. Our financial system is heading for major new shocks. China takes over US dominance."
You previously worked nonstop on dozens of Dutch feature films such as New Kids Turbo. Quite a transition.
"I knew very little of the financial markets, but after the outbreak of the financial crisis I wondered why a good carpenter could suddenly be unemployed. This was due to the crash. Coincidentally, in 2010 I read "Overleef De Krediet Crisis" by Willem Middelkoop, I was immediately intrigued by the financial system. Because of the knee surgery I temporarily was not working. I searched obsessively for answers. That's how I work, all-in, or you'll learn nothing."
An amateur blog about gold is something different than analyzes where investors can rely on.
"Absolutely. At first I used to give my friends reading tips – how the credit crisis was caused. I went from amazement to facts. While reading, I came to the core of our financial system, which is now dominated by the dollar, but ultimately gold – in the vaults of the central banks – serves as an anchor of the dollar and other major currencies like the euro and Chinese yuan."
Isn't gold hardly relevant in the current financial system, except as an investment?
"Oh it's relevant, the base of each financial system remains confidence. Throughout history goldsmiths and banks could create a multiple of the gold in their vaults as paper and book money. But the people knew that there was always a partial backing held in reserve. The United States dollar was backed by gold until 1971. Money has been printed full speed since then. As the European Central Bank is now doing in the Eurozone. Through leverage massive debt structures are built that are not sustainable. For the moment, the Chinese support the United States dollar. But its leaders want absolutely no more dollars. They buy gold. On a massive scale. However, only half of Chinese gold demand turned out to be in the books."
What does that say?
"The Chinese don't want a big shock. They always think long term. Beijing knows for a long time that the United States with its huge debt can't have the dollar to be the world reserve currency forever. The Chinese are preparing for a new monetary system in which their currency has a stronger voice or is dominant. The first step could come this fall. Who has the most gold, the base of the economy, sets the rules. The Chinese leaders literally say: 'In the shortest possible time we need to accumulate the largest gold reserves in the world.'"
What distinguishes your approach from others?
"I'm going to the source and I do not listen to authorities. Central banks invariably deny anything – until they have enough gold in their vaults. I also get a lot of help from Chinese sources who I can trust. They send and translate many documents. And even then you need to do a lot of studying, patiently putting the pieces of the puzzle together, because the world of gold remains opaque. I only reveal small pieces of this market."
The Dutch central bank (DNB) has recently repatriated 122.5 tonnes of gold from the United States. Some other countries are doing the same. What does this indicate?
"It shows a great distrust in the current international monetary system. Likely Belgium and Austria are also working on repatriating gold. It has become a pattern. These countries can no longer trust their gold is stored safely abroad. They fear that the Americans use the gold to guarantee their debt. Repatriating is done slowly because no one wants to cause an undesirable financial shock. But repatriating tonnes of gold bars is not simple, this takes a military operation. There is fear."
Do you invest in gold?
"I own physical gold, and save it outside the banking system, but I don't trade everyday. The gold market has provided me with a lot of insight in our financial world. I'll probably continue this work until I'm dead."
Jan Nieuwenhuijs
1981 Born
2002 Film and television science at the University of Amsterdam
2003 Sound mixer for movies, TV-series and commercials
2013 Blog 'In Gold We Trust'
2014 Precious metals analyst at BullionStar.com, Singapore