London's annual Platinum Week: A showcase for the White Precious Metal
The third week of May sees an annual event in London known as "Platinum Week" when many participants from the platinum industry gather for a series of seminars and networking events organized by the London Platinum and Palladium Market (LPPM) and a number of precious metals consultancies.
Platinum Week is held in May as it marks the anniversary of the first "London Platinum Quotation" which began in May 1973, and which went on to become the London Platinum Fixing, which subsequently was replaced by the current LBMA Platinum Price auctions.
Publishers of platinum focused investment and research material also tend to schedule the publications of their latest reports to coincide with Platinum Week, for example the First Quarter 2019 edition of the World Platinum Investment Council's Platinum Quarterly, Johnson Matthey's May 2019 edition of its 'PGM Market Report', and the Metals Focus consultancy's 'Platinum & Palladium Focus' for 2019. The week also sees extended coverage of platinum news by the major financial media outlets such as Reuters and Bloomberg.
Although primarily a networking and deal-making event, Platinum Week also helps keep platinum on the radar of the investment world, and in addition to the heads of South African platinum mining companies such as Lonmin, Anglo American Platinum, Implats and Sibanye-Stillwater, there are many investment platinum refineries and mints in attendance, as well as banks, ETF providers, hedge funds, and other buy-side investment institutions.

While many have heard of the London Bullion Market Association (LBMA) and its Good Delivery List for gold and silver refiners, the London Platinum and Palladium Market (LPPM) is a lessor known but similar organization for the platinum and palladium markets globally, and it has its own Good Delivery List of the world's top platinum refiners such as Heraeus, Valcambi, and Argor-Heraeus. Previously operating as a standalone industry group, the LPPM is now more closely aligned with the LBMA, and is administered by the same LBMA / LPPM executive team in London, and has the same annual LBMA / LPPM conference, which is later this year in Shenzhen.
Platinum has different supply and demand drivers to those of gold and silver which means that the price of platinum will perform differently to the prices of gold and silver over time. This also means that the price correlation of platinum versus other precious metals and versus other asset classes provides diversification benefits when platinum is included in diversified investment portfolios.
Platinum mining supply only comes from a few countries, led by South Africa and to a lesser extent Russia, Zimbabwe, the US and Canada. The demand drivers of platinum are also very different to those of silver and gold and consist of demand from the autocatalyst sector (above 40% of demand), platinum jewllery demand (30%), industrial demand for platinum (20%), and physical investment in platinum – which includes platinum bars and platinum coins, ETF holdings and commodity exchange warehouse stocks (less than 10% of overall demand).
As an investment precious metal, platinum gets less attention than gold and silver, but this is gradually changing since there are now a large range of platinum bullion bars and platinum bullion coins available on the market, produced by the world's leading precious metals mints and refineries.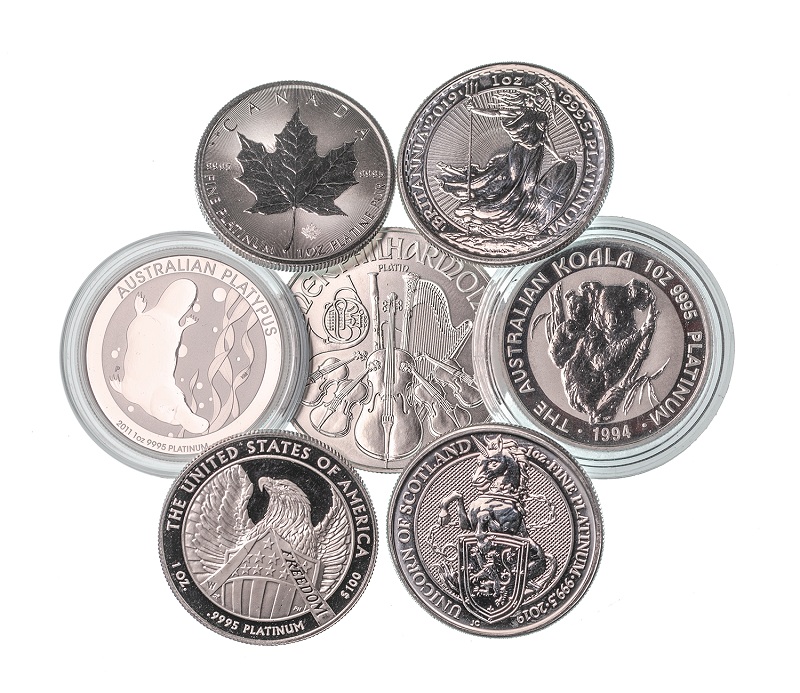 Investment grade platinum bars available on the market are produced in a variety of popular weights such as 1 kg, 500 grams, 100 grams and 1 oz  and include those from the German Heraeus refinery and Swiss refineries Valcambi and Argor-Heraeus.
All the leading precious metals mints now produce high purity platinum bullion coins including the Canadian platinum Maple Leaf from the Royal Canadian Mint (RCM), the platinum bullion Philharmonic coin from the Austrian Mint, the platinum Britannia bullion coin from the Royal Mint, American platinum Eagles from the US Mint, and the well-known platinum Platypus coin from the Perth Mint.
As with investment gold and silver bars and coins, investment grade platinum bars and platinum coins purchased in Singapore are also exempt from Singapore's Goods and Services Tax (GST) as long as the bars and coins have a platinum purity of 99% or higher and the bars are fabricated by refineries on the LPPM Good Delivery list.
Given that platinum coins from the above mints all have a platinum purity of  99.95% and given that platinum bars all have 99.95% purity and are produced by platinum refineries on the LPPM Good Delivery list for platinum, all of these platinum investment products are exempt from Singapore's GST.
Themes discussed during this year's Platinum Week will undoubtedly include the price outlook for platinum compared to palladium, how the worldwide auto sector's changing demand patterns for platinum will affect the platinum price going forward, how mine supply will affect platinum's supply-demand surplus, and how demand patterns are evolving between platinum-backed ETF products and physical platinum bar and coin investment demand.