Argor-Heraeus Platinum Bar - 100 g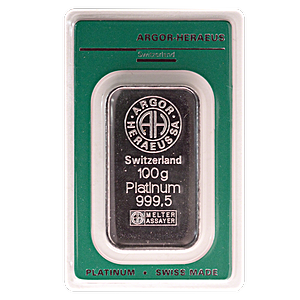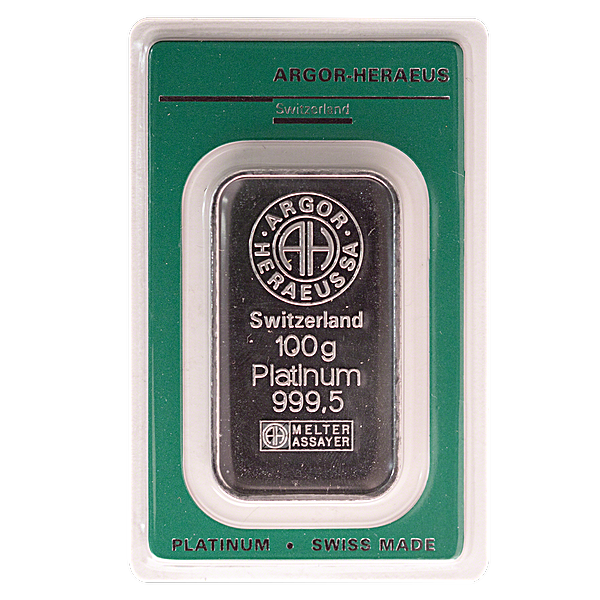 Roll over image to zoom in
Argor-Heraeus Platinum Bar - 100 g
Limited Time Offer
Regular Price
IN STOCK: 2 bars
Great Premium:
Product Highlights
Country: Switzerland
Manufacturer: Argor-Heraeus
Size: 49.65 mm x 28.5 mm x 3.4 mm
Purity: .9995
Weight: 100 gram (3.215 troy oz)
Tax Status: No Tax/No GST
Product Information:
This 100 gram minted platinum bar has a purity of 99.95% platinum and is fabricated by the famous Swiss precious metals refinery Argor-Heraeus.
The front of the 100 gram platinum bar is imprinted with the Argor-Heraeus refinery logo, which is a stylized 'AH' motif encircled by the words 'ARGOR HERAEUS SA', Below this are the refinery location 'Switzerland', the bar's weight and platinum purity, '100g Platinum 999.5', and the assayer stamp.
Each 100 gram minted platinum bar comes presented in its own secure PET transparent blister pack which keeps the bar in minted condition.
The Argor-Heraeus refinery is also listed on the London Platinum and Palladium Market (LPPM) 'Good Delivery List' for platinum, a list which identifies world class platinum refiners.
In addition to its headquarters in Mendrisio Switzerland, Argor-Heraeus also has offices and operations in Pforzheim in Germany, in the Milan region of Italy, and in Santiago de Chile where it operates its Argor-Heraeus America Latina subsidiary.
Investment grade platinum bars purchased in Singapore are exempt from Singapore's Goods and Services Tax (GST) as long as the bars and coins have a platinum purity of 99% or higher. All platinum bars offered by BullionStar have a 99.95% platinum purity, so when you buy platinum bars from BullionStar, your purchases are exempt from GST.
Contact Us Regarding This Product
Customers who viewed this item also bought