Investing in the Noble Metal of Platinum
Along with gold and silver, platinum is a recognized investment precious metal which is fabricated in the form of high quality bullion bars and bullion coins by some of the world's leading precious metals refineries and mints.
Importantly, as a recognized investment precious metal, platinum bars and platinum coins from these refineries and mints are exempt from Singapore's Good and Services Tax (GST). This means that there is no GST to pay when you buy platinum bars and coins from BullionStar in Singapore.
Platinum's High Intrinsic Value
Like gold, platinum is relatively scarce and has a relatively high intrinsic value and market value. And like gold and silver, platinum also has many industrial and technological applications. Platinum's value is thus based on a combination of its scarcity of supply and also on its physical and chemical properties. These properties in turn drive the diverse global demand sources for platinum across sectors such as the automotive, industrial and jewelry industries in addition to the investment sector.
For example, platinum has well-known catalytic properties which allow it to speed up chemical reactions without it being altered in the process. Hence platinum is used in autocatalysts, in the chemical industry and in fuel cells. Platinum is also a very strong attractive metal that does not corrode and that is both ductile and malleable, hence it is a very popular precious metal in the jewelry industry. Since platinum is resistant to corrosion and oxidation, it is classified, along with a small number of other metallic elements, as a noble metal.
Platinum is a relatively scarce metal in the earth's crust and even rarer than gold. In contrast to gold, annual platinum supply and platinum demand is far lower than annual supply and demand in the gold market. According to Thomson Reuters GFMS, supply of platinum in 2016 totaled 7661,000 ozs (238 tonnes) of which 188 tonnes came from platinum mining with a further 50 tonnes was derived from autocatalyst and platinum jewellery scrap recycling.
Within platinum extraction and mining, over 70% of global mine supply comes from South Africa, with a further 12% from Russia, 7% from North America, and the remaining 10 – 11% from elsewhere. South Africa's dominance of global platinum supply is also evident in the composition of the recently established World Platinum Investment Council (WPIC) which is a platinum investing advocacy association founded by six South African platinum mining companies, namely Anglo-American, Lonmin, Implats, Aquarius, Northam, and Royal Bafokeng.
On a country specific basis, platinum mining's concentration in a handful of countries can sometimes set up supply shocks, for example, platinum mining strikes in South Africa or geo-political risks/sanctions concerning Russia. These shocks can at times affect platinum prices to the upside.
On the demand side, according to GFMS, autocatalysts are the largest global demand driver for platinum. For example, autocatalysts accounted for 102 tonnes of platinum demand in 2016 followed by jewellery (68 tonnes) and other industrial applications (57 tonnes), with investment (bars, coins and platinum-backed Exchange Traded Funds) accounting for the remaining 16.8 tonnes.
Note that in its pure form, platinum is available as platinum grains (used in the jewelry sector) and as platinum sponge (used in industrial applications) in addition to platinum bars and coins. However, other forms of platinum are designed for further onward processing and should not be confused with investment-grade platinum. For investment and storage purposes, refineries and mints will always produce platinum in the form of platinum bars and platinum coins, and furthermore, only bars and coins from recognized refineries and mints can be classified as investment precious metals and be exempt from Goods and Services Tax (GST).
Singapore GST Exemption for Investment Platinum Bars and Coins
Since October 2012, the Singaporean Government has exempted Investment Precious Metals (IPM) from Singapore's Goods and Services Tax (GST). To qualify as IPM, precious metals must be in the form of a bar, ingot, wafer or coin which meets specific criteria. Platinum bars qualify as IPM in Singapore if the platinum bar has a platinum purity of at least 99%, can be traded on an international bullion market, and is produced by a platinum refiner listed on the current or former Good Delivery list of the London Platinum and Palladium Market (LPPM).
The LPPM is a London-based trade association for the global wholesale platinum and palladium markets. There are currently more than 30 refineries on the current LPPM Good Delivery List for Platinum including such refineries as Heraeus of Germany, Johnson Matthey of the UK, and the four large Swiss precious metals refineries Argor-Heraeus, PAMP, Valcambi, and Metalor.
Investment grade platinum bars produced by accredited refiners will generally carry the name of the refiner or refiner stamp or brand on the bar. If a refinery has the LPPM accreditation, the Singaporean IPM rules assume that the refinery's bars are capable of being traded on an international bullion market. Some platinum bars may in turn bear the name of a specific bank such as Credit Suisse or UBS. These bars are known as bank-branded bars and these bars also qualify as IPM if produced by a refiner on the LPPM Good Delivery List.
For platinum coins, a GST exemption applies if the coin is a bullion coin, has a platinum purity of at least 99%, and is listed on the GST schedule list of qualifying coins. Qualifying platinum coins include:
Royal Mint Platinum Canadian Maple Leaf
US Mint Platinum American Eagle
Austrian Mint Platinum Philharmonic
Perth Mint Platinum Platypus and Platinum Koala
Royal Mint Platinum Britannia, Platinum Lunar and Platinum Queens Beast
Physical platinum investment bars and coins are very popular in markets such as the US, Japan, China and the rest of Asia, and the market is a growing one on the back of the existing popularity of high quality platinum jewelry in these markets.
Platinum Bullion Bars
BullionStar's range of investment grade platinum bars is extensive and features platinum bars in a number of weights from the world's most prestigious platinum refineries. All platinum bars offered by BullionStar are exempt from Singapore's Goods and Services Tax as all bars have a platinum purity of 99.95% and are fabricated by platinum refineries such as Valcambi of Switzerland, Heraeus of Germany, and Argor-Heraeus of Switzerland. All of these refineries are listed on the current LPPM Good Delivery List for Platinum and additionally all of these refineries are also full members of the LPPM. Popular weights for platinum bars stocked by BullionStar include 1 kilogram, 500 grams, 100 grams and 1 oz.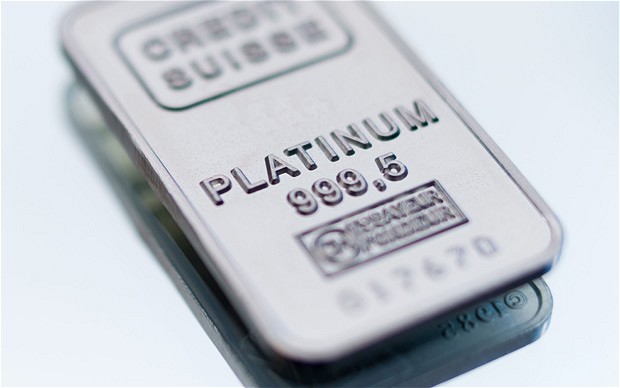 For example, Valcambi produces a 1 oz minted platinum bar which is presented in its own secure blister pack which doubles as the bar's assay card. The Heraeus refinery of Germany produces minted platinum bars in a range of weights from a 100 gram minted platinum bar, through 500 gram minted platinum bars, and up to a 1 kilogram platinum bar. Swiss refiner Argor-Heraeus, now fully owned by Heraeus of Germany, fabricates its own minted platinum bars with the distinctive Argor-Heraeus logo, for example the Argor-Heraeus 1 kilogram minted platinum bar.
BullionStar at times also carries bank-branded platinum bars, such as a Credit Suisse 100 gram platinum bar which has been produced by Swiss refiner Valcambi on behalf of the Swiss Bank Credit Suisse. These platinum bars are also GST exempt in Singapore as they have been fabricated by a refiner, Valcambi, which is on the LPPM Good Delivery List for Platinum. Valcambi has in the past had a very close connection with Credit Suisse and was at various stages both fully-owned and partially owned by Credit Suisse.
Platinum Bullion Coins
Most of the world's best-known national precious metals mints produce a bullion coin in pure platinum. These include platinum coins from the Royal Canadian Mint (RCM), Austrian Mint, US Mint, and the Perth Mint. All of these mints are fully owned by their respective national governments and all of these mints stand over the authenticity and quality of their bullion coin products.
Some platinum bullion coins are produced every year, and some are produced with more sporadic production runs. Many of the bullion platinum coins offered by BullionStar are in similar designs to their gold and silver coin counterparts and are issued in the convenient and standard 1 ounce weight. All of these platinum bullion coins are also legal tender (non-circulating) in their countries of issue.
For example, the Royal Canadian Mint produces a 1 ounce Platinum Maple Leaf with the distinctive maple leaf design. This design will be familiar to investors in the Royal Canadian Mint's Gold Maple Leaf and Silver Maple Leaf coins. RCM Platinum Maple Leafs are produced on an annual basis, including the years 2018, 2017, and 2016.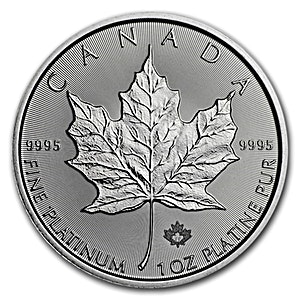 The Austrian Mint also issues a 1 oz Platinum Philharmonic bullion coin each year which is intricately designed with highly-stylized motifs celebrating the world-famous Vienna Philharmonic orchestra.
Those who invest in silver and gold Eagle bullion coins from the US Mint will also be interested in the US Mint's flagship 1 oz Platinum Eagle bullion coin which is handsomely designed with imagery of the Statue of Liberty and a soaring American Eagle. The Platinum Eagle, which was first released in 1997, is the only platinum coin ever officially issued by the US, and has the highest face value (US $100) ever to appear on any US coin.
The Perth Mint's has produced a number of platinum bullion coins over the years although not in all sequential years. From 1988 to 2000, the Perth Mint issued a Platinum Koala bullion coin in a number of weight denominations. Then in 2011, the Mint began issuing its flagship 1 oz Australian Platypus Platinum coin. Production of the Platypus Platinum coin continued until 2017 when it was superseded by the Perth Mint's Australian Platinum Kangaroo coin 1 oz bullion coin.
Another option offered by BullionStar for those who wish to begin saving and investing in platinum is the Bullion Savings Program (BSP). With BullionStar's BSP, customers purchase grams of platinum, gold or silver which are fully-backed by physical precious metals held in BullionStar's stock inventory. These metal grams are available for a low price premium and low spread and are therefore a cost-efficient way to begin saving in precious metals. The metal grams can also be converted in precious metals bars once sufficient grams have been accumulated.
For example, with the Platinum Bullion Savings Program,  customers can purchase grams of platinum that are fully backed by platinum held in BullionStar's inventory. BSP platinum grams have a low-cost storage fee, and can be converted into 1 kg Heraeus Platinum bars at no extra cost. These bars can then be held by customers in BullionStar's Vault Storage, or physically withdrawn and delivered. Alternatively, investors in BSP platinum grams can sell their platinum grams back to BullionStar at any time.