Argor-Heraeus Platinum Bar - 1 kg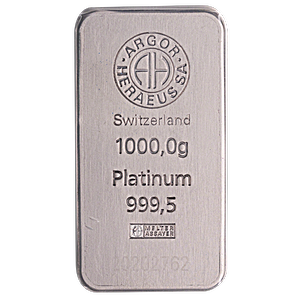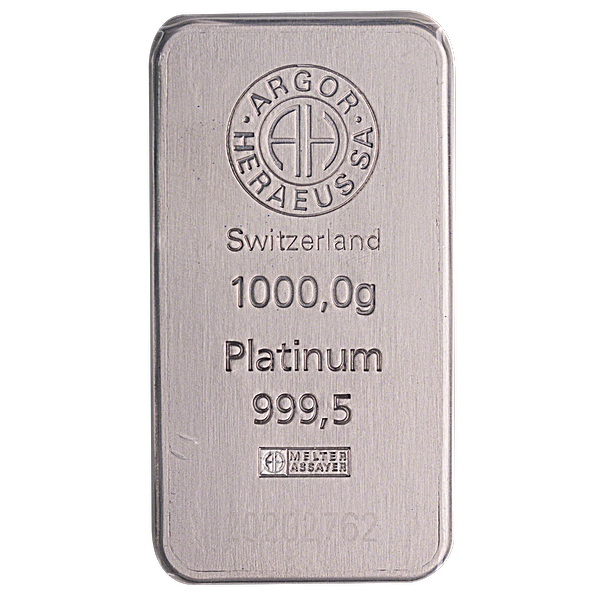 Roll over image to zoom in
Argor-Heraeus Platinum Bar - 1 kg
Limited Time Offer
Regular Price
IN STOCK: 18 bars
Great Premium:
Product Highlights
Country: Switzerland
Manufacturer: Argor-Heraeus
Size: 96.0 mm x 51.0 mm x 10.0 mm
Purity: .9995
Weight: 1 kg (32.151 troy oz)
Tax Status: No Tax/No GST
Product Information:
This 1 kilogram platinum bar from Switzerland has a platinum purity of 99.95% and is minted by one of the leading Swiss precious metals refineries Argor-Heraeus.
The front of the 1 kg platinum bar displays the Argor-Heraeus's refinery logo AH, along with the word 'Switzerland', the bar's weight and platinum purity, and the word AH Melter Assayer.
The Argor-Heraeus refinery is located in Mendrisio in the Canton of Ticino, in Southern Switzerland, and is fully owned by the German Heraeus group.
Argor-Heraeus is listed on the prestigious London Platinum and Palladium Market (LPPM) Good Delivery Refiner list for platinum, a list of the world's leading platinum refineries.
Argor-Heraeus is also a member of "Association Suisse des Fabricants et Commerçants de Métaux Précieux" (ASFCMP), which is the Swiss Association of Precious Metals Manufacturers and Traders.
As a high purity platinum investment bar, this 1 kg Argor-Heraeus platinum is exempt from Singapore's Goods and Services Tax (GST).
Contact Us Regarding This Product
Customers who viewed this item also bought