BullionStar Financials FY 2019 – Year in Review
This post reviews BullionStar's financial performance and milestones for the financial year ending 30 June 2019 (FY 2019).
At BullionStar, we have a tradition of transparently sharing our financials including key sales data such as, for example, precious metals demand per product and product category as well as sharing notable developments. Previous years financial reviews can be found below:
BullionStar Financials FY 2018 – Year in Review
BullionStar Financials FY 2017 – Year in Review
BullionStar Financials FY 2016 – Year in Review
BullionStar Financials FY 2015 – Year in Review
This update on the financials for FY 2019 has been posted later than previous years as we have been busy with record bullion demand so far for 2020 amidst navigating and adapting to the government imposed COVID-19 restrictions around the world.
FY 2019 was a year where we focused on several internal projects, most notably the significant renovation, reconstruction and extension of our Bullion Center.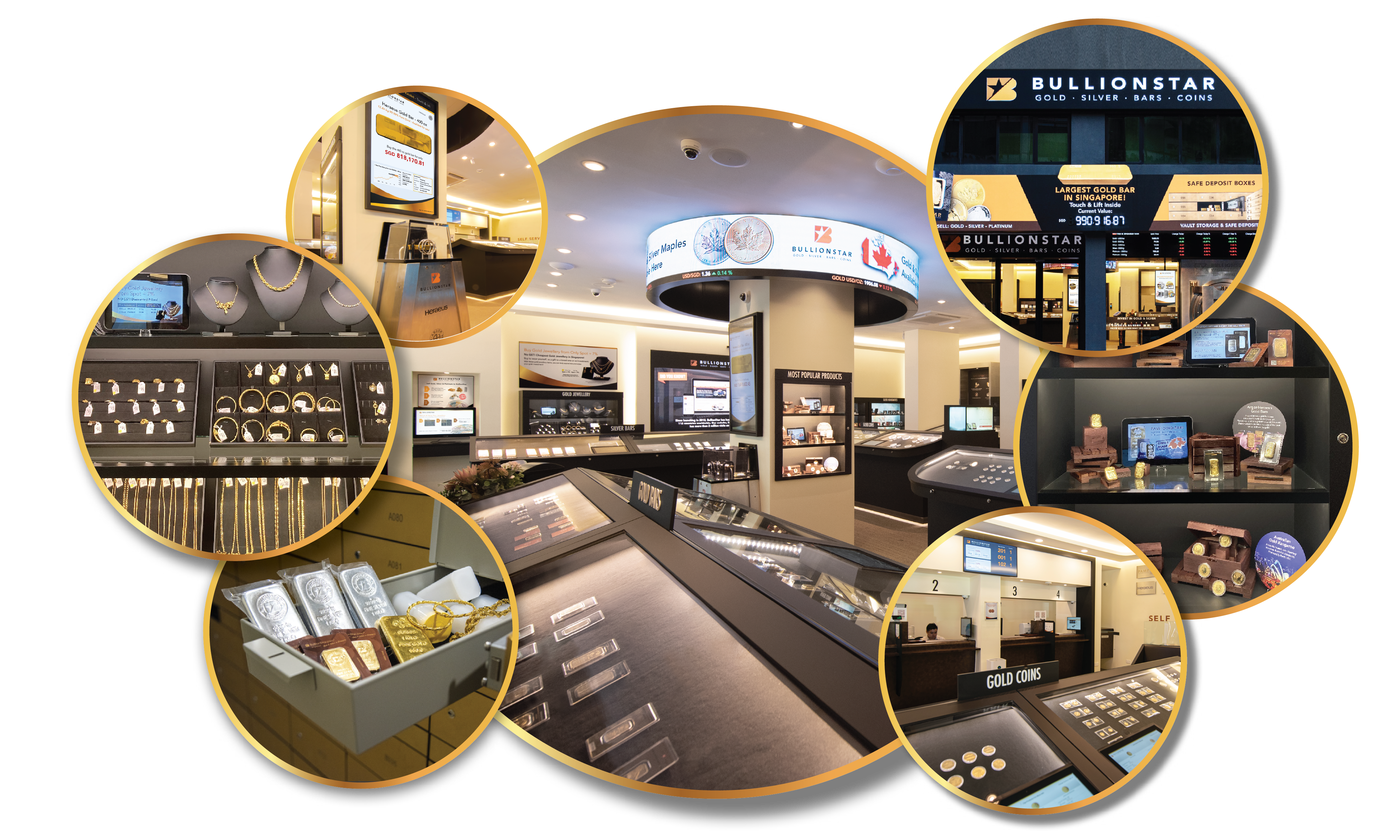 The renovation has now been successfully completed and we are very excited with the outcome! Our Bullion Center is a museum-like experience where visitors can explore the world of precious metals. The Bullion Center features no less than 29 showcase displays full of bullion from refineries and mints around the world showcasing a select variety from the more than 1,000 products across 11 product categories that BullionStar offers. Another highlight of the Bullion Center is the 400 oz gold bar exhibit where visitors can hold and lift a 400 oz (12.44 kg) gold bar. The Bullion Center also features a range of interactive games and screens where you can learn more about precious metals and BullionStar.
Gold Price and Silver Price during FY 2019
For most of FY 2019, the gold price, as denominated in Singapore dollars, traded in a tight range between SGD 1616 and SGD 1820. During the last two weeks of June 2019, the price however broke out from its trading range and ended at SGD 1907 on 30 June 2019 vs SGD 1708 on 30 June 2018.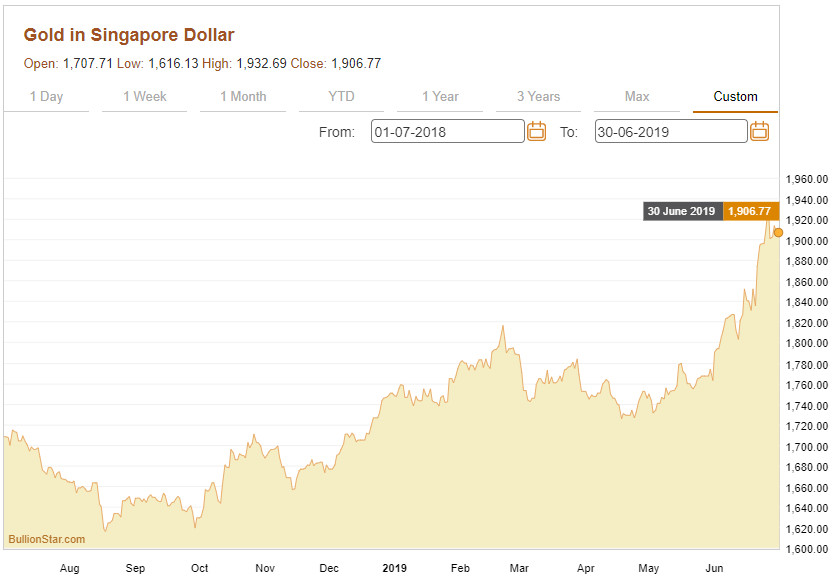 The Singapore dollar price of silver was similarly trading in a narrow range over the fiscal year, with a low of SGD 19.30 and a high of SGD 20.72, and a price that remained relatively range bound. The silver price opened the fiscal year at SGD 21.97, and closed at SGD 20.72 on 30 June 2019.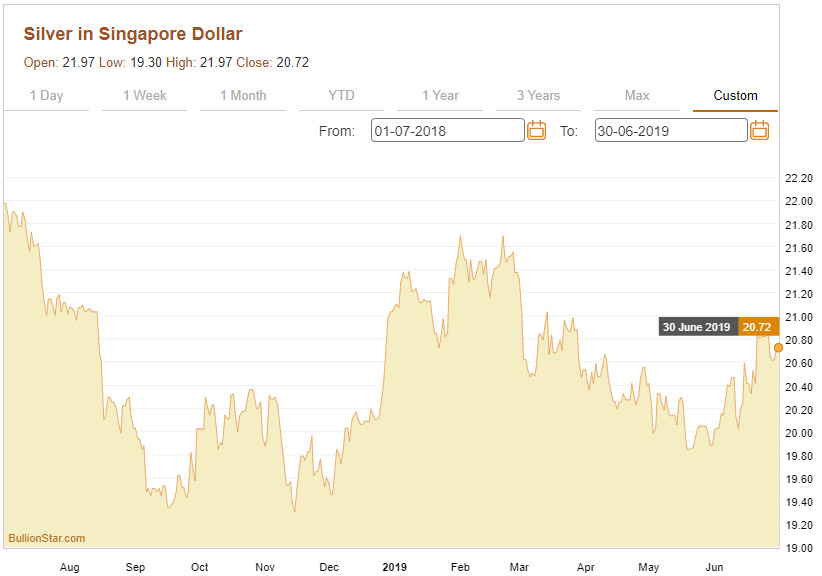 BullionStar Financials FY 2019 – Year in Review – Sales
During FY 2019, BullionStar's sales revenue was SGD 137,300,553 which was a 22.8% decrease over FY 2018. The revenue decrease followed an environment of subdued gold and silver price movements during the fiscal year with tight trading ranges for both metals. Small price movements are typically associated with lower volume in the bullion sector. Despite the decrease in sales revenue, BullionStar remained profitable for the year.
It can also be noted that the financials for FY 2020 will be in stark contrast to FY 2019 with record sales revenue projected. The blog post with the financial review for FY 2020 will be posted following the annual audit by our licensed Singapore auditor. We expect to post on the FY 2020 financials by March 2021.
Sales per Product Category
In FY 2019, gold represented 77% of sales (FY 2018: 76.7%) and silver represented 20.9% (FY 2019: 21.8%). The breakdown of sales between gold and silver as a whole were almost unchanged from FY 2018. Within the gold category, 63.7% of total revenues were for gold bars against 13% for gold coins.
Together, 100 gram gold bars and 1 kg gold bars continued to represent most of the gold bar sales, and in the gold coin category the most popular gold coins were Canadian Gold Maple Leaf coins followed by Australian Gold Kangaroo coins.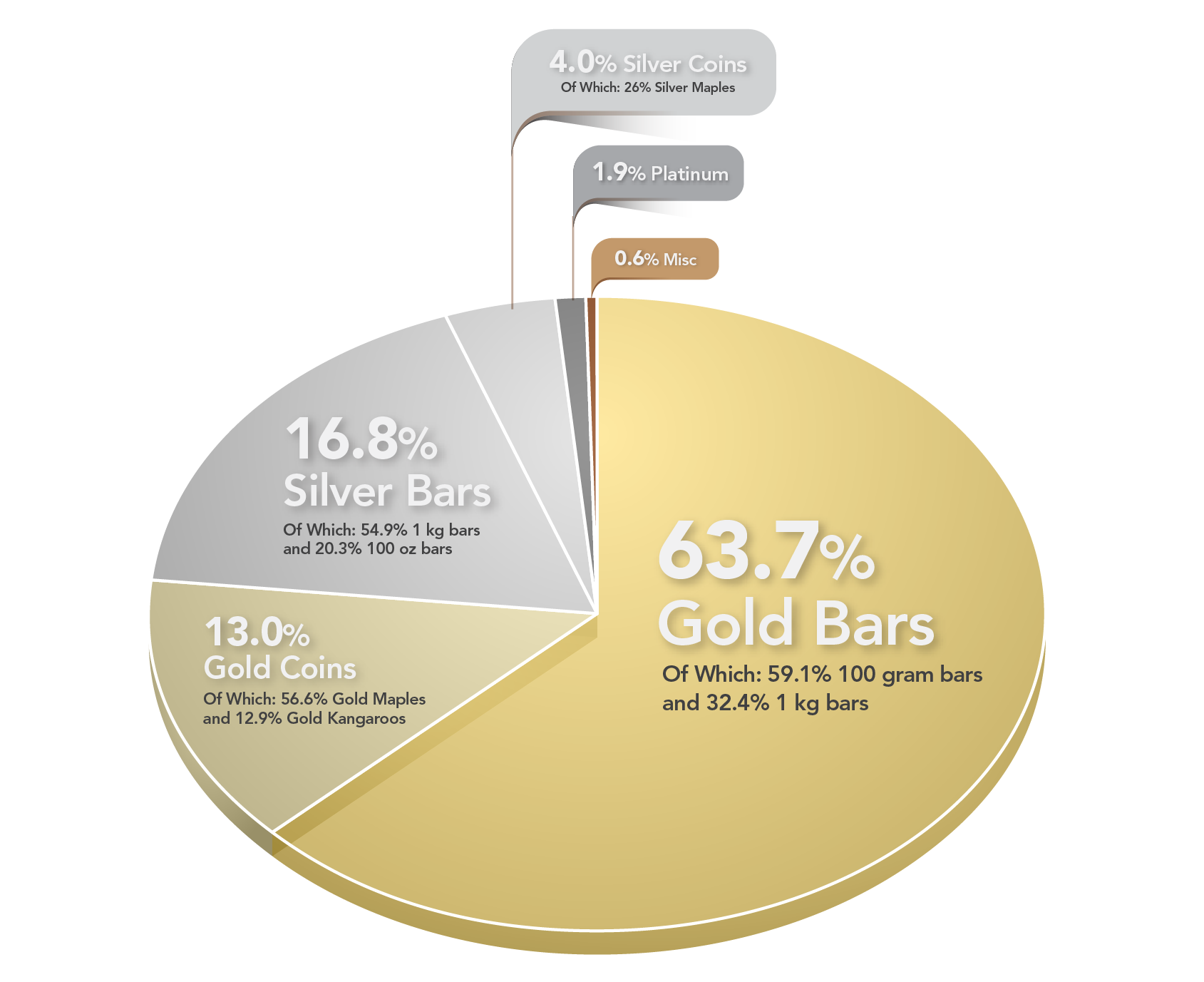 Silver bars accounted for 16.8% of BullionStar's total revenue, with the 1 kg silver bars being the most popular, followed by the 100 oz silver bars. In the silver coin category, the Canadian Silver Maple coins were the most popular silver coin in FY 2019. A notable change within the silver coin category, compared to previous years was that the share for Silver Maples had decreased relative to the remaining share being split between other popular silver coins such as the American Silver Eagle, United Kingdom Silver Britannia, Australian Silver Kangaroo, Austrian Silver Philharmonic and others. The interest for platinum coins and bars increased during the year albeit from low levels. Platinum sales amounted to 1.9% of total sales (FY 2018: 1%).
Despite the sales revenue decreasing, FY 2019 saw BullionStar expand customer activity with a total of 18,013 customer buy orders during the year, a 5.8% rise on FY 2018. BullionStar's popularity had therefore increased during the year amongst small and mid-sized investors and savers. The average order size in FY 2019 was SGD 7,622 down from SGD 10,444 the year before. Median order size in FY 2019 was slightly lower than in FY 2018 at SGD 716, down from SGD 950.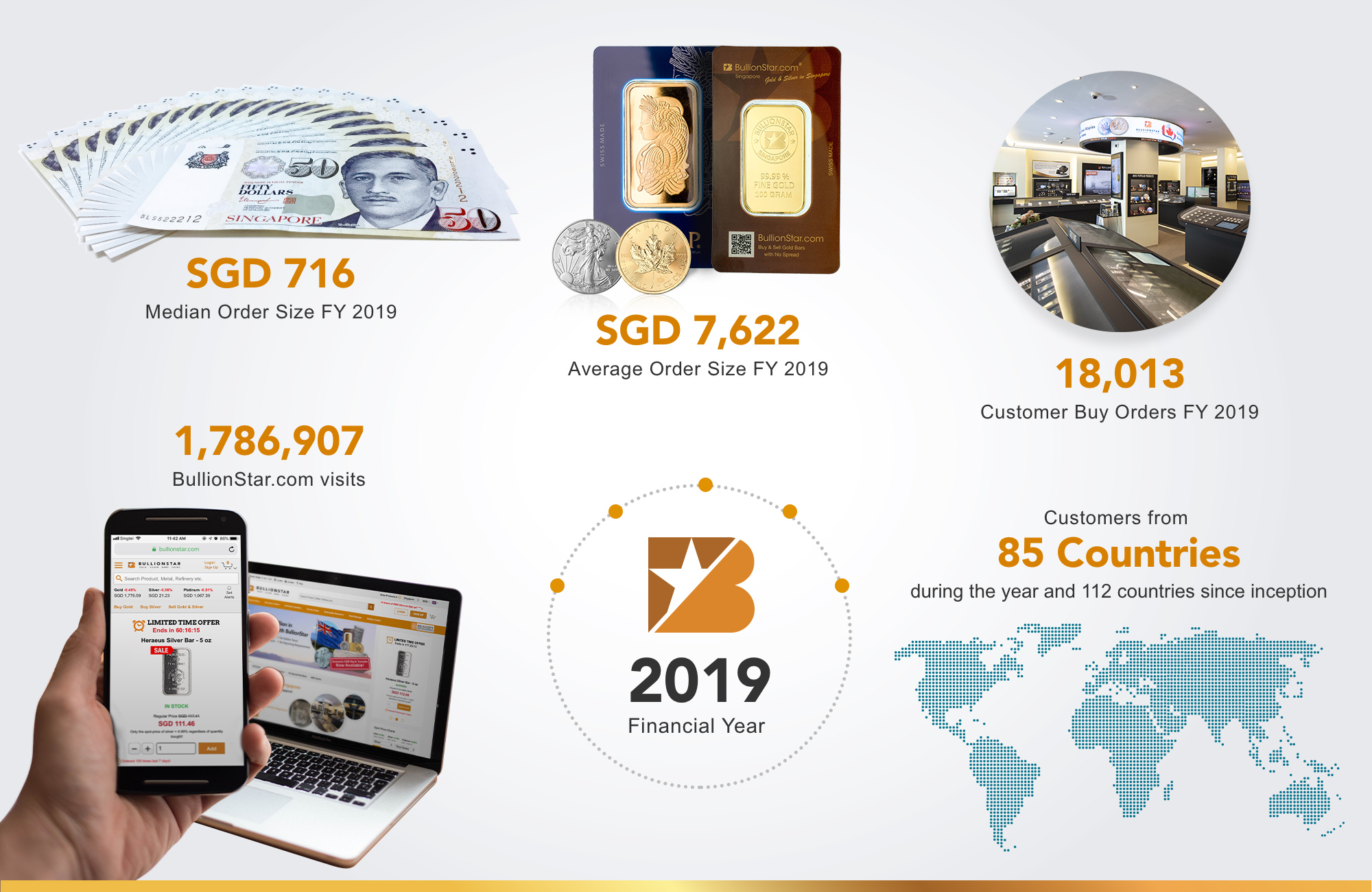 BullionStar continues to be popular around the globe, with customers from 85 countries represented in FY 2019 sales. Since we launched in 2012, there have now been customers from 112 countries worldwide. The BullionStar.com website was busier year-on-year in FY 2019, registering 1,786,907 visits, up 198,873 on the previous year's 1,588,034 visits.
BullionStar Vault Storage
At the end of FY 2019, BullionStar stored approximately SGD 185.4 million (FY 2018: 159.7 million) in precious metals on behalf of customers as vault storage provider. This represents a 16.1% increase in value stored compared to the end of FY 2018.
Bullion Center Renovation
The most important milestone for BullionStar during the year under review was the renovation conducted at BullionStar's Bullion Center at 45 New Bridge Road in Singapore.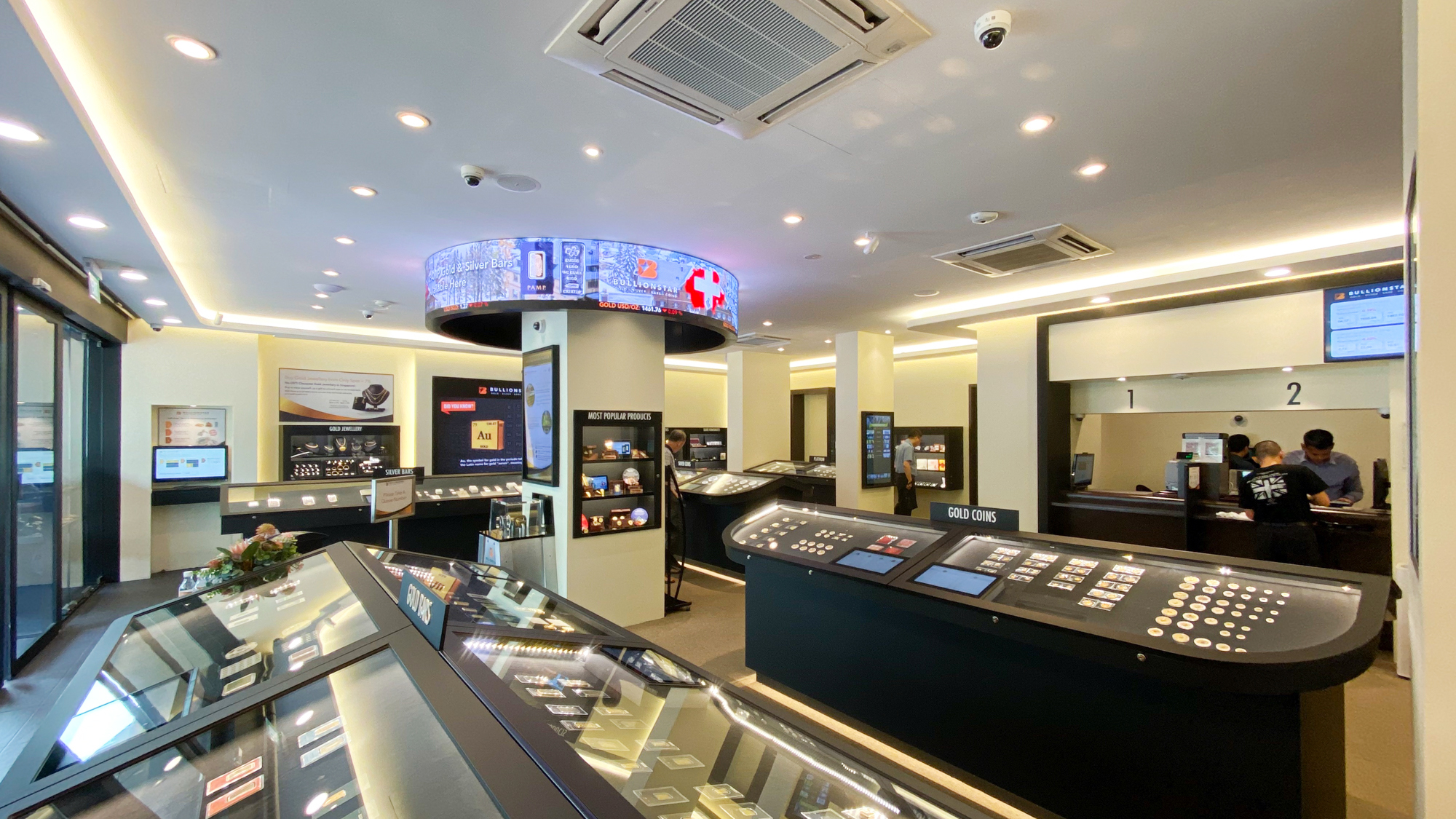 BullionStar's storefront walk-in Bullion Center is a one-stop-shop which caters to all precious metals needs in one location. Customers can view, buy, collect, deposit, store, value, sell, audit or physically withdraw stored metal at the Bullion Center. Some of the highlights of the newly renovated Bullion Center include:
400 oz Gold Bar Exhibit – Hold and lift a 400 oz Gold Bar! 400 oz gold bars are the largest commercially produced gold bars in the world. The 400 oz gold bar on display is the same type of gold bar that is held by central banks around the world.
Gold & Money Game – Test your knowledge on money and gold! The Gold & Money game has different interactive segments where you can learn about the value and characteristics of money vs. gold.
Precious Metals Price Tickers – Imagine a stock exchange but for precious metals! The precious metals price ticker keeps you updated on the live spot price.
BullionStar Dashboard – The BullionStar Dashboard is a giant screen that gives you information about BullionStar, our products and precious metals. Check out the live spot prices, our promotions and stay up to date with the latest developments.
Bullion Displays – Like a supermarket but for precious metals! With more than 1,000 bullion items, BullionStar stocks the widest range of precious metals in Singapore. At our Bullion Center you can view a vast range of gold, silver and platinum bullion in 29 different showcase displays.
Value Your Gold Scale – Curious of the value of your gold jewellery? Place your jewellery on the scale, select metal and karat/purity on the screen and get an indicative value of how much we pay for your jewellery if you were to sell.
Safe Deposit Boxes – Coming Soon in December 2020!
The last stage of our renovation is the launch of our safe deposit box facility located inside our Bullion Center. BullionStar will be offering safe deposit boxes in three different sizes at affordable rates. The entrance of to the safe deposit boxes will be through BullionStar's bullion center at 45 New Bridge Road.
The safe deposit boxes can be used for safe storage and custody of bullion but also for currency, numismatics, jewellery, precious heirlooms, cryptocurrency cold storage, data files and other important documents.
Each safe deposit box will come with complimentary insurance up to SGD 150,000. We will provide more information on the exciting launch of the safe deposit box facility shortly!
Current Developments in 2020
There have been a number of noteworthy developments at BullionStar during fiscal year 2019 (1 July 2018 – 30 June 2019). We can already now reveal that the sales performance for FY 2020 significantly beat all previous records. We aim to post and update on FY 2020 by end of March 2021.
The increased economic and political uncertainty, particularly in the wake of the globally imposed COVID-19 restrictions has led to record high demand for physical precious metals.
During Singapore's circuit breaker period, BullionStar was forced close its bullion center but were allowed to process orders for shipping and vault storage. While the imposed restrictions brought challenges and necessitated significant changes, BullionStar was quick to adapt and could thereby maintain adequate customer service. This is also notable from BullionStar's customer satisfaction ratings which continue to score very highly in online reviews, with an average rating on Google Reviews of 4.8 based on over 1,700 genuine customer reviews.
There has also been shortages of physical precious metals throughout the year. Such shortages were particularly significant in March and April of 2020 where price discovery based on paper markets were experiencing huge spreads leading to high premiums and buy/sell spreads.