BullionStar Financials FY 2016 – Year in Review
BullionStar has adopted a transparent approach in releasing BullionStar financials i.e. information about the company's overall company performance and sales data for each financial year. This blog post presents the BullionStar Financials FY 2016 – Year in Review as the financials stood at the end of the financial year 2016 which ended on the 30th June 2016 (FY 2016).
FY 2016 was a very strong year for BullionStar with sales revenues totaling SGD 129,165,328 a 103.8% increase from FY 2015.  BullionStar launched several new products and services during FY 2016 – the BullionStar Stored Value Facility, which allows customers to keep funds on account with BullionStar, being the most notable one. BullionStar also launched the Gold University, a unique Wikipedia-style resource of up-to-date factual information covering topics such as gold markets, gold vaults, refineries and mints and central bank policies during the financial year.
In FY 2016, BullionStar increased the product range to include over 500 different bullion, numismatics and coin supply products across 10 different product categories. We also revamped our savings and tradings product, the Bullion Savings Program, enabling our customers to convert their BSP Grams to physical bullion at any time without any charge.
BullionStar Financials FY 2016 – Year in Review – Sales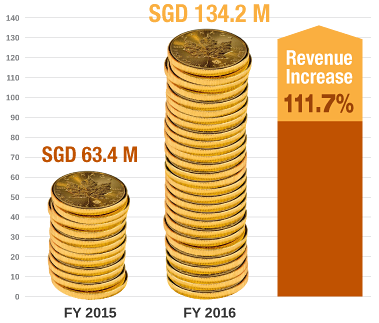 BullionStar's sales revenue for FY 2016 was SGD 129.2 m, up from 63.4 m in FY 2015.
For Q1 2016, the total global bullion demand increased by 21% when calculated in tonnage and by 17% when calculated in USD, based on data from the World Gold Council comparing Q1 2016 to Q1 2015.
BullionStar saw strong demand from local investors/savers in H2 2015 and an increased demand from international investors/savers in H1 2016.
Overall bullion demand in Singapore decreased from 1.6 tonnes in the first quarter of 2015 to 1.2 tonnes in the first quarter of 2016, marking a 25% decrease, according to the World Gold Council. For Q1 2016, BullionStar sold approximately 0.5 tonnes of gold bullion, thereby contributing to 42% of the total Singaporean bullion market based on the figures published by the World Gold Council.

BullionStar has grown substantially during the financial year and we continue to demonstrate strong performance regardless of whether the price trend for precious metals is positive or negative. Our growth is derived from a mix of increased sales originating from both domestic and international customers. With more and more international customers finding out about the jurisdictional advantages of buying and storing bullion in Singapore, the international customer segment is increasing in importance.

BullionStar is in a strong financial position and continued to be profitable for the third year in a row with FY 2016. BullionStar has no long term debts to any financial institutions.
The strong performance and growth of the company are evidenced in the below diagram. The volume of orders, average order size and median order size all increased for FY 2016 compared to FY 2015.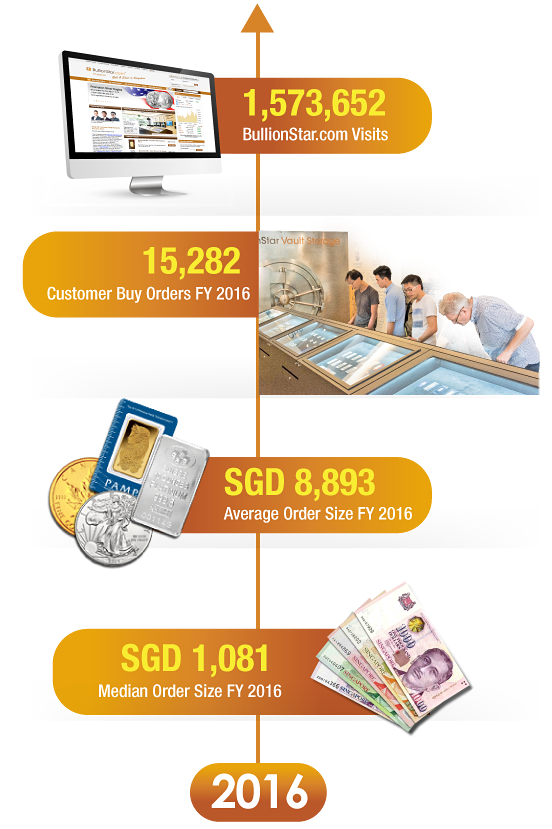 Sales per Product Category
A comparison between the below chart for FY 2016 and the corresponding chart for FY 2015 reveals that the proportional demand for gold, in relation to all metals sold by the company, increased in FY 2016. Gold consisted of 66.30% of total sales for FY 2015 whereas it increased to 72.57% of total sales for FY 2016. The increase in popularity for 100 gram gold bars and 1 kg silver bars are attributable to the high demand for the BullionStar 100 gram gold bar and the BullionStar 1 kg silver bar.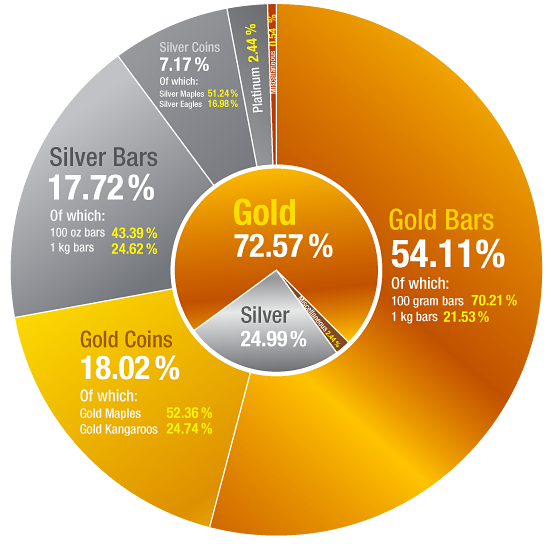 What Lies Ahead
In the wake of the high uncertainty in the global markets post-Brexit and post-Trump, the demand for gold has been revived in the west while gold continues to be the savings asset of choice in the east. This combination of demand continues to put pressure on the wholesale gold market with virtually no gold available in the gold capital of the world, London.
BullionStar expects FY 2017 to be an even stronger year and has to date increased its sales revenue significantly compared to the figures as presented in this BullionStar Financials FY 2016 report.
Gold & Silver Prices
The first half of 2016 was characterized by a trend reversal in the spot prices for gold and silver.
During FY 2016, the gold price increased from SGD 50.85/gram on 1 July 2015 to SGD 57.15/gram on 30 June 2016, equivalent to a 12.39% increase when denominated in Singapore Dollars.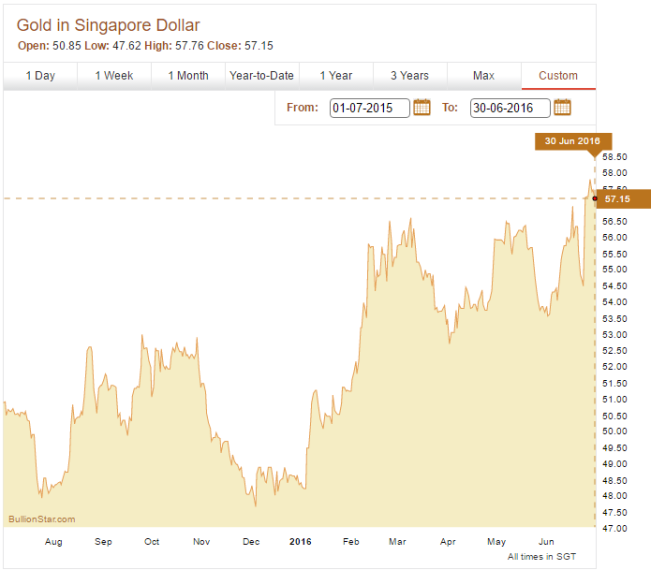 The silver price, when denominated in Singapore Dollars, increased 17.65% during the period, from SGD 0.68/gram on 1 July 2015 to SGD 0.80/gram on 30 June 2016.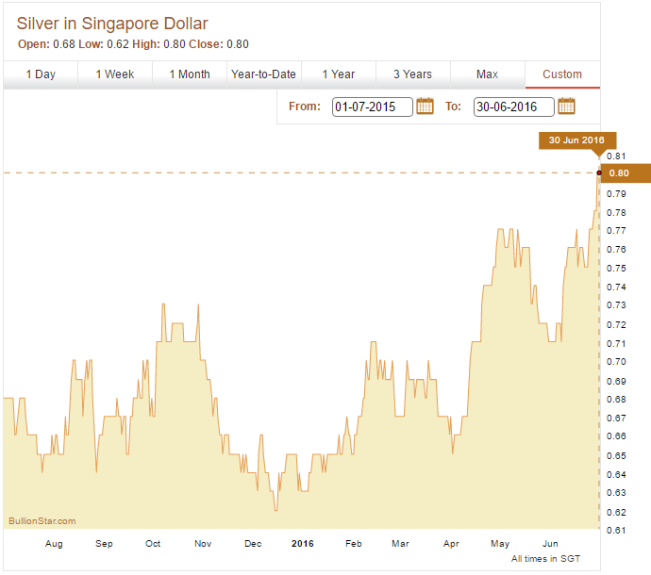 BullionStar Vault Storage
When our customers store their metals with us, they have full control of their bullion portfolio online 24/7. We employ no less than 5 different audit schemes, including third party audits by the LBMA-approved auditor Bureau Veritas, to verify the existence and correctness of the stored bullion. With our vault being integrated into the same venue as our shop and showroom, customers can physically audit and withdraw their precious metals without any prior notification.
By the end of FY 2016, we stored approximately SGD 84.1m in precious metals as vault storage provider on behalf of our customers. This corresponds to an increase of 58.7% compared to one year ago.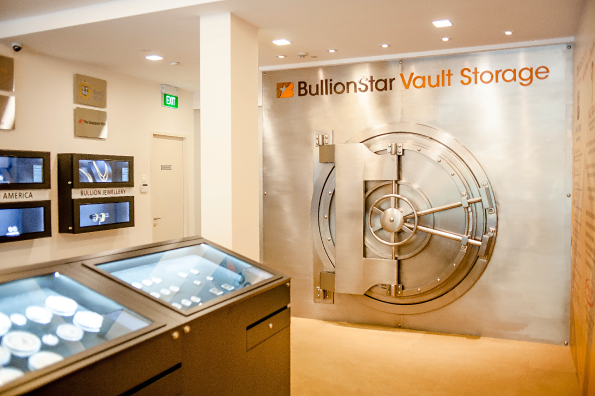 Customer Satisfaction
We are proud of our status as the premier bullion dealer in Singapore offering customers a unique solution to international diversification.  At BullionStar, we continuously develop new products and services enabling our customers' full control of their precious metals online combined with the physical accessibility of our bullion center in Singapore.
About BullionStar
BullionStar is Singapore's premier bullion dealer offering a wide range of precious metals products and services. BullionStar is breaking new ground by introducing modern technology into the age-old precious metals industry. With a proprietary online platform, BullionStar offers customers the ability to efficiently handle and control their bullion holdings 24/7 at their convenience.
BullionStar runs a one-stop retail shop and vault for precious metals at 45 New Bridge Road in Singapore where customers can view, buy, sell, value, deposit, test, audit and physically withdraw precious metals.
With original research and analysis covering the precious metals market on a whole and the Asian market specifically, world renowned analysts Koos Jansen and Ronan Manly keep readers updated on the news that matters.