BullionStar Financials FY 2017 – Year in Review
This blog post, BullionStar Financials FY 2017 – Year in Review, reviews BullionStar's performance for the financial year ending 30 June 2017 (FY 2017).
BullionStar hit a new milestone in FY 2017 with sales revenues totaling SGD 174,703,445 – a 35.3% increase over FY 2016.
During FY 2017, BullionStar launched its dedicated mobile website. When accessing www.bullionstar.com on a mobile phone, visitors and customers are able to manage all their precious metals needs on a website that optimizes the mobile user's experience, with layouts and user options tailored for mobile browsing.
During the financial year, BullionStar also continued expanding the content of its Gold University, a unique Wikipedia-style resource of up-to-date factual information covering topics such as gold markets, gold vaults, refineries and mints, and central bank policies.
In FY 2017, BullionStar increased its product range to include over 650 different bullion, numismatics and coin supply products across 10 different product categories.
BullionStar furthermore exhibited at FreedomFest 2016, which is the world's largest gathering for freedom-minded people.
BullionStar Financials FY 2017 – Year in Review – Sales
BullionStar's sales revenue for FY 2017 grew by 35.3% to SGD 174.7 m, up from SGD 129.2 m in FY 2016.
For H1 2017, total global bullion demand increased by 11.2% when calculated in tonnage based on data from the World Gold Council comparing H1 2017 to H1 2016.
According to the World Gold Council, between 2016 and 2017, overall gold demand in Singapore shrank from 18.1 tonnes to 17.1 tonnes, a 9% fall. At the same time, demand for gold bullion fell from 5.9 tonnes in 2016 to 5 tonnes in 2017. In 2016, BullionStar sold approximately 2.3 tonnes of gold bullion, thereby representing 13.5% of all gold sold in Singapore and 46% of all gold bullion sold in Singapore.
Despite marginal growth in the bullion sector globally, and despite precious metal spot prices being range bound in a narrow range for most of the financial year – which typically results in lesser volume – BullionStar has continued to grow strongly.
With customers from 101 countries, BullionStar has continued to attract long-term international customers who are looking to geographically diversify their wealth holdings into the safe jurisdiction that Singapore offers.  

With its FY 2017 results, BullionStar remains in a very strong financial position and has been profitable for the fourth year in a row. BullionStar has no long-term debts to any financial institutions.
The strong performance and growth of the company is reflected in the diagram below.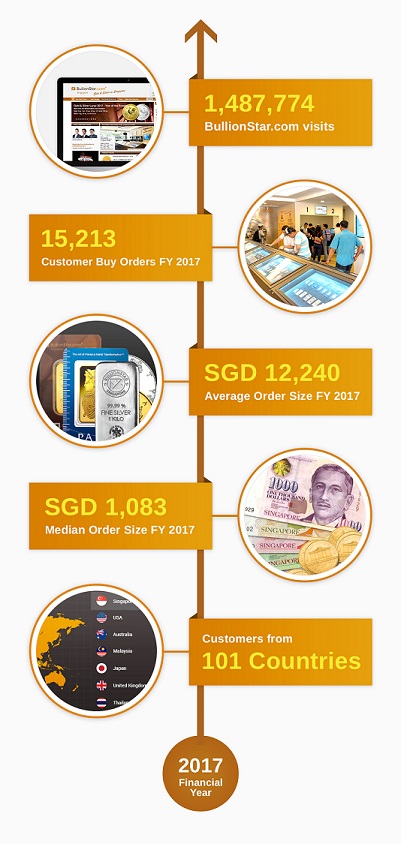 Sales per Product Category
A comparison between the chart below for FY 2017 and the corresponding chart for FY 2016 reveals that the proportional demand for gold, relative to silver, is largely unchanged. Gold consisted of approximately 73% of total sales for both FY 2016 and FY 2017.
During the financial year, BullionStar has successfully attracted larger international customers, increased the average order size, and increased the sales of larger gold bars such as 1 kg gold bars. In FY 2017, the 1 kg gold bar segment consisted of 26.8% of the overall demand for gold bars, compared to 21.5% for FY 2016.
For silver bars, the popularity of the BullionStar 1 kg silver bar – which can be traded without any spread between the buy and sell price – contributed to most of the proportional increase in sales in the 1 kg silver bar category. In FY 2017, the 1 kg silver bar segment increased its share of total sales for silver bars to 63.4%, from 24.6% in FY 2016.
The trend of higher sales of bullion bars and lower sales for bullion coins, as witnessed last financial year, continued during FY 2017. Sales of gold coins as a percentage of total sales fell from 18% to 12.6%, while sales of silver coins decreased from 7.2% to 4.6%.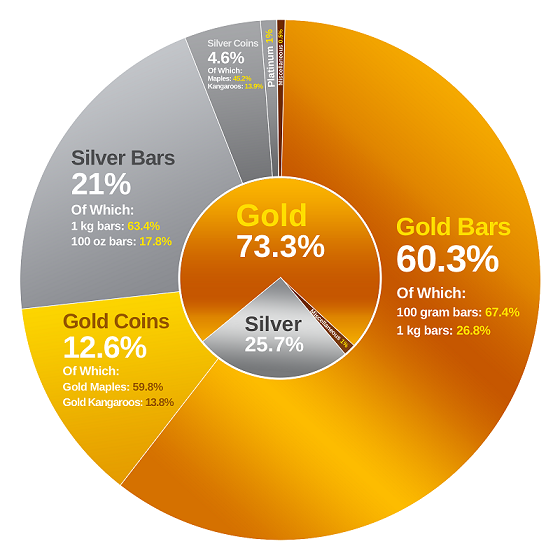 What Lies Ahead
Unsustainable debt levels continue to plague many western countries. Together with increased geopolitical instability, the demand for physical gold has increased in the last few months, despite lackluster movements in gold spot prices. BullionStar's sales revenue for July 2017, following on from the end of BullionStar's financial year, amounted to approximately SGD 20 m, significantly higher than average.
BullionStar expects FY 2018 to be a strong year with sales revenues at least on par with FY 2017.
BullionStar expects to launch several different new products during FY 2018 as well as conduct a major revamp of its website.
Gold & Silver Prices
The gold spot price development during BullionStar's FY 2017 was less volatile than in previous years, with gold trading between a low of SGD 52.30/gram and a high of SGD 59.39/gram. During FY 2017, the gold price decreased from SGD 57.15/gram on 1 July 2016 to SGD 55.02/gram on 30 June 2017, equivalent to a 3.7% decrease when denominated in Singapore Dollars.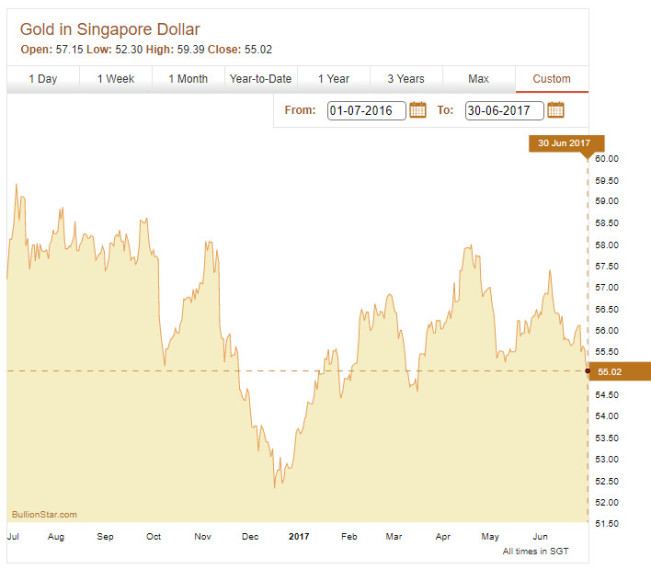 The silver price, when denominated in Singapore Dollars, fell by 7.5% during the period, from SGD 0.8/gram on 1 July 2016 to SGD 0.74/gram on 30 June 2017.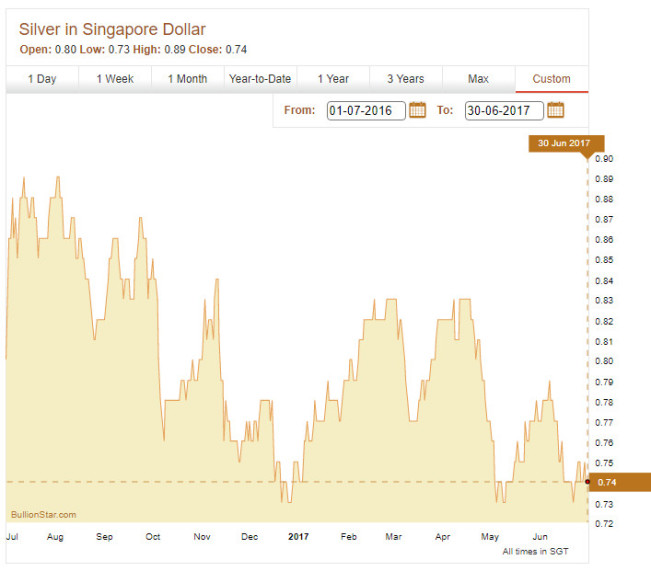 BullionStar Vault Storage
When our customers store their metals with BullionStar, they have full control of their bullion portfolio online 24/7. We employ no less than 5 different audit schemes, including third party audits by the LBMA-approved auditor Bureau Veritas, to verify the existence and correctness of the stored bullion. With our vault being integrated into the same venue as our shop and showroom, customers can physically audit and withdraw their precious metals without any prior notification.
By the end of FY 2017, we stored approximately SGD 119.6 m in precious metals as vault storage provider on behalf of our customers. This corresponds to an increase of 42.2% compared to one year ago.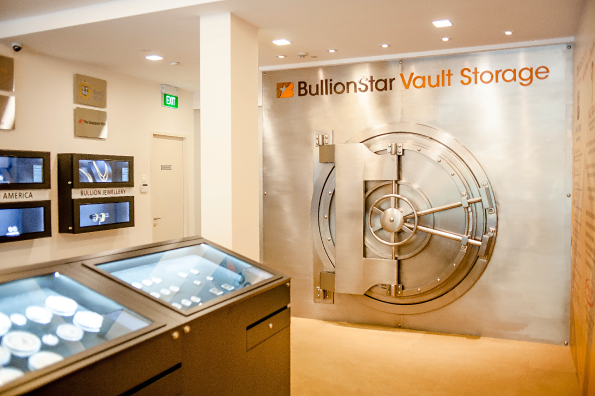 Customer Satisfaction
We are proud of our status as the premier bullion dealer in Singapore, offering customers seeking wealth protection and asset preservation a unique solution to international diversification.  BullionStar's average rating at Google Reviews, with more than 800 genuine customer reviews is an outstanding 4.8.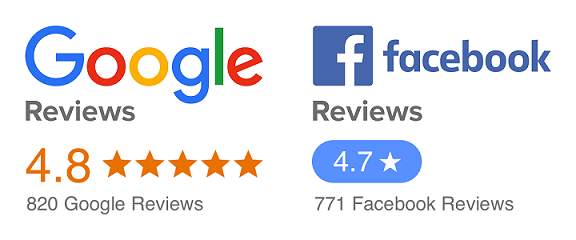 About BullionStar
BullionStar is Singapore's premier bullion dealer offering a wide range of precious metals products and services. BullionStar is breaking new ground by introducing modern technology into the age-old precious metals industry. With a proprietary online platform, BullionStar offers customers the ability to efficiently handle and control their bullion holdings 24/7 at their convenience.
BullionStar runs a one-stop retail shop and vault for precious metals at 45 New Bridge Road in Singapore where customers can view, buy, sell, value, deposit, test, audit and physically withdraw precious metals.
With original research and analysis covering the precious metals market on a whole and the Asian market specifically, world renowned analysts Koos Jansen and Ronan Manly keep readers updated on the news that matters.