BullionStar Financials FY 2018 – Year in Review
This post reviews BullionStar's financial performance and milestones for the financial year ending 30 June 2018 (FY 2018).
During FY2018, BullionStar continued to grow revenue year-on-year, achieving sales revenue of SGD 177,832,269, which was a 1.8% increase over FY2017.
During the year under review, Bullionstar registered its 100,000th order by a customer since launching in Singapore in 2012. BullionStar also had the honour during FY2018 of receiving a Bullion Dealer of the Year 2018 award in Bullion Directory's prestigious annual awards.
Other notable highlights for BullionStar during FY2018 included the addition of leading cryptocurrencies Bitcoin Cash and Litecoin as payment options for buying and selling precious metals, complementing the existing ability of BullionStar's customers to transact using Bitcoin.
FY2018 also saw the launch by BullionStar of its popular and well received Singapore Merlion silver 1 oz round silver bars, and a growth in overall product range which now includes approximately 900 different products across 11 different product categories.
During the year, the BullionStar Perspectives video series also brought viewers a number of interesting interviews with well-known bullion market market personalities such as Jim Rogers, Eric Sprott, David Morgan and Chris Powell.
The BullionStar team furthermore exhibited and presented internationally during FY2018, at the liberty focused FreedomFest convention in Las Vegas.
BullionStar Financials FY 2018 – Year in Review – Sales
During FY2018, BullionStar continued to grow revenue year-on-year, achieving sales revenue of SGD 177,832,269, which was a 1.8% increase over FY2017.
BullionStar's positive revenue growth in FY2018 was achieved in an environment of subdued gold price movements where the US dollar spot price of gold only moved in a very tight trading range of US$ 100 for nearly all of FY2018, between the US$ 1250 and US$ 1350 levels. Smaller price movements are typically associated with lower volume in the bullion sector, but BullionStar still managed to grow volumes in FY2018 despite the tight gold price trading range.
Sales per Product Category
In FY2018, gold represented 76.7% of sales, and silver represented 21.8% of sales. Gold's share of sales was slightly higher in FY2018 than in FY2017, at the expense of silver. Within the gold category, 62.9% of total revenues were of gold bars against 13.8% for gold coins.
Together, 100 gram gold bars and 1 kg gold bars continued to represent the lion's share of all gold bar sales, and in the gold coin category the most popular gold coins were Canadian Gold Maple Leaf coins followed by Australian Gold Kangaroo coins.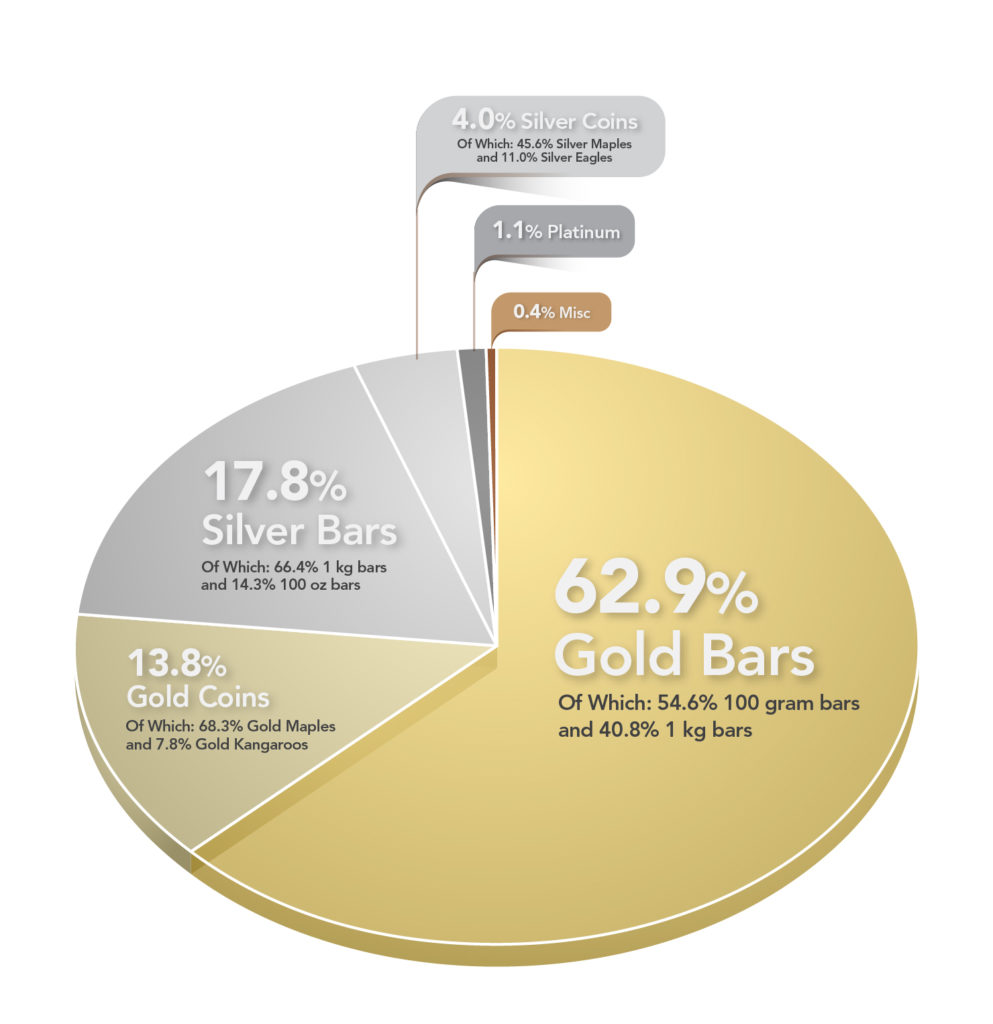 Silver bars accounted for 17.8% of total BullionStar revenue, with 1 kg silver bars being the most popular followed by 100 oz silver bars. In the silver coin category, Canadian Silver Maple coins were the most popular silver coin in FY2018, followed by American Silver Eagles from the US Mint. In line with FY2017, sales of platinum coins and bars comprised slightly more than 1% of total sales.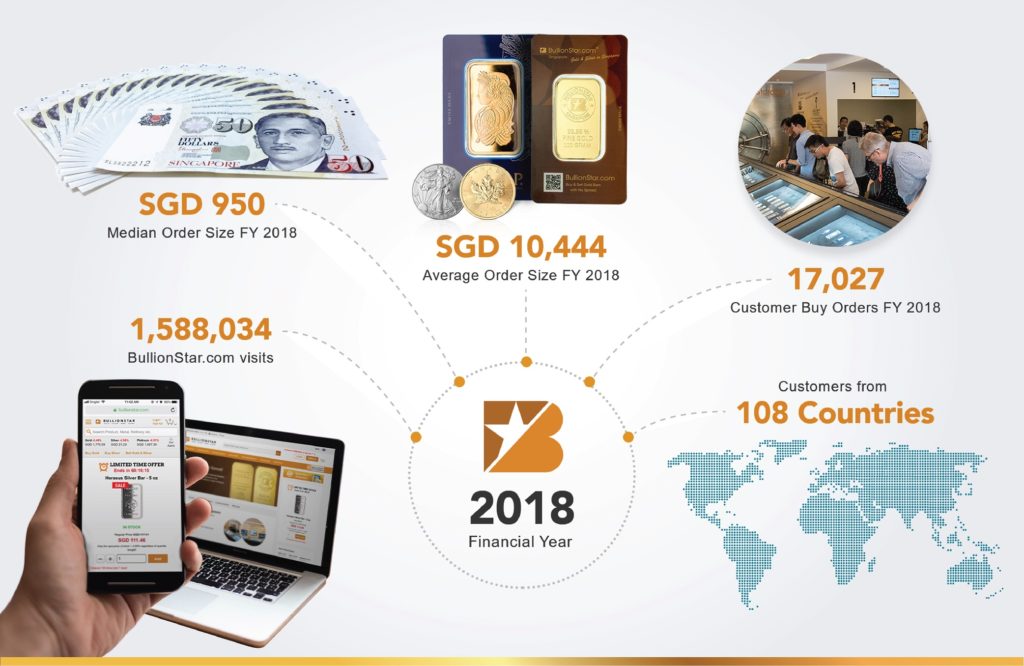 FY2018 also saw BullionStar expand customer activity with 17,027 BullionStar customer buy orders, a 11.88% rise on FY2017. The average order size in FY2018 was SGD 10,444, down slightly on the SGD 12,240 average order size in FY2017. Median order size in FY2018 was slightly lower than in FY2017 at SGD 950, from SGD 1,083 previously.
Customers around the globe continue to transact with BullionStar, with customers from 91 countries represented in FY2018 sales. Since BullionStar's launch in 2012, there have now been customers from 108 countries worldwide. The BullionStar.com website was busier year-on-year in FY2018, registering 1,588,034 visits, up 100,260 on the previous year's 1,487,774 visits.
Gold Price and Silver Price during FY2018
For most of FY2018, the gold price in Singapore dollars traded in a very tight trading range mostly between SGD 1730 and SGD 1780, with the price coincidentally ending practically where it had started, at SGD 1707 on 30 June 2018 vs SGD 1709 on 1 July 2017.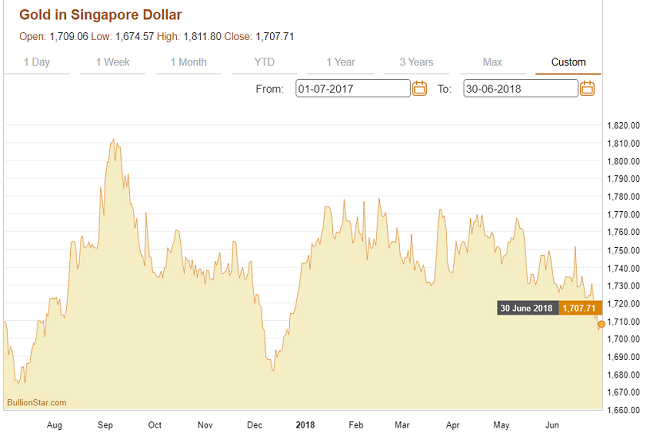 The Singapore dollar price of silver was similarly subdued over the financial year, with a low of SGD 21.27 and a high of SGD 24.28, and a price that remained relatively range bound, particularly in the second half of FY2018. The silver price opened the fiscal year at SGD 22.86, and closed at SGD 21.97 on 30 June 2018.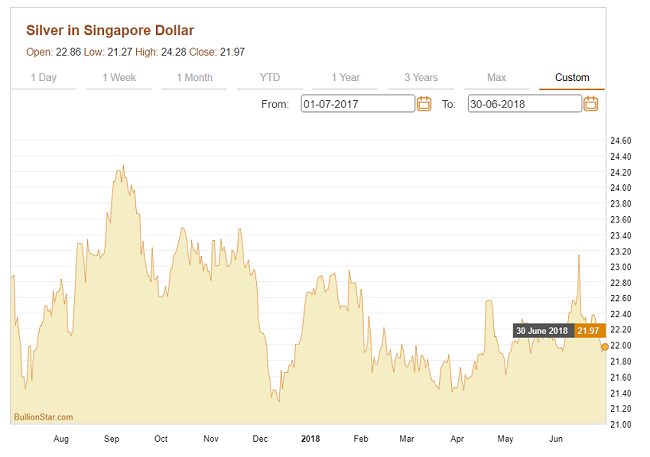 BullionStar Vault Storage
At the end of FY 2018, BullionStar as vault storage provider was storing approximately SGD 159.7 million in precious metals on behalf of customers. This represents a 33.5% increase in value stored compared to the end of FY2017 and a 89.9% increase in value stored compared to the end of FY2016.
Selected Milestones at BullionStar during FY2018
BullionStar achieved an impressive array of achievements during the year under review, including the following:
Bullion Dealer of the Year Award 2018
BullionStar secured a prestigious bullion industry accolade in 2018, winning the Bullion Dealer "Rest of World" 2018 award in Bullion Directory's annual bullion dealer awards. Bullion Directory hosts a high-profile online directory of over 1,000 of the world's bullion dealers, with the winners of Bullion Directory's annual competition decided by the voting public.
The Bullion Dealer of the Year award was won by BullionStar after facing stiff competition from bullion dealers across 12 countries from as far afield as Switzerland, Japan, China, Singapore, and China, and after going through to a shortlist of five finalists before securing the highest number of votes out of the shortlist.
Addition of Leading Crypto Currencies
During 2018, BullionStar also continued to bring technical advances and customer friendly innovations to the bullion industry by being one of the first bullion dealers worldwide to add leading cryptocurrencies Bitcoin Cash and Litecoin as payment options for both buying and selling precious metals. This follows BullionStar's early adoption of Bitcoin in May 2014, when at the time BullionStar was one of the first bullion dealers worldwide to add Bitcoin as a transaction currency.
The addition of Litecoin and Bitcoin Cash in May 2018 offers customers faster cryptocurrency transaction confirmation times and additional choice in payment options when buying and selling physical gold bars, gold coins, silver bars, silver coins, platinum bars and platinum coins. Customers can of course also have orders settled in any of the six major traditional currencies accepted being the Singapore dollar, US dollar, Euro, Swedish krona, Australian dollar and Japanese yen.
As well as being full transactional currencies, all product prices, portfolio values, account history and spot prices on the BullionStar website can also be displayed in terms of Bitcoin Cash and Litecoin as well as in terms of Bitcoin.
100,000 Customer Orders
Fiscal year 2018 also saw BullionStar record a significant customer milestone in the form of customer order 100,000, which was placed by a customer from Japan who happened to visit BullionStar's shop and showroom while on vacation in Singapore. With impressive growth since its establishment in 2012, the execution of the 100,000th order by a customer is testament to BullionStar's continued commercial success and reputation as one of the world's premier bullion dealers.
Singapore Merlion Silver Round Bars
FY2018 also saw the launch by BullionStar of the beautifully designed and well-received Singapore Silver Merlion. This round is a 1 troy ounce 0.9999 fine silver round featuring Singapore's famous landmark, the Merlion, on the obverse face, and Singapore's national flower the Orchid on the reverse coin surface. The Merlion silver round is imprinted with the round's weight, silver purity and LBMA-approved refinery stamp, while offering a very low spread between the buy and sell price when traded.
Exhibiting and Speaking at FreedomFest, Las Vegas
BullionStar also travelled internationally during the year, attending and exhibiting at the FreedomFest conference and convention in Las Vegas, USA. Freedomfest brings together a large number of exhibitors and attendees from the fields of politics and economics, sound money, investment, and the financial market media.
At the convention, the BullionStar team manned an exhibition booth, discussing precious metals and markets with attendees, while BullionStar's CEO and COO presented to audiences on why Singapore is the best place in the world in which to store bullion.
Current Developments in 2019
There have also been a number of noteworthy developments at BullionStar so far during fiscal year 2019 (from July 2018 to the present). In November 2018, BullionStar achieved another significant milestone with the launch of an upgraded and completely revamped desktop website. BullionStar customers and website users will notice the improved functionality of the site, and the new look and feel with many new and redesigned pages. The new website release also added improvements to BullionStar's mobile website.
There is also significant news on the horizon concerning BullionStar's integrated bullion shop, showroom and vault in Singapore which is currently undergoing significant renovation, reconstruction and extension. When completed later in 2019, the enhanced area will offer BullionStar customers increased showroom space with interactive features, additional counters for servicing more customers, an expanded vault with more vaulting capacity, all at the same convenient location in central Singapore.
BullionStar continues to lead in Customer Satisfaction
BullionStar's customer satisfaction ratings continue to score very highly in online reviews, with an average rating on Google Reviews of 4.8 based on over 900 genuine customer reviews, and an average Facebook review rating of 4.7, also based on more than 900 customer reviews.