Customer Order Number 100,000 at BullionStar
As part of its continued growth and success, BullionStar has recently fulfilled its order number: 100,000. To mark this significant milestone, BullionStar issued a 2.5 gram PAMP Gold Bar to the lucky BullionStar customer in question. The customer order was placed by Mr. Ito from Japan, who was on holiday recently in Singapore with his wife when he visited BullionStar's shop and showroom in central Singapore.
Mr. Ito said he was delighted with the PAMP gold bar prize and commented that he was very lucky on what was his first visit to BullionStar. He also returned the following day to make further purchases. Mr. Ito also liked the easy to locate BullionStar showroom, the competitive bullion prices, and the fact that the many bullion display cases make comparisons easy when selecting products.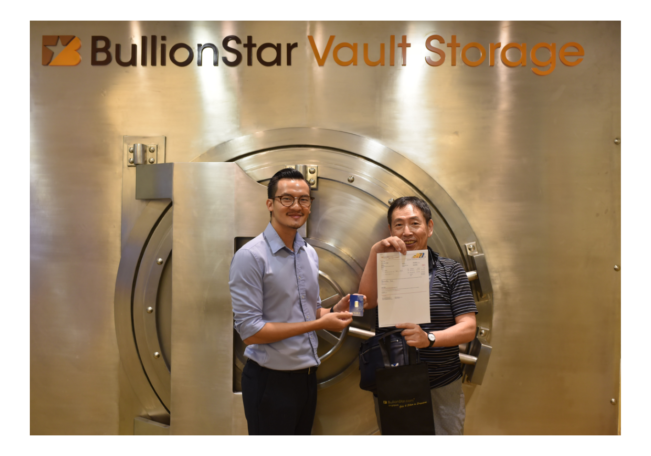 Established in 2012
This latest milestone is one of a continuing series of notable milestones for BullionStar since its establishment in Singapore 6 years ago. During this time BullionStar has gone from strength to strength and is now firmly established as the best bullion dealer in Singapore and the Asian region, as evidenced by BullionStar recently winning Bullion Directory's bullion dealer of the year award, as well as one of the most recognised bullion dealers internationally with customers from over 100 countries around the world.
Upon establishment in 2012, BullionStar's offices were initially located in the Marina Bay Financial Centre in the downtown Central Business District (CBD) of Singapore. Prior to 2012, BullionStar's founders were already familiar with the bullion dealer sector having set up several bullion dealers such as the Swedish company Liberty Silver AB. 
BullionStar's launch in Singapore in 2012 came as the Singaporean Government introduced a Goods and Services Tax (GST) exemption on transactions in investment precious metals (IPM). The GST exemption on IPM means that any time customers purchase qualifying bullion bars and bullion coins from BullionStar, the prices paid are free of GST, since there is no sales tax to pay. Other compelling reasons for establishing a bullion and storage operation in Singapore included the fact that Singapore is one of the safest countries in the world and has a stable jurisdiction, a strong rule of law, no reporting requirements on any bullion transactions, and a government which supports the growth and development of the bullion industry.
BullionStar's philosophy as a leading bullion dealer is grounded in innovation, internationalization, and constant evolution, both in-store and on-line. In January 2013, BullionStar launched its fully-transactional online trading platform, allowing customers around the world to buy and sell precious metals bars and coins at the click of a button on the BullionStar.com website.
In July 2014, BullionStar opened its current shop, showroom and integrated vault in central Singapore at 45 New Bridge Road, adjacent to both Clarke Quay MRT, and Singapore's Central Business District (CBD), as well as less than minutes walk from Singapore's Chinatown. This spacious showroom, with over 20 display cases, allows customers to browse and purchase a huge variety of gold bars, silver bars, gold coins and silver coins from the world's leading precious metals mints and refineries.
With BullionStar's secure precious metals vault integrated into the shop and showroom, customer purchase orders for precious metals can be immediately dispatched in the shop, and customers can also view and audit their precious metals holdings held in storage in the vault.
The Widest Range of Precious Metals Products
BullionStar now stocks one of the widest ranges of precious metals bullion products in the world, sourced from all of the world's leading precious metals mints and refineries, with over 600 different products across 10 product categories. These products include gold bullion coins and silver bullion coins from leading national mints such as the Royal Canadian Mint, US Mint, Perth Mint, Royal Mint and Austrian Mint, coins such as Gold and Silver Maple Leafs, Gold and Silver Eagles, and Gold and Silver Kangaroos. BullionStar's wide range of gold bars and silver bars is sourced from prestigious precious metals refineries such as Heraeus of Germany, PAMP and Argor-Heraeus of Switzerland, and from national mints such as the Perth Mint and the Royal Canadian Mint.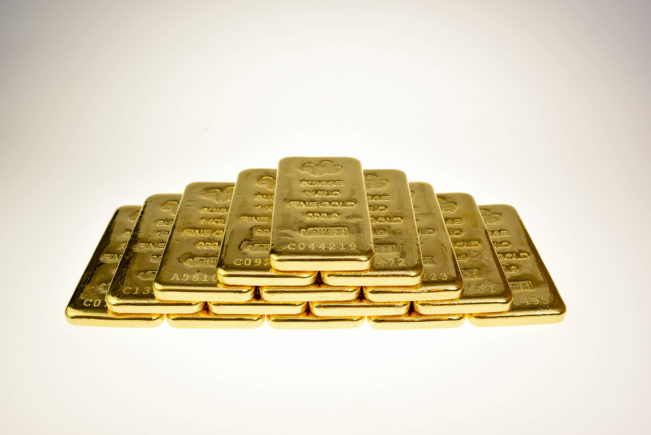 In 2015, BullionStar also launched it's now very popular BullionStar branded gold bar and silver bar range. These products, the BullionStar 100 gram Gold Bar, produced by Argor-Heraeus of Switzerland, and the BullionStar 1kg Silver Bar, produced by Heraeus of Germany, can be traded without any spread between the buy price and the sell price.
As well as the comprehensive range of gold, silver and platinum bullion bars and coins, BullionStar also stocks a wide selection of gold and silver collectible and numismatic coins, a range of gold bullion jewelry, and a wide array of coin related products for storing and correctly handling and displaying your precious metals coins and bars.
Secure Storage in one of the Safest Countries in the World
BullionStar provides full service operations in all aspects of bullion sales, storage and other services. Opening a BullionStar account can be undertaken in a matter of minutes, and purchasing bullion either in the shop and showroom or online on the BullionStar website is a simple and intuitive process. Customers purchasing precious metals bars or coins can opt to pick up their purchases in person, have their products delivered to their address, or have their precious metals stored in BullionStar's secure vault facility which is integrated into the shop and showroom premises.
BullionStar's secure precious metals storage solution goes far beyond just storage of precious metals as it provides full online control allowing customers to buy, sell, physically withdraw or physically audit their bullion at any time. With Bullionstar's Vault Storage, customers can generate vault certificates online, view pictures of stored bullion, generate a live audit report of metal that they hold in storage, and view certificates evidencing vault insurance.
Metal grams held in vault storage through the BullionStar Savings Programs (BSP) can also be converted into either gold bars, silver bars or platinum bars, and can then either be held in storage or withdrawn and delivered.
Consistently Profitable and Strong Revenue Growth
Although the precious metals markets are at time opaque and closed to transparent information flow, BullionStar pursues a policy of transparency and openness as regards its operations, financial results and investor relations. BullionStar publishes highlights of its annual performance on its website with full commentary and infographic analysis. Customers therefore have visibility around BullionStar's revenues and product mix and can be confident about the company's financial standing and stability.
It's notable that BullionStar has grown revenues strongly in every financial year of operations. BullionStar's financial year (FY) runs to 30 June each year. In FY 2014, BullionStar recorded revenues of SGD 44.1 million. For FY 2015, revenues grew 43.8% to SGD 63.4 million. Revenues then almost doubled year-on-year  in FY 2016, rising to SGD 129.2. For the latest financial year, FY 2017, BullionStar recorded revenues of SGD 174.7 million, which was 35.2% higher than FY 2016.
This very strong and solid revenue growth means that BullionStar revenues have more than quadruped between FY 2014 and FY 2017, growing by a staggering 422% over that time. This revenue growth is a testament to strong and loyal customer order growth and underpins the growth and stability of BullionStar's operations over the period since its inception.
Recognition, Media Interest, and Research and Analysis
In another sign of BullionStar's continued growth and recognition, this year BullionStar won the inaugural award of "Bullion Dealer of the Year" Rest of World category in The Bullion Directory's annual bullion awards. These awards are recognised and valued throughout the global bullion industry, and BullionStar secured its victory after nomination and public voting against many bullion dealers from across the globe.
Since its establishment, BullionStar's precious metals articles, blogs, research and infographics analysing the gold and silver markets have become well-known and highly-regarded around the world, with blogs and analysis from precious metals analysts such as Ronan Manly and Koos Jansen, and guest posts from renowned bloggers such as JP Koning. BullionStar aims to continue to lead the way in original precious metals documentation, views and commentary, and has developed sections of the BullionStar website including the educational Gold University and the topical in-house 'BullionStar Blogs' series of articles. BullionStar was also at the forefront in publishing original analysis about important gold markets such as the Chinese Gold Market, and stylish visual infographics on such topics as the London Gold Market.
BullionStar's articles and analysis are regular picked up and distributed on many other websites across the world, both by websites within the gold space and by more general financial and investment websites. BullionStar articles are also regularly translated into other languages and have been featured on sites as diverse as French, German, Spanish, Russian and Chinese language websites.
BullionStar is regularly quoted in the major financial media for views and commentary about the precious metals markets, and has been cited and quoted by such publications and websites as Reuters, Bloomberg, the Wall Street Journal, the Guardian, RT.com, Sputnik News,  Straits Times of Singapore, and CityWire Asia. BullionStar staff and analysts have also featured on Channel News Asia and Channel 8 News in Singapore, as well as Real Vision TV, and German TV network DAF. BullionStar also continues to produce its own series of video interviews which feature prominent members of the global precious metals markets such as legendary US investor Jim Rogers or prominent Canadian gold market entrepreneur Eric Sprott.
As well as a strong international customer base, BullionStar places particular emphasis on being international in outlook, and at times presents at events internationally such as FreedomFest in Las Vegas and attends precious metals events and exhibitions, such as the International Money Fair in Berlin. As one of the largest retail bullion dealers in Singapore, BullionStar now also contributes to assisting precious metals consultancies such as Thomson Reuters GFMS in gauging retail investment gold and silver demand in the Singaporean bullion market.
Payment Mechanisms Include Cryptocurrencies BTC, LTC and BCH
Payment mechanisms are also another area in which BullionStar aims to provide greater customer choice and continued innovation. As well as facilitating payments for precious metals purchases funded by bank transfer, NETS and Cheque, BullionStar also accepts 6 leading national cash currencies, namely the Singapore Dollar, US Dollar, Euro, Japanese Yen, Australian Dollar and Swedish Yen, and also three of the leading cryptocurrencies.
BullionStar began accepting Bitcoin as a payment method for precious metals in May 2014 and was one of the first bullion dealers worldwide to do so. In another first, Bitcoin Cash and Litecoin have just been added to the list of leading cryptocurrencies which can be used to purchase precious metals at BullionStar, and with this move, BullionStar is one of the first bullion dealers worldwide to accept payment in each of BTC, BCH and LTC. Customers selling bullion to BullionStar can also opt to receive proceeds of sales in either Bitcoin Cash, Litecoin or Bitcoin.
In September 2015, with the introduction of a Stored Value Facility, BullionStar began offering customers the ability to keep funds on account in their BullionStar accounts in a similar way to a bank account. The facility also means that funding precious metals purchases can be undertaken instantly without needing to transfer funds in, and proceeds from precious metals sales can be kept on account until next needed.
As well as being able to purchase a wide variety of investment precious metals, BullionStar customers can also sell precious metals coins and bars, such as gold, to BullionStar. This can either be precious metal which customers hold in storage in BullionStar's secure vault and wish to sell, or else bars and coins which customers send to BullionStar or drop-in in person in the Singapore shop and showroom. Additionally, through the Gold Buyers brand launched by BullionStar in August 2013, BullionStar offers competitive prices for gold jewelry and precious metals scrap.
Having been awarded a Bullion Dealer of the Year award in 2018 via public voting in the Bullion Directory annual awards, and with strong revenue growth in every financial year since inception, BullionStar's milestone of order number 100,000 is again testament to its loyal and growing customer base both in Singapore and the Asian region, as well as across the precious metals community worldwide.