Gold, Silver, and Platinum Surge Ahead
The recent trading action of gold, silver and platinum on international markets has been nothing short of spectacular, with the spot prices of all three precious metals up strongly in recent months, and in the case of gold and silver, prices registering multi-year highs. Investors and savers in physical precious metals bars and coins have likewise seen increased values in their holdings.
In US dollar terms, gold is now up 20.73% year-to-date, silver is up 25.91%, and not to be left behind, the spot platinum price in US dollars is now up 22.25% year-to-date. All three metals are all still contenders for centre spot on the precious metals 2019 podium.
Although there is more to the global gold market than the US dollar, precious metals prices in US dollar terms are important to watch since the metals trade add are priced internationally in US dollars in the large trading venues around the which most influence precious metals price discovery.
Spot Gold in US dollars
For nearly 6 years until June this year, the US dollar gold price had tried, but failed to break out above $1350, trading mostly in the $1100 to $1300 range with sporadic attempts to move towards $1350.
This all changed however, with a gold price move beginning at the start of June. By the third week of June, the US dollar gold price had risen up through the $1400 level, establishing a new trading level above $1400 and building a base above $1400 throughout July. The first week of August then saw the US dollar gold price rapidly through the $1500 level, ending the month at $1520.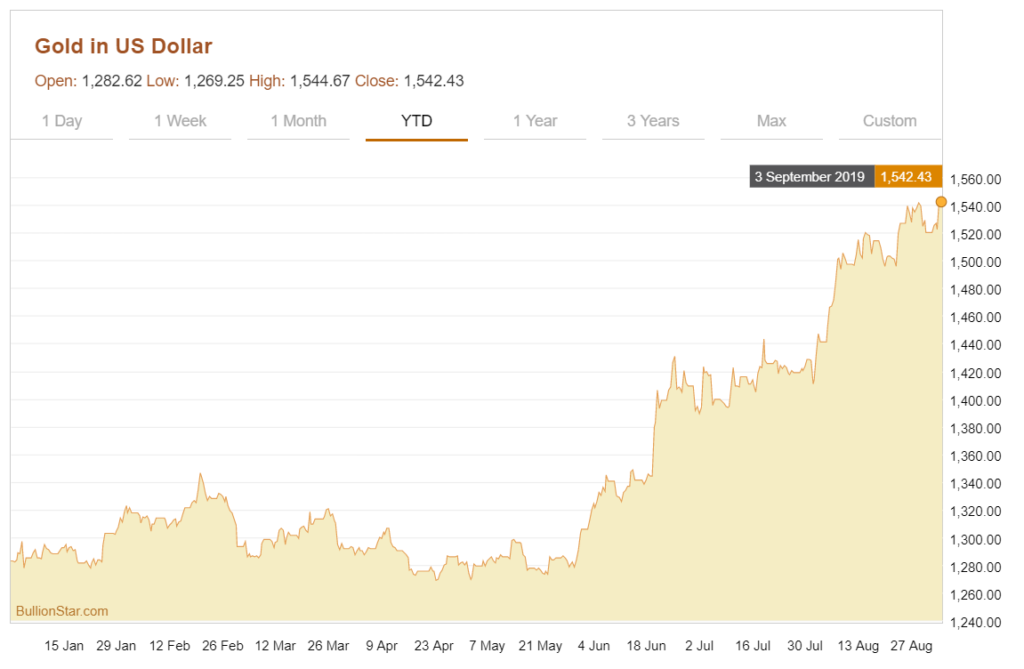 Overall, gold added 16.71% in the 3 months from June to August, mainly due to a 8.21% move up in June, and a 6.43% rise in August. At the time of writing in early September, gold has now risen 18.86% since the end of May and 20.67% year-to-date. Over 1 year, gold is up 29.06%. At its current level of $1547.69 (at the time of writing), gold in US dollars is near a six and a half year high.
Spot Silver on a Streak
The spot silver price in US dollars is now trading at $19.50 per troy ounce and approaching a 3-year high. It has not been this strong since mid September 2016.
Like, gold, silver's recent strong ascent in US dollar price terms began at the end of May when the precious metal was trading at $14.5 per ounce. This was followed by a breach of the $15 level on the upside during June, then silver accelerated taking out $16 in mid-July, $17 in early August and $18 by end of August. At the time of writing, silver has now also comfortably taken out the $19 level and is halfway to $20.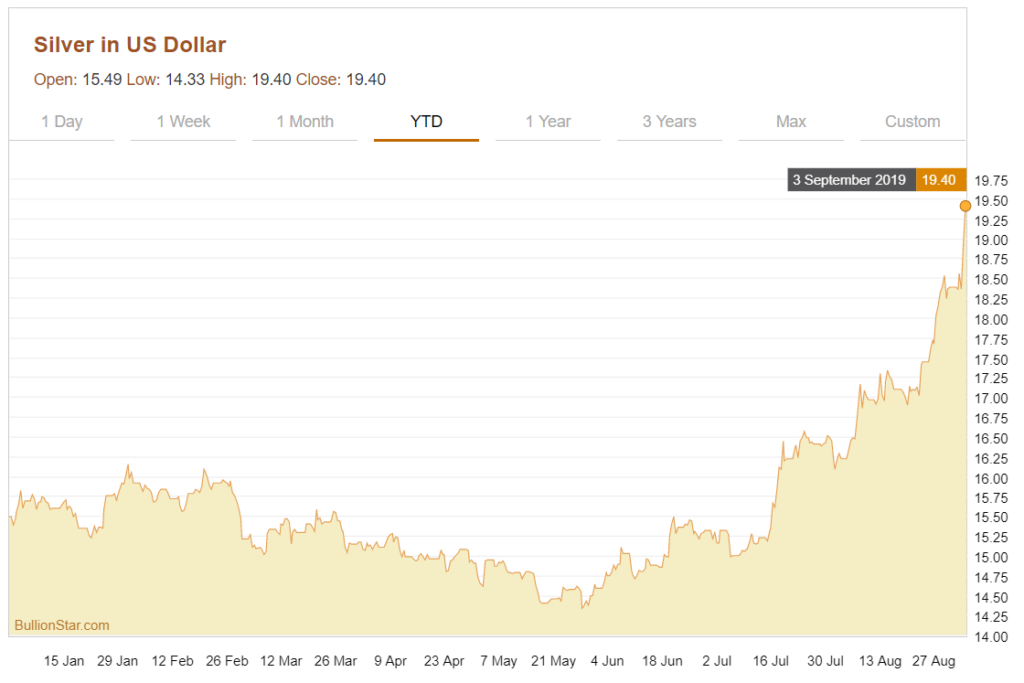 The 3 month period from June to August saw silver add 27% buoyed by a very strong August in which USD silver rose 12%, from $16.48 to $18.38. From 31 May to the time of writing, silver has now risen by 34%.
One year ago, silver was trading at $14.5 per ounce, the same as the end of May this year. The one year performance for USD silver is therefore also 34%. Year-to-date, spot silver has added 25.68%, and in the last month (from 03 August to 03 September) silver is up an impressive 20.04%.
Platinum – Later to the Party
The spot price of platinum in US dollars is now near a one and a half year high at $961 per ounce, having not been at this level since mid-March 2018. On a year-to-date basis, platinum is now up 22.25%, so is neck and neck with the year-to-date performance of gold and silver. All of the up move in platinum has happened since the end of May, with the spot price up 21.51% since 31 May.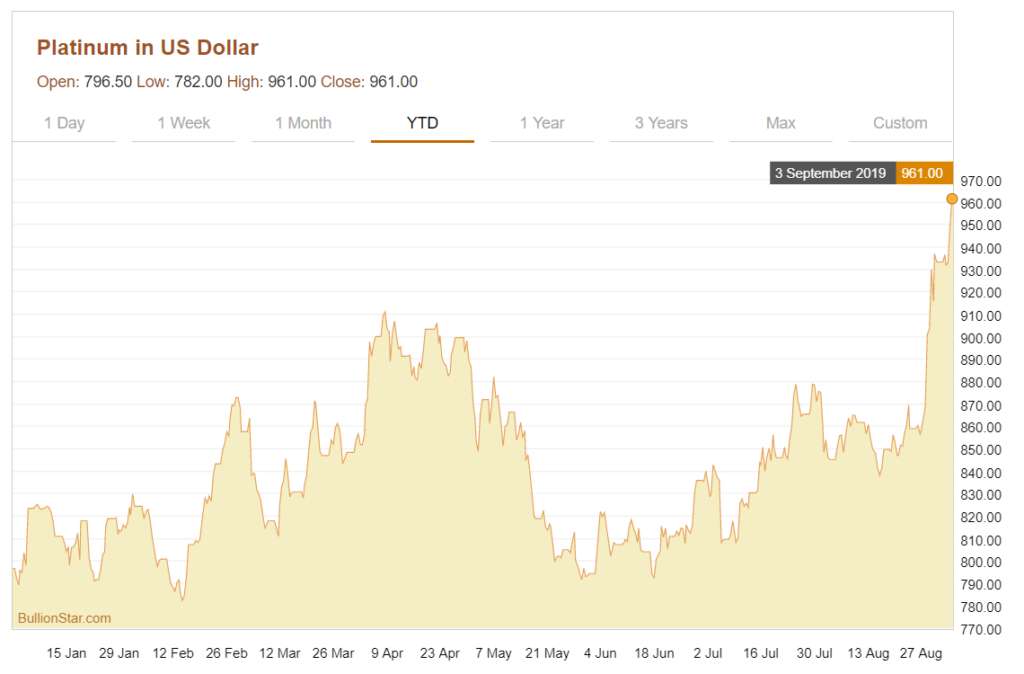 After rising nearly 9% over June and July combined, the white metal rose another 8% in August, and then pulled off a noticeable surge starting in the last few trading days of August and into September. In percentage terms, since 27 August, platinum is up a staggering 12.47%.
As the spot price of platinum one year ago is coincidentally the same as the price at the beginning of 2019, the one year price and year-to-date price rises of platinum are currently identical, i.e. 22.25%.
While the US gold price led the price surges across the three metals since early June, this awakened the prices of both silver and platinum, with silver's price accelerating, month to month over June to August, e.g. the silver price rose 6% in June, 8% in July, 10% in August, and another 6% to 03 September, in platinum's late August – early September rally.
The Gold / Silver Ratio
The relative price movements of the three precious metals over the last three months also explain the changing dynamics of the Gold / Silver ratio and Gold / Platinum ratio over that time. The strong showing for gold in June brought the gold / silver ratio from 89 at the end of May up to 93 in early July. Silver's outperformance in July then brought the ratio back down to the 86 -89 range, and more recently down further towards 79 as silver continued to streak ahead.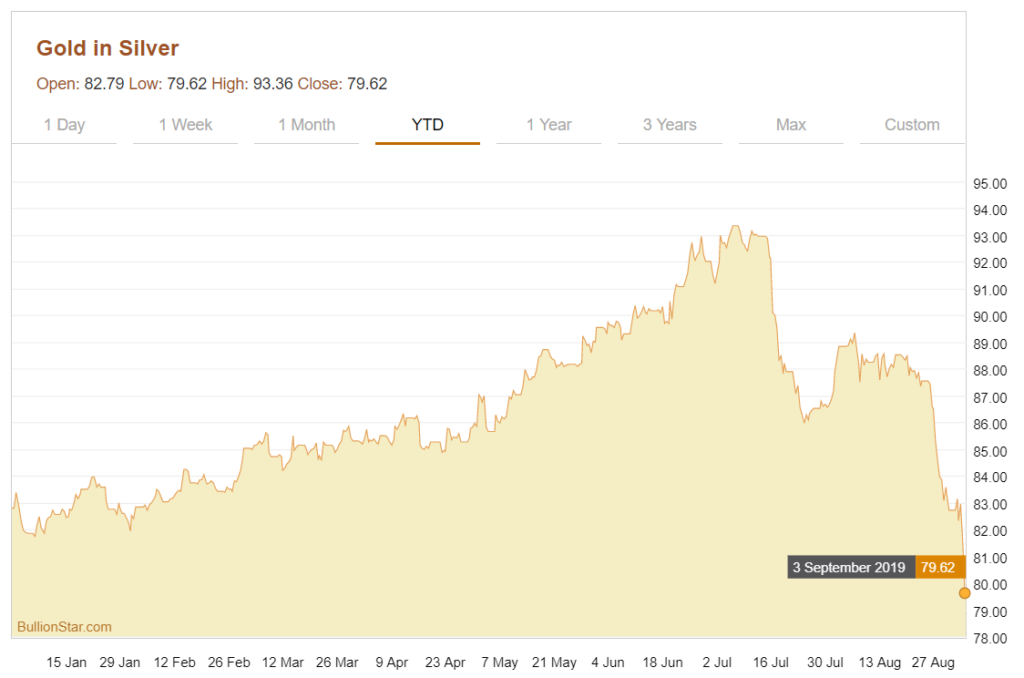 Gold's June lead also pushed the Gold  / Platinum ratio up to the 1.75 range in June, and then to 1.80 in August, but platinum's recent surge has brought this ratio back down near 1.60.
Unchartered Territory – New All-Time Highs
While US dollars is the trading currency of precious metals on international markets, it is not the base currency / home currency for billions of individuals around the world whose wealth is denominated in currencies other than the US dollar, and whose income is generated in currencies other than the US dollar.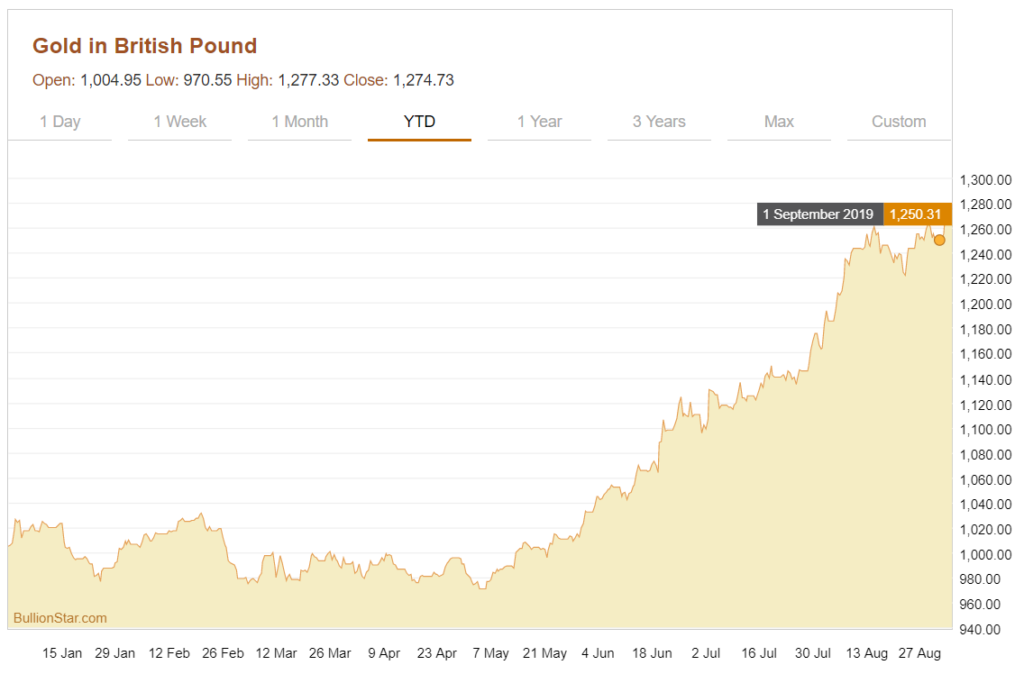 Focusing solely on the US dollar gold price will also miss the critical moves where the gold prices in almost all other major and minor currencies are continuing to make new all-time highs. This is something we drew readers attention in mid-June in the article "Gold Price Breakout in Multiple Currencies" and which has since continued apace around the world. The list of currencies is long, but to name just a few, the gold price in pounds sterling, euros, Australian dollars, Indian rupees, Singapore dollars, and Canadian dollars are all continuing to make new all-time highs.
At the time of writing, spot gold in British pounds sterling has made a new all-time high (ATM) of £1278 per troy ounce, and is closing in on £1300. Gold in euro is trading at a new all-time high of €1408, having surged through €1400. In Australian dollars, gold is at an all-time high of AUD 2286. In Singapore dollars, gold has just made a new all-time high of SGD 2150. The same is true of Canadian dollars where gold has made a new high of CAD 2061, and in Swedish Krona where gold has just registered a new all time high of SEK 15187 per troy ounce.
In India, gold has made a new ATM of INR 111,500 at the time of writing. Add to the list, Indonesia and Brazil which again saw all time highs for the gold price in their local currencies within the last trading day. Gold in Japanese yen is at a 29 year high of ¥ 163,800. In Swiss francs, gold is at a 7 year high of CHF 1526, just shy of its all time high.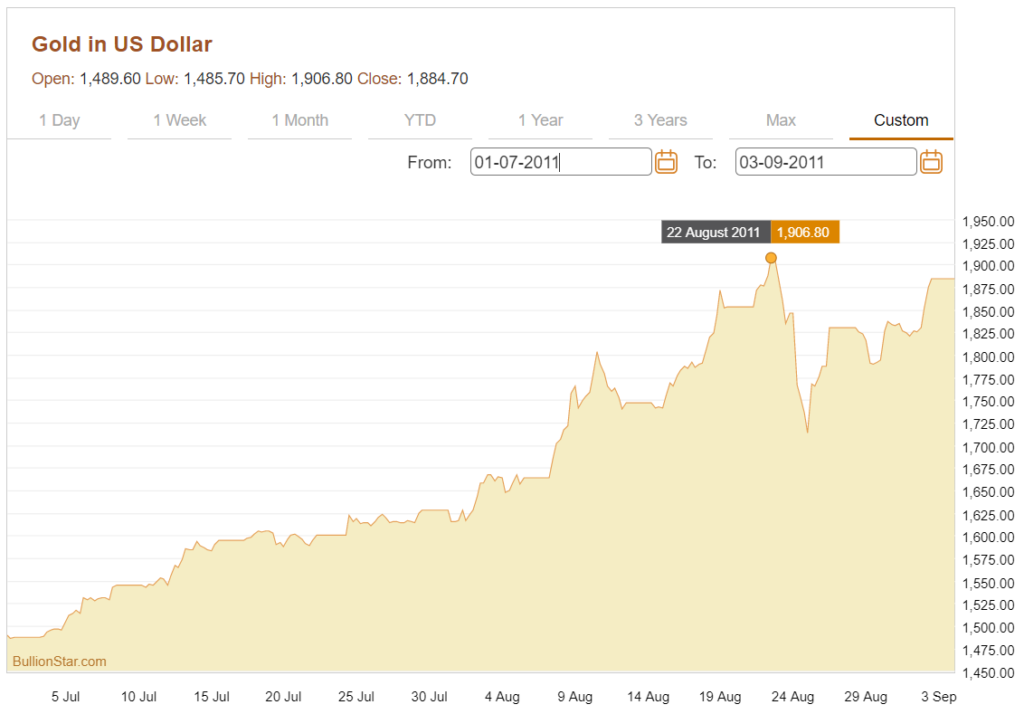 Notable in its absence in all of the above is the gold price denominated in US dollars. That, for now, is the biggest question, when and if the gold price in US dollars will surpass its all time high just over $1900 per troy ounce recorded in August 2011. At that time gold moved very quickly, shooting up from $1545 to $1900 over a 5-6 week period between 12 July and 22 August 2011. While this proves that moves in the gold price can be rapid when they happen, there is no assurance that US dollar gold will act the same this time round.
But for savers and investors in gold, silver and platinum, this certainly is an exciting time to keep an eye on prices, safe in the knowledge that your precious metals savings and investments are preserving your wealth while all around fiat currencies continue to weaken.