Gold Price Breakout in Multiple Currencies
The most commonly watched gold price these days is of course the gold price per troy ounce measured in the fiat currency US dollars. This is so for a number of interconnected reasons such as the US dollar's international reserve status, and the fact that international gold trading takes place in US dollars.
Furthermore, the gold price is established / discovered mainly in US dollars, a symptom of the fact that the majority of trading of 'gold' volume occurs in venues such as COMEX and the London OTC gold market where the synthetic gold products that these venues quote (gold futures and unallocated gold, respectively) are traded in US dollars.
Therefore, the 24-hour traded US dollar gold price quote makes its way from bank, broker and exchange feeds around the world into market data feeds supplied to the world's financial news networks, websites and bullion dealers across the world.
But for investors with a base currency / home currency that is not US dollars, or whose wealth is denominated in currencies other than the US dollar, the US dollar gold price may not be the best price quote to keep an eye on, since these investors originally purchased their gold not with US dollars but with their home fiat currencies, which could be Pounds sterling, Euros, Singapore dollars, Australian dollars, Indian rupees, Brazilian reals etc.
And so, for those investors, the gold price movement over various time horizons such as year-to-date, 1 year, 3 year, 5 year etc, is best measured in those investors' home currencies, or the currencies in which these investors and savers in gold generate their income and denominate their wealth.
Just under a year ago, the gold price was breaking out to new highs in a number of currencies many of them emerging market currencies, a phenomenon that was covered in this BullionStar article here "Gold's Price Performance: Beyond the US Dollar". This was occurring in the environment of a relatively static US dollar gold price, a price which has continued to stay in a relatively tight and pedestrian trading range for over 6 years now.
When the gold price breaks out and rises in some fiat currencies but not in others, while the US dollar gold price stays relatively static, a lot of the movement that is witnessed is really the weakening of that specific fiat currency vis-a-vis the US dollar. In other words, over any period of time, if another fiat currency has weakened against the US dollar while the US dollar gold price has stayed static, then the gold price in that currency, other things being equal, will be higher by the same amount as that currency weakened against the US dollar. This was the case for many emerging market currencies last year.
However, it is when the gold price in all currencies rise at the same time that things get interesting, since in that case all fiat currencies are weakening against gold. This is precisely what we could be on the cusp of witnessing right now.  At the time of writing, the gold price is now at multi-year highs or all time highs in many of the world's most important developed market and / or commodity currencies, and most importantly, the US dollar gold price is again knocking at the door of the US$ 1350 range.
Gold in Euros
Measured in euros, the gold price is currently (at the time of writing) trading at 1190, which is over a two year high.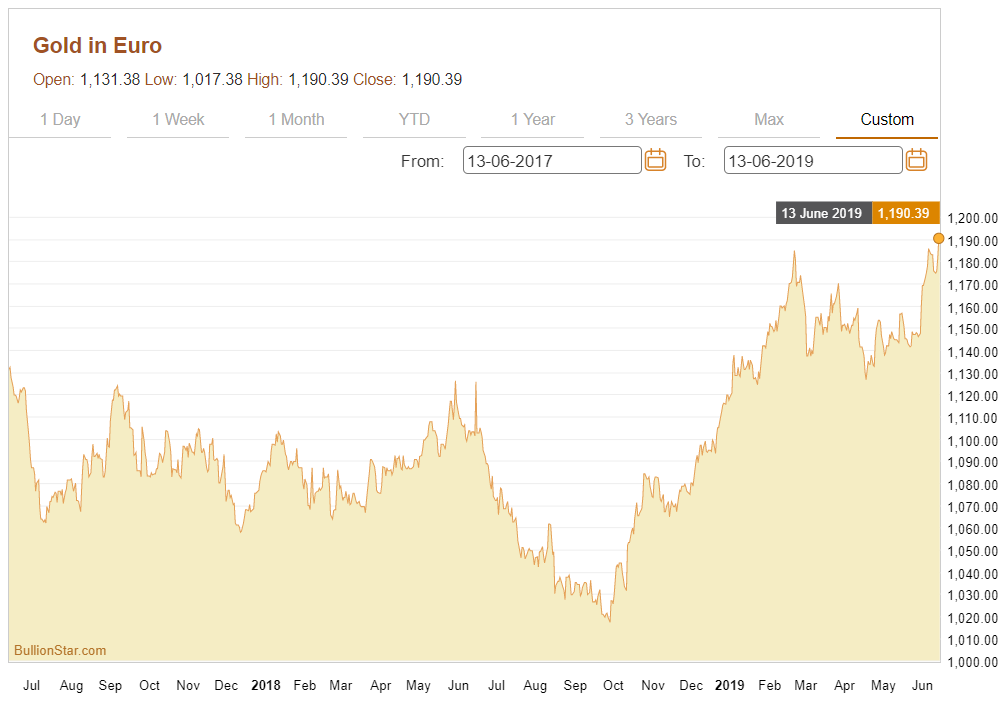 In mid 2016 and in April 2017, gold in euros was briefly above 1200, but if the euro gold price continues to move up above the 1230 range, it will be at a 6 year high.
Gold in Pounds Sterling
Against the backdrop of never ending Brexit shenanigans, gold in British pounds sterling (GBP) is currently in the 1060 range. This, as you can see from the chart below, puts sterling gold at over a 6 year high.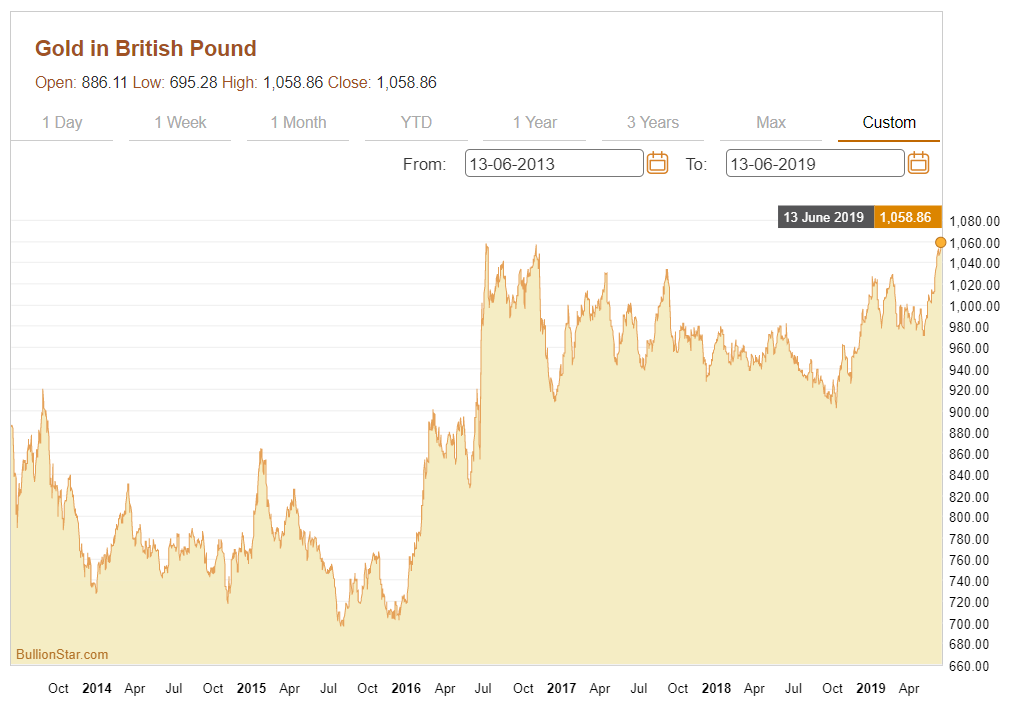 But with no sign of any progress on the UK leaving the EU, the pound remains weak, and gold in GBP looks set to continue its ascent.
Gold in Australian Dollars
One of the more notable breakouts in the gold price is currently taking place in the currency of one of the world's top gold producer's Australia. In Aussie dollar terms, the gold price is now at an all time high, something that seems not to have gotten the media exposure globally that it arguable deserves.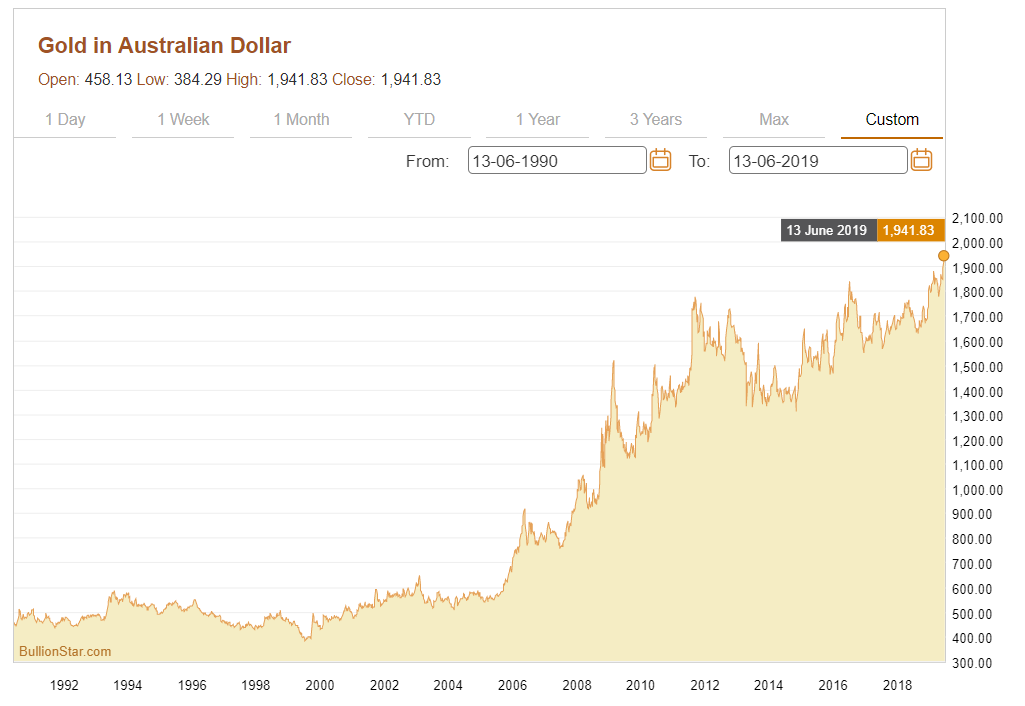 There is no other way of putting it, the Aussie dollar gold price is currently up, up and way, having broken out to an all time high during January.
Gold in Singapore dollars
Apart from a blip in July 2016 when the gold price in Singapore dollars touched 1855, the current SGD gold price of 1835 (at the time of writing) is the highest it's been for nearly 3 years. If and when the Singapore dollar gold price moves above the 1340 range, this will immediately put it at a 6 year high.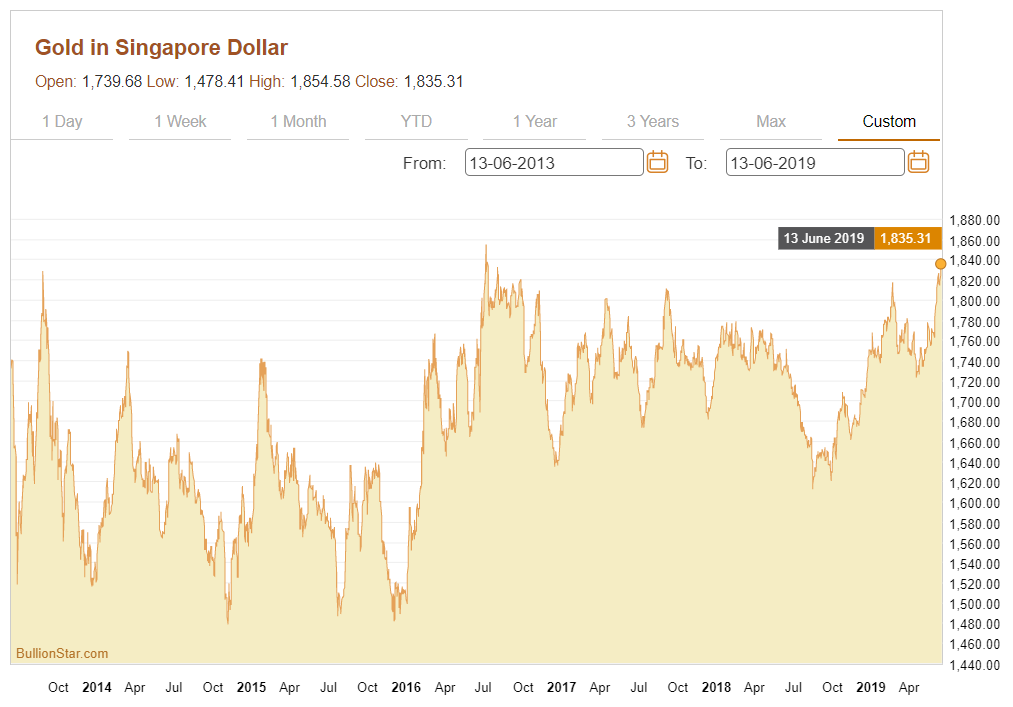 As many customers of BullionStar who are local to Singapore think of the gold price in Singapore dollars, the current move in the SGD gold price is not lost on them.
Gold in Canadian dollars
The gold price in Canadian dollars is closing in on CAD 1800, and hasn't been this high since November 2011. If CAD gold can get to the 1850 range and above 1880, it sets a new all time high, above the previous high recorded in August 2011.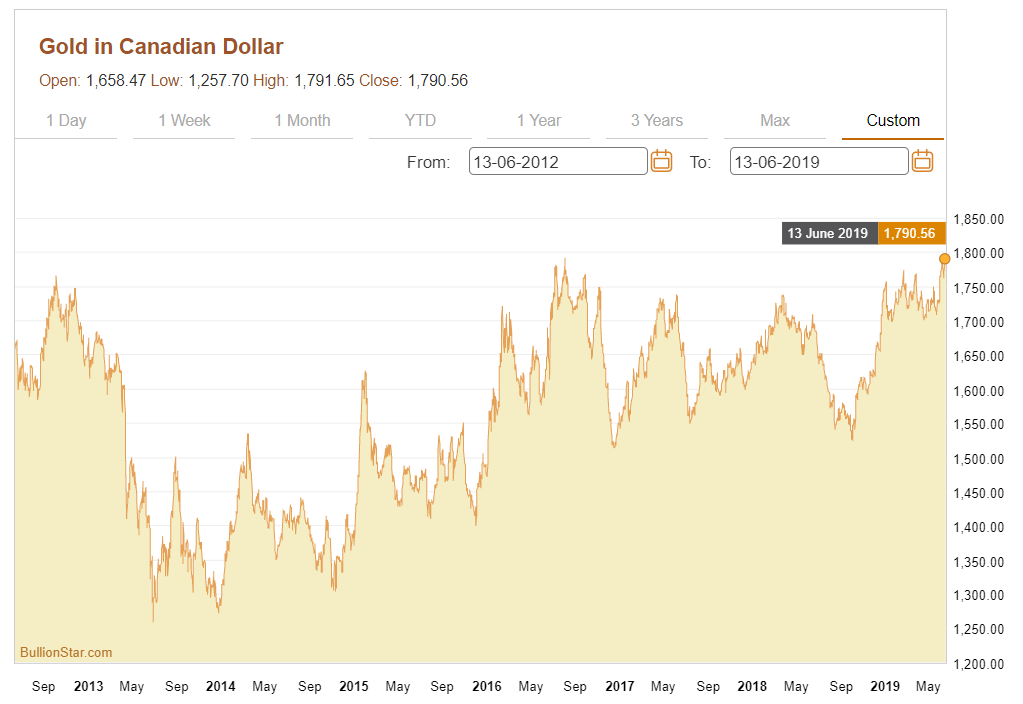 Canadian dollar gold, another gold price to watch then in another of the world's top gold producers, Canada.
Gold in Swedish Krona
In terms of one of the stronger remaining independent fiat currencies in Europe, the Swedish Krona, the gold price is now at an all time high. The previous multi-year high from 2011 was surpassed in February of this year, and the gold in SEK continues to move higher now.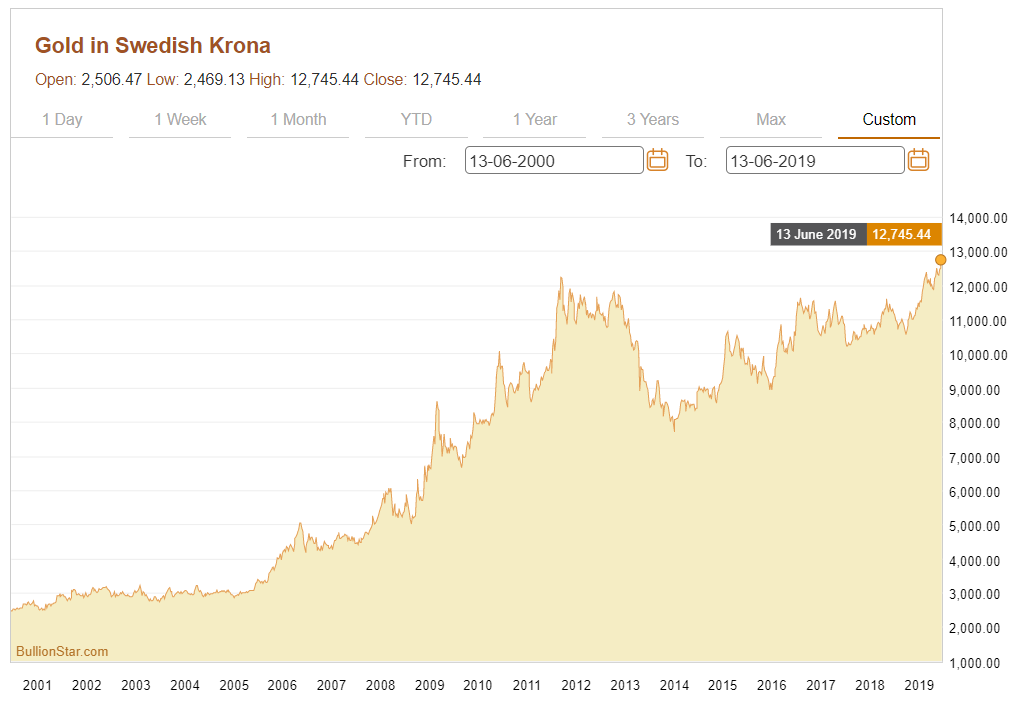 As one of the top 10 traded currencies in the world, it's quite significant that gold is breaking out in this fashion in SEK, in another of the world's so-called strong currencies.
Gold in US dollars
And then we come to the global oil trading currency that is the US dollar, and its nemesis, the US dollar gold price. At the time of writing, the US dollar gold price is currently trading at US$ 1344.30 per troy ounce, a one year high and near a 3 year high.
However, no time in the last 5 years has the US dollar gold price traded above 1400. It was in fact September 2013 when the US dollar gold price traded above 1400, so that's nearly 6 years ago.
On numerous occasions in the last 5 years, the US gold price has approached the 1340-1350 range, only to be turned back. A hidden hand or natural market forces? Even GFMS Thomson Reuters / Refinitiv can't avoid mentioning this bizarre continual slap down to the US gold price, saying that "overhead resistance proven to be strong and tough to break, indicated on at least 8 consecutive occasions since 2013".
With US dollar gold now trading in the 1340 -1350 range, will this time be different or will GFMS / Refinitiv in a few weeks be writing about "at least 9 consecutive occasions since 2013". Only time will tell, but if the US dollar gold price continues to take out 'resistance' and more up through the technically important area between 1350 and 1370, and then above 1370, this would bring US dollar gold to a 3 year high. Thirty dollars or so above 1370 level would put gold at a 5-year high above 1400 and would bring in a lot of attention from the sidelines.
Conclusion
With gold in euro, pounds, Aussie dollar, Singapore dollar, Canadian dollar, and Swedish krona all in their own way making new multi-year or all time highs, all eyes are now on US dollar gold to lead by example.
At the end of the day, many people save and invest in physical gold bars and physical gold coins so as to get out of fiat currencies and into money that is real and tangible and that lacks counterparty risk. This leaves gold savers and investors holding a specific quantity of gold that is independent of the decaying values of fiat currencies.
But it's also precisely because fiat currencies continue to decay in value, while gold acts as a store of value, that we are continuing to see the gold price breakout phenomenon extend across the board to the world's most liquid and most traded currencies, including it now seems, the less than mighty US dollar.